COVID
Lockdown within a lockdown: What it's like inside a Mass. prison during the coronavirus pandemic
"We are helpless behind these locked doors."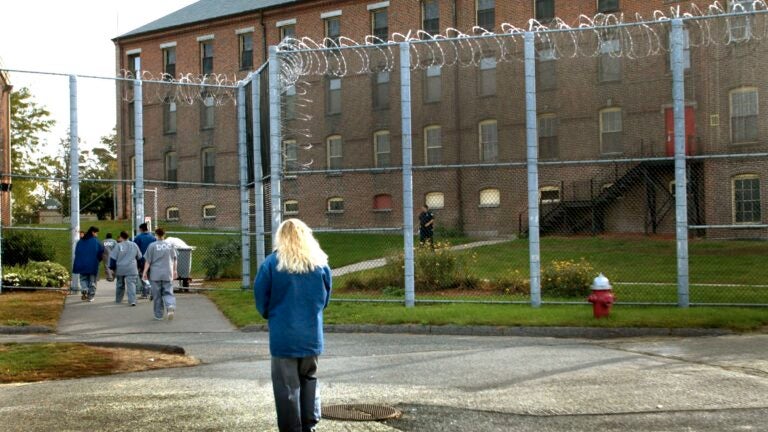 Patricia Olsen said she doesn't know which of her friends are dead or alive. It's what's unknown, she said, that's the hardest.
As an inmate at MCI-Framingham, Olsen said incarceration is all about structure and routine.
Her days would normally start at 7:15 a.m. when she'd leave her cell to take a shower before heading to the chow hall. After breakfast, she'd go to work as a digitizer for Massachusetts Correctional Industries. On the weekends, she would go to church, spend time with her friends of almost 15 years, cook a good meal, and draw to relax. 
But anyone that watched national news knew it was only a matter of time before their routine crumbled and inmates were locked down.
"Now, it's like prison within prison," Olsen told Boston.com through a prison email service.
On April 4, the state's Department of Correction placed all 16 DOC facilities on lockdown to quell the coronavirus outbreak, keeping prisoners in their cells or dorms for 23 hours a day. 
Olsen said they are given half an hour to shower, clean their cells, send emails, order hygiene products or snacks from the prison commissary — a store within the correctional facility — and make phone calls. 
"It's just not possible to get everything done, so you have to compromise," Olsen said. "It's either wash my hair or call my mom."
As of Friday, 85 prisoners and 14 staffers at MCI-Framingham have tested positive with the coronavirus, making the facility a COVID-19 hotspot, according to data from the American Civil Liberties Union Massachusetts's Data for Justice Project. 
DOC spokesman Jason Dobson said 76 MCI-Framingham inmates who previously tested positive have been deemed recovered by medical staff as of Monday.
While Dobson said there have been no COVID-19 associated deaths at MCI-Framingham, five inmates have died from the disease at Massachusetts Treatment Center, and three others have died at MCI-Shirley.
"I have friends who have been here for 30 years and when I watch out my window, people I care about [are] getting sick and taken away," Olsen said. 
It's not until mental health officials knock on their cell door that they know a fellow inmate has died from the virus. 
"They walk away and you're stuck in your room with no one to talk to and to live with the fear of losing other friends that still have not returned," Olsen said. 
Olsen herself tested positive for COVID-19 just over a month ago, and is still living in a quarantined unit where she said she's allowed to go outside with one other younger inmate for half an hour, twice a week. 
"I have moments where I can't be strong and just break down," Olsen said. "One can be stoic for only so long."
Shanita Jefferson said her mom, who's been incarcerated at MCI-Framingham for the past 28 years, usually calls her every other day. But during the pandemic she, and her 5-year-old daughter, get to talk to her maybe once a week. 
"Framingham is all we know," Jefferson said. "We're used to going up there, we're used to visiting her … but with this whole pandemic and all the restrictions that we have to follow, and that she has to follow, it's just been very scary." 
Jefferson's daughter has been visiting her grandmother — or "Mummy Queen," as she calls her — every other weekend since they made their first trip when she was 2 weeks old. 
Recently, her daughter asked, "when are we gonna go see Mummy Queen?"
All Jefferson could say in response was, "I don't know."
Jefferson said she hasn't received a single phone call or email from the prison about its COVID-19 response or her mother's safety. If her mom did test positive, she said it's likely she wouldn't even know, and it scares her to think that anytime she talks to her over the phone could be the last. 
'A really significant risk'
Across the country, there have been acts to decrease the population in jails and prisons so that those who remain can effectively social distance. 
ACLU of Massachusetts staff attorney Jessie Rossman said current population rates in the commonwealth's prisons and jails make social distancing nearly impossible. Many inmates, she added, are unable to sleep less than six feet apart from somebody else.
"That poses a really significant risk, both to the individuals who are incarcerated, the staff members who work at these facilities, the family members who live with those staff members, and the surrounding communities," Rossman said. 
And staff have gone beyond their call of duty to care for prisoners, according to Olsen, who noted that officers bring inmates their meals and pick up their trash three times a day, then pick up and deliver their laundry. 
"We are helpless behind these locked doors," Olsen said. "They escort the nurses who give meds and check vitals four times a day. They organize the scheduled half-hour of freedom we get. Then when all is done, they sweep and mop the unit outside of our cells."  
Rossman added that any risk of exposure the prisoners face, staff will face too. 
Correctional facilities are congregate settings, Rossman said, just like nursing homes and cruise ships where infection rates have skyrocketed. Any undetected infection, such as an inmate who may be asymptomatic and unwittingly spreading the disease to others, could result in an outbreak. 
"When individuals are in the custody of the state, it is the state's constitutional responsibility to ensure that they have access to adequate health care, and that includes protecting them from the risk of dangerous and potentially fatal infections," she said. "So it is a constitutional responsibility of the state's institutions to ensure that individuals are protected from this health risk."
But others have spoken out against releasing prisoners, noting that the state doesn't have a re-entry program in place, making it potentially unsafe for the communities they might return to. 
Boston Police Commissioner William Gross said during Boston Mayor Marty Walsh's COVID-19 press conference Thursday that those released need a plan in place first so that "they're not set up for failure."
"You're taking someone from a controlled environment where they have three meals, a bed, and physical and mental health care. And many of them are going back to neighborhoods that test the highest for COVID-19 positives," he said. "We need to be talking about the individuals that are released to the community that are impacting our neighborhoods and impacting violence because the mentality out on the street — this is from a 35-year street cop — is that you can do whatever you want because there are no repercussions from the court."
But Rossman says many of those social safety nets are already in place, ensuring that inmates would return to safe housing, oftentimes with their families, and could continue to access medication for addiction treatment. 
According to the ACLU's data tracker, 10 prisoners have been released so far from individual DOC facilities, but Ayana Aubourg, director of programs for the Boston non-profit Families for Justice as Healing, is calling for more.
"You're not only talking about people who are incarcerated but also their families," she said. "It has a ripple effect. What happens in prison doesn't just stay in prison, it has a spillover effect into all of our communities." 
She said the media sends many messages "about who incarcerated people are — that they're criminals, that they're dangerous people and that they're not worthy or capable of transforming themselves after an act, or after surviving trauma, surviving poverty, surviving under-resourced neighborhoods."
"We hear a different truth," she added. "These are our parents." 
She said it's been especially alarming to see that there hasn't been any data featuring a racial breakdown of who's tested positive inside the DOC's facilities, especially knowing how communities of color have been some of the hardest hit during the pandemic.
"What we're asking for isn't unreasonable," she said of releasing inmates. 
'You'll be OK'
Leslie Creedle, a member of the non-profit and a formerly incarcerated woman who lived inside MCI-Framingham for 10 months, said she worries that many of the women there aren't strong enough to handle a lockdown. 
"It's like you're in solitary confinement," Creedle said. 
The cells are similar to living in your bathroom at home with another person, making it especially difficult to socially distance, she added. 
Creedle said the medical situation in prisons before COVID-19 was dire, adding how it was common that when women were ill or hurt, it would take so long for nurses to get to their cells that women would bang their heads on the floor or bite their tongue in pain.  
"We end up jumping in and learn to take care of each other," she said. "We will hold that woman's head, and somebody will put something in her mouth so she won't bite her tongue, and we'll sit there with her and hold her and take care of her," she said. "So us incarcerated women end up becoming nurses."
And women at MCI-Framingham are still finding ways to be there for one another, despite isolation.
From prayers to the unit singing Happy Birthday for a fellow inmate to sliding a stamp, Pop Tart, or magazine under a neighbor's door in support, Olsen said the one thing she'll never forget after the pandemic has passed is everyone's resilience. 
"When I came up positive and was taken out of my unit, the halls were filled with 'I love yous' and 'you're strong, you'll be OK,'" she said. 
"And you know what? I am OK," Olsen said. "Contrary to what society may think of inmates, they shouldn't judge until they [have] walked in our shoes. People on the outside now know what it's like to be self quarantined. That's how it feels to be incarcerated."