COVID
Charlie Baker releases new details about the next phases of Massachusetts's reopening plan
The updated guidance provides more details about where specific businesses and activities fall in the four-phase plan.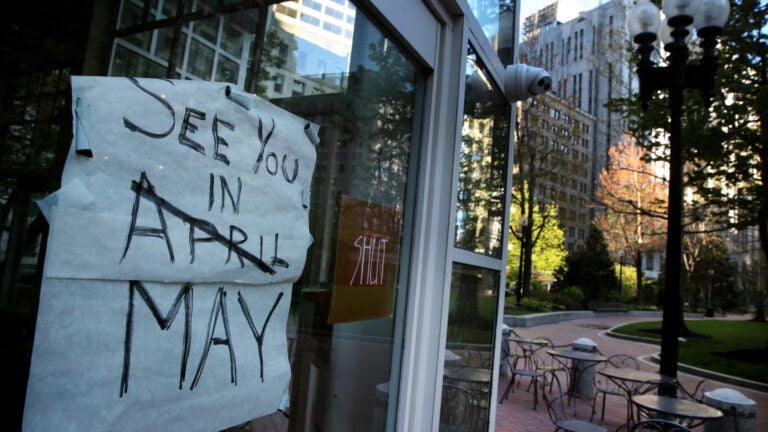 Update, June 6: Gov. Charlie Baker announced Saturday that Phase 2 will begin Monday, June 8.
Original post below:
Gov. Charlie Baker's administration will decide this coming Saturday when Massachusetts will move to Phase 2 of the state's reopening plan. And on Monday, officials released new information about what exactly that next phase — and the two other additional phases — will include.
The new list follows guidance released last week for how restaurants and hotels can begin operating when Phase 2 begins. On Monday, the Baker administration also previewed the specific rules for how nonessential retail stores — which have been limited to curbside pickup during Phase 1 — will be able to have in-store browsing in Phase 2, including occupancy limits and other safety restrictions.
And the Massachusetts governor announced that general child care centers and summer camps will also be allowed to reopen in Phase 2, a key step as more parents go back to work.
But those are hardly the only new details.
The updated guidance shed light on when a sweeping array of other businesses and activities would be able to resume over the course of the four-phase plan.
For example, gyms and fitness centers will remain closed until Phase 3, but personal trainers will be allowed to resume small sessions at some point during Phase 2. And while certain youth sports will be allowed to resume in Phase 2, adult recreational sports will be limited to outdoors only until Phase 3.
Overnight summer camps will also remain prohibited until Phase 3, which could begin in late June at the earliest.
Outdoor pools and driving ranges will be allowed to open in Phase 2, while indoor attractions like arcades and rock-climbing gyms won't be back until Phase 3. Organized tours, from Boston's harbor cruises to duck boats, also won't return until the third phase.
Street festivals and road races in Massachusetts won't return until Phase 4.
Some personal services like photography and career coaching will be able to restart at the beginning of Phase 2, but the reopening of other businesses that require close contact (massage therapy, nail salons, tattoo parlors) will be delayed until a later week during the same stage.
The updated guidance also clarifies that beer gardens, breweries, wineries, and distilleries will be allowed to reopen during Phase 2 — like restaurants — if they provide (and are licensed to provide) seated food service. The administration plans to allow outdoor dining at the beginning of Phase 2, followed by restricted indoor dining later in the phase.
But if beer gardens and breweries do not have table service, they effectively are treated like bars, which aren't allowed to open until Phase 4.
The guidance also makes a new distinction allowing medium-sized movie theaters to reopen during Phase 3, while larger theaters will have to wait until Phase 4 with other big venues, which carry the greatest risk of spreading the coronavirus.
According to the Baker administration's reopening plan, each phase will last three weeks or more, depending on whether key metrics — like the rate of positive COVID-19 tests and hospitalizations due to the virus — continue to decline.
Officials will decide Saturday whether Phase 2 will begin next Monday or at a later date. Here's a look at a full list of what is included in the next phase — and beyond.
When businesses can reopen:
All businesses deemed essential by previous orders: Currently allowed
Banks: Currently allowed
Financial services: Currently allowed
In house services (such as nannies, babysitting): Currently allowed
Real estate open houses: Currently allowed with restrictions
Construction: Phase 1 – May 18
Firearm retailers and shooting ranges: Phase 1 – May 18
Home remodeling: Phase 1 – May 18
In home installations: Phase 1 – May 18 for construction-related work like painting and repairs. Phase 2 for non-construction-related work like carpet installation, home theaters, and security systems
Manufacturing: Phase 1 – May 18
Places of worship: Phase 1 – May 18
Auto dealers and wholesalers: Phase 1 – May 25 for curbside pickup and delivery only. Phase 2 browsing inside the showroom with restrictions
Car washes: Phase 1 – May 25
Drive-in movie theaters: Phase 1 – May 25
Hair salons / barbershops: Phase 1 – May 25
General office spaces: Phase 1 – May 25 except for the City of Boston; June 1 in Boston
Lab space: Phase 1 – May 25
Libraries: Phase 1 – May 25 for curbside pickup and delivery only. Phase 2 for browsing inside the library with restrictions
Pet grooming: Phase 1 – May 25
Retail Stores, including stores in malls: Phase 1 – May 25 for curbside pickup and delivery only. Phase 2 for browsing inside the store with restrictions
Casinos: Phase 2 for casino hotels and restaurants. Phase 3 for gaming floors. Phase 3/4 for theaters and arenas
Horse racing simulcast facilities (no spectators): Phase 3
Driving schools: Currently allowed for online classroom instruction. Phase 2 for behind-the-wheel training or observation of another student driver
Hotels, motels, inns, and other short-term lodgings: Currently open to provide services to essential workers and vulnerable populations. Phase 2 for reopening for other guests with restrictions
Personal services that don't involve close personal contact (such as photography, window washers, career coaching): Phase 2
Close contact personal services (such as massage therapy, nail salons, tattoo parlors, electrolysis studios): Phase 2, but not at the outset of Phase 2
Personal trainers: Phase 2, but not at the outset of Phase 2, for personal training of individuals or no more than two people from the same household
Restaurants: Phase 1 – can continue to offer takeout and delivery options. Phase 2 – outdoor seating permitted at outset of Phase 2, indoor seating will be permitted later in Phase 2
Amusement parks, theme parks, indoor or outdoor water parks: Phase 4
Fitness centers and health clubs: Phase 3, including:
cardio/weight rooms/locker rooms/inside facilities
fitness studios (yoga, barre, cross-fit, spin classes, general fitness studios)
locker rooms/shower rooms
indoor common areas
indoor swimming pools
indoor racquet courts and gymnasiums
Saunas, hot-tubs, and steam rooms at health clubs, gyms, and other facilities: Phase 4
Movie theatres: Phase 3 for moderate capacity. Phase 4 for large capacity
Museums: Phase 3
Aquariums: Phase 3
Theaters and performance venues (such as concert halls) of moderate capacity: Phase 3 – both indoor and outdoor, though large performance venues will not open until Phase 4, following guidance for other large venues
Large capacity venues used for group or spectator events (such as theaters and concert halls, ballrooms, stadiums and arenas, dance floors, exhibition and convention halls, private party rooms): Phase 4
Flight schools: Phase 2
Beer gardens, breweries, wineries, and distilleries: Phase 2, if providing seated food service under retail food permits issued by municipal authorities. Phase 4: if not providing seated food service
Bars, dance clubs, and nightclubs: Phase 4
Non-athletic instructional classes in arts, education, and other life skills: Phase 2 for youths under 18 years of age, in groups of fewer than 10. Phase 3 for people of all ages
Funeral homes: Phase 2
Warehouses and distribution centers: Phase 2
Weddings/events/large gatherings in parks, reservations, and open spaces: Phase 3 – with moderate capacity
When outdoor activities can resume:
Beaches: Open with restrictions in Phase 1 – May 25
Golf: Currently allowed with restrictions. Golf facilities, including outdoor driving ranges, will be allowed to reopen in Phase 2
Park services/facilities: Phase 1 – May 25
Fishing, hunting, and boating: Phase 1 – May 25
Outdoor adventure activities (including ski area summer activities, zip-lines, and mountain biking): Phase 1 – May 25
Outdoor gardens, zoos, reserves, and public installations: Phase 1 – May 25
Outdoor theatres and performance venues: Phase 3 for moderate capacity venues
Camps including sports and arts camps: Phase 2 for recreational day camps. Phase 3 for overnight camps
Limited organized youth and adult amateur sports programs and activities: Phase 2 – outdoor only for adults, indoor for supervised youth programs and activities. Phase 3 – indoor and outdoor for all ages
Professional sports practice and training programs: Phase 2
Other outdoor recreational facilities (pools, playgrounds, spray decks, mini golf, go karts, batting cages, climbing walls): Phase 2
Indoor recreational and athletic facilities for general use (not limited to youth programs): Phase 3
Other indoor recreation (such as batting cages, driving ranges, go karts, bowling alleys, arcades, laser tag, roller skating rinks, trampolines, rock-climbing): Phase 3
Sightseeing and other organized tours (bus tours, duck tours, harbor cruises, whale watching): Phase 3
Outdoor historical spaces/sites: Phase 2
Indoor historic spaces sites: Phase 3
Cruise ships: Operating under federal guidance, No Sail order currently in effect
Outdoor fitness classes: Phase 1 – May 25
Fishing and hunting tournaments and other amateur or professional derbies: Phase 3
Street festivals, parades and agricultural festivals: Phase 4
Road races and other large, outdoor organized amateur or professional group athletic events: Phase 4