COVID
Phase 2 of Massachusetts' reopening plan begins Monday. Here's what to know.
"Thanks to your hard work and your sacrifices, we're bringing the fight to the virus."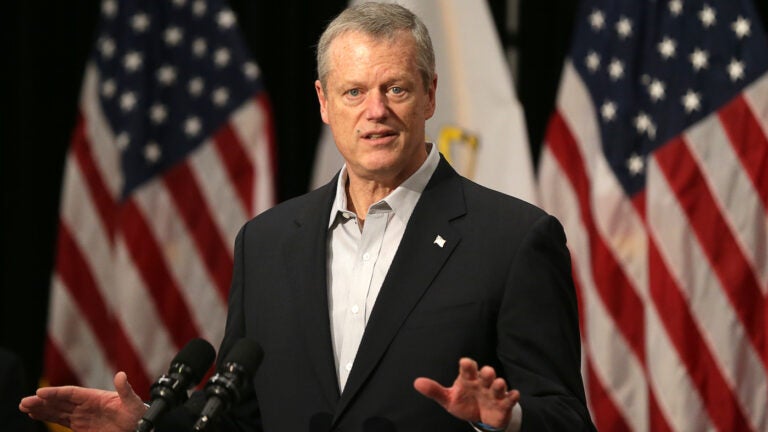 The second phase of Massachusetts' four-phase reopening plan amid the coronavirus pandemic will begin Monday, Gov. Charlie Baker announced Saturday.
"This terrible virus and the terrible toll that it takes will be with us until there are medical breakthroughs with respect to treatments or vaccines," Baker said. "But thanks to your hard work and your sacrifices, we're bringing the fight to the virus and we're moving forward, and Massachusetts is continuing to reopen."
As of Friday, 102,557 total cases of coronavirus and 7,235 related deaths were recorded in Massachusetts.
The governor, stressing the need for the public to remain vigilant in taking steps such as practicing good personal hygiene and following social distancing guidance, said key public health data that officials reference to make decisions around the timing of reopening phases are "all moving in the right direction."
Since the beginning of May, the seven day average for the number of positive tests are down 82 percent, while the three-day average of the number of patients hospitalized with COVID-19 dropped by 55 percent, according to Baker. Meanwhile, the number of hospitals working in surge operations has declined by 76 percent over the past month.
"We've been successful in bending the curve on COVID-19 and the metrics reflect that," Baker said.
His announcement Saturday came after his administration outlined steps for reopening additional sectors of the economy and activities earlier in recent weeks.
The "cautious" Phase 2 will allow for restaurants and hotels to relaunch operations, with restrictions, along with the return of in-store browsing for retailers that will include occupancy limits and additional safety restrictions. Patients requiring preventive health care services will also be able to schedule appointments again, Baker said.
Here's what to know:
Restaurants and retail
According to Michael Kennealy, the state's housing and economic development secretary, officials are approaching Phase 2 in two steps, the first of which will commence Monday and includes reopening outdoor restaurant service, in-store retail shopping, and lodging accommodations, among other sectors.
The second step — which covers businesses and areas such as indoor restaurant dining and close-contact personal services like nail salons — will begin later in Phase 2 at an unspecified date dependent upon continuing positive health trends, Kennealy said.
For outdoor dining service, tables are required to be six feet apart from one another and any high foot traffic areas, and customers are required to wear face coverings, among other requirements.
New details released earlier this week say beer gardens, breweries, wineries, and distilleries are also allowed to start up again, but only if they provide seated food service and are licensed to do so. Those that don't will have to wait until Phase 4 when bars can reopen.
Retailers can welcome customers back for in-store shopping, including at malls, although they will have to keep a close watch on who is coming and going. Only eight people, including store staff, per 1,000 square feet of indoor space or 40 percent of the store's maximum permitted occupancy are allowed in at a given time, under state restrictions.
Lt. Gov. Karyn Polito urged the public to consider supporting locally-owned and small businesses, who have weathered a difficult few months since non-essential businesses were forced to close in March, as they start to reopen.
"Go to the corner stores and shops in your town centers," Polito said. "They need you."
Baker called the closures "some of the most challenging decisions" he could ever imagine making as governor.
"But thanks to the cooperation of so many, the trends are moving in the right direction and we can now reopen many of these businesses," he said.
Also opening in Phase 2 are libraries, driving and flight schools, funeral homes, and warehouses and distribution centers.
Health care
State Health and Human Services Secretary Marylou Sudders said Phase 2 will allow for more "in-person, elective, non-urgent health care treatment and procedures."
This includes routine doctor's office visits, dentist appointments, and vision care services so long as each provider complies with state safety regulations, Sudders said, adding though that officials still encourage patients to use telemedicine options "to the greatest extent possible."
Baker said officials are urging medical providers to reach out to their patients to schedule needed appointments soon.
Elective cosmetic procedures and surgeries and in-person day programs are deferred from beginning until Phase 3, Sudders said.
The state is also lifting some restrictions on patient visits at hospitals and other facilities.
Starting June 10, hospitals can allow one visitor at a time per patient and patients may be accompanied by one person for an ambulatory appointment at any health care setting as long as the individual undergoes a symptom screening and wears a face covering, according to Sudders.
Soldiers homes will begin limited outdoor visitation on June 15 "as long as infection rates remain stable," Sudders said. Meanwhile, adult residential programs and group homes can resume limited outdoor visitation on June 10, she said.
Children and youth residential programs can resume outdoor visitation on or before June 30, according to Sudders.
"We're working with the provider community to implement best practices and protocols over the next few weeks that prioritize the safety and security of all children in these programs while ensuring they're able to visit with their families and loved ones," Sudders said.
Personal services, lodging, and child care
Personal services that don't involve close contact — think: window washers, career coaching, and photography — can return at the start of Phase 2, but services that require closer contact with clients — such as massage therapy, nail salons, and tattoo parlors — will come later on in the phase. The state released safety restrictions for the latter on Saturday, as well as for businesses allowed to reopen in Phases 1 or 2 that have not been addressed by sector-specific guidelines.
Personal trainers will also be allowed to meet with clients in small sessions, but not at the onset of Phase 2.
Hotels and lodging accommodations will also come back, but function rooms — including meeting rooms and ballrooms — are off limits and weddings and business events are prohibited. Out-of-state travelers will be told about the state's policy asking them to self-quarantine for 14 days.
Day camps and child care centers can reopen in Phase 2 if they meet certain requirements for child and staff safety. Overnight camps are restricted to Phase 3.
Recreation and outdoor activities
As for recreational activities, indoor games for youth sports can return only for sports that allow for social distancing, while adult amateur sports will be limited to outdoor facilities.
Campgrounds, playgrounds and spray decks, outdoor historical spaces and sites, public and community pools, driving ranges, and outdoor athletic fields and courts are also allowed to reopen in Phase 2, according to the state's reopening plan.
Asked about any changes in restricting gatherings to fewer than 10 people, Baker said the rule primarily focuses on indoor and confined spaces, but continued to urge that people be "responsible and respectful to the virus" when meeting in an outdoor location.
"People are going to have to recognize and understand that outdoors is always going to be better than indoors," Baker said. "But when it comes to gathering generally, people should be careful about what they do and how they set that up."