COVID
Smaller classes, masks, and desks 6 feet apart: State officials release some guidelines for reopening schools
Students and staff placed in small groups will not be allowed to engage with other groups of staff and students.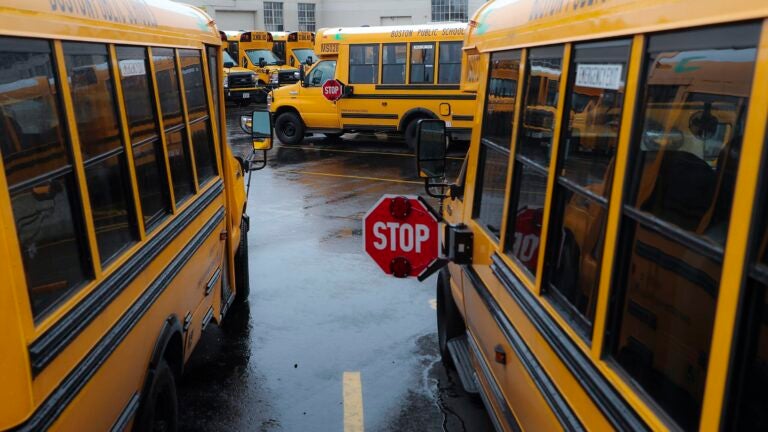 When students return to school this fall, they must wear masks, and class sizes will be limited to 10 students with desks spaced six feet apart, state officials say.
And students and staff placed in these small groups will not be allowed to engage with other groups of staff and students.
These guidelines, among others, were issued Friday as part of a memorandum sent out to allow school districts enough time to supply themselves with masks and other required supplies for the first 12 weeks of school for the new school year.
In the guidance, Jeffrey Riley, commissioner for the state Department of Elementary and Secondary Education, notes that schools will not just be buying disposable masks for students as backups if they don't bring their own, but also gloves, disposable gowns, and other personal protective equipment for staff who will be cleaning high-touch surfaces, as well as some special education teachers and school nurses.
On student face coverings, the guidance notes that parents should supply their child with a mask, but the disposable masks will be available if the student arrives at school without one. Staff can choose to bring their own mask or wear one supplied by the school.
In classrooms, there will be a 12-person maximum – the 10 students plus a teaching staff. Students will not have their temperature checked upon entering school, however.
"While additional information about symptom screening and other facility operations will be provided in the coming weeks, after discussions with the COVID-19 Command Center's Medical Advisory Committee, it is not recommended to temperature check students at entry due to the significant number of both false positive and false negative results," the guidance says.
Social distancing will continue outside of the classroom – students must stay 6 feet apart when going into and leaving school, as well as when they're inside the school building, including visits to the restroom.
There will also be frequent hand washing – upon entering the school building, before and after eating, and before leaving for the day.
There are also protocols for how to handle students becoming sick during the day. A room will be designated if a student exhibits COVID-19 symptoms, according to the document. It has to be separate from the nurse's office, or other areas for medical treatment.
Whether or not closing schools actually helped stop the virus's spread is actually still under examination, according to a recent article from the Washington Post on two reports published Monday in the journal Nature.
"School closures seemed to have no significant effect, although the authors said the issue requires further study," the article said.
An online Change.org petition, meanwhile, is pushing for social distancing and mask guidelines in schools to be dropped in Massachusetts. As of around 3 p.m. Monday, the petition had been signed by more than 27,700 people.
"The children of Massachusetts have endured enough of the COVID-19 lockdowns, social distancing and mask wearing," the petition language says. "It is NOT in their best mental, emotional, physical or educational interest to continue with these strategies for the upcoming Fall school year."