COVID
People of color are protesting. A Harvard public health expert is concerned about their health and COVID-19.
"Racism kills explicitly through police violence. It also kills indirectly in terms of what we're seeing through COVID," said Natalia Linos.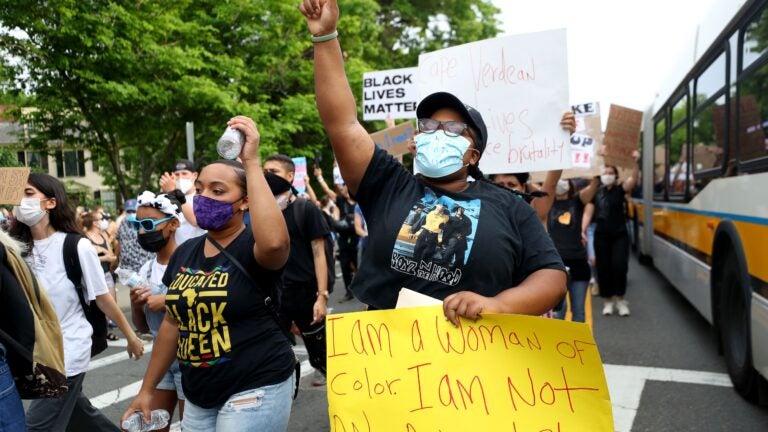 A Harvard public health expert said that while it's too early to tell if the protests surrounding the death of George Floyd could cause a spike in the COVID-19 pandemic, and disproportionately so for people of color, there is a concern.
Natalia Linos, executive director of the Harvard FXB Center for Health and Human Rights, noted that most protesters do appear to be people of color.
"I would say that there is a disproportionate number of people protesting who are people of color, although there are a lot of white Americans also standing side by side, which is great for our democracy, but maybe from a public health perspective, you do worry that they're putting themselves at risk and hopefully not transmitting the risk back home," Linos said in a virtual press conference last Tuesday. "The fact that these are happening outside, that people are taking measures, wearing masks, is a positive one."
Even with the potential risks, Linos noted the importance of the ongoing protests demanding justice for George Floyd, the Black man killed while being taken into custody by Minneapolis, Minn. police last month.
"But I do think that, when we take a step back and say if we were to really see a result of these protests in changing the structures and reducing the racism, that would have a benefit that far outweighs the risk," she said. "But in the short term, I don't have an answer for you. I think it's a challenging question."
Higher death rates in communities with more people of color
Considering data from the pandemic, Linos noted that while African-Americans make up 13 percent of the country's population, they make up 26 percent of deaths related to COVID-19.
"And actually, what the data don't often talk about is the fact that Black and brown Americans are dying not only at higher rates, but at much younger ages," she said. "If we look just at the 30- to 50-year-olds, the rates of of death are many, many fold higher, 7-, 8-, 9-fold higher. So you're losing young Americans to COVID who are parents, who are your school teachers."
There are other factors that make people of color more vulnerable during the pandemic, according to Linos, noting that the pandemic has brought "overlapping injustices" to the surface. These include not having equal access to healthcare, being forced to use public transportation if they don't have a car, or not having the financial means to buy multiple weeks worth of food during a visit to the supermarket and having to go more regularly.
There's data to prove it. A Harvard study, detailed in an article by The Boston Globe, shows that in the beginning of April, the death rate was 40 percent higher in places with larger concentrations of people of color versus those with fewer. Death rates were also higher in places with more congested housing, and places with higher poverty – 14 percent higher and 9 percent higher, respectively.
'The timing is the timing'
When asked if the protests are "opportunistic," Linos said, "the timing is the timing," adding that people couldn't wait to protest Floyd's killing – they're already seeing injustices every day.
"So you have this reality that our country and the racism in this country has allowed for so many people of color to be at greater risk to COVID," she said. "And then you have this horrible graphic murder on TV where it's just like the tip of the iceberg. You know, the injustice is so blatant and so daily. And so I think that it is not opportunistic. It is just time."
While the pandemic and the killing of Floyd are two different things, she said they're "very much linked," noting that regardless of timing, there should be protests of Floyd's death.
"The backdrop, though, that COVID has taken the lives of so many Americans, 100,000 Americans, and disproportionately so Black Americans, Hispanic Americans, Americans of color, is important," she said. "And it's important for the public health community to link the two to say that racism kills. Racism kills explicitly through police violence. It also kills indirectly in terms of what we're seeing through COVID, what we're seeing in terms of maternal mortality disparities, infant mortality disparities."
Preventing the spread
In considering what protesters can do to keep themselves, and the families they go home to, safe, Linos recommended continuing to wear masks, and to bring extras. Instead of yelling or chanting, which can produce droplets, try using signs, music or a recorded message. She also recommended bringing your own water bottle and not sharing food or beverages.
"There are ways to think about basically reducing the risk," Linos said. "You know, standing at a distance. But people are going to be taking a risk. And that decision, whether they should be going out on the streets or thinking differently is not one that I think I can speak to. But if you're going to be going out on the streets, organizers can think through ways to reduce risk for the participants."