Coronavirus
President of Mass. Teachers Association blasts state guidelines for school reopenings
The leader of the teachers association called several elements of the guidelines "impractical."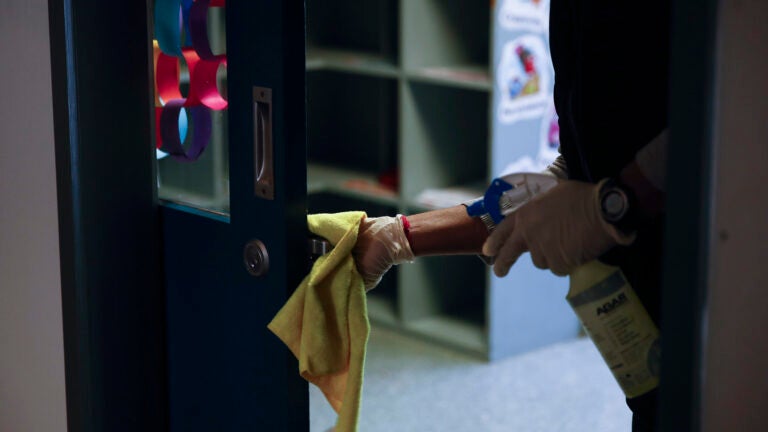 The Massachusetts Teachers Association is criticizing the guidelines released Monday by the state for how schools districts will reopen under the shadow of the coronavirus. 
In the guidance from the state, Jeffrey Riley, commissioner for the state Department of Elementary and Secondary Education, outlined that when students return to school this fall, they must wear masks, and class sizes will be limited to 10 students with desks spaced six feet apart. Students and staff placed in the small groups will not be allowed to engage with other groups of staff and students, and schools will be responsible for buying personal protective equipment, including gloves, disposable gowns, and other personal protective equipment for staff who will be cleaning high-touch surfaces, as well as masks for students as backups if they don't bring their own.
That requirement, MTA president Merrie Najimy said in a statement on Monday, is of most concern. 
"Our first and most vehement point of opposition to the guidance is that the department is making each district responsible for purchasing its own COVID-19 personal protective equipment for reopening schools," she wrote. "That is far too much like President Trump telling states they had to buy their own ventilators and testing supplies rather than using the centralized authority and purchasing power of the federal government to protect public health and safety by making vital equipment available.
"It will be communities of color — which have been historically subjected to structural racism through disinvestment in their public schools and other crucial services — that will be the least able to afford PPE and will be once again disproportionately impacted," she wrote.
The teacher association leader said there are other elements of the guidelines that make the state's plan for reopening schools "impractical." The student-to-staff ratio would "necessitate at least doubling the number of staff, even as public schools are on the verge of issuing large numbers of layoff notices, or pink slips, to educators," Najimy wrote. 
Meanwhile, the assumption that students will be able to bring their own face coverings to school is "tone-deaf" to families who may not have the means or ability to provide them to their kids, she wrote. 
"None of this can be accomplished safely if school budgets are cut and staff are laid off, leading to larger classes and less ability to achieve physical distancing, perform deep cleaning, and implement the other health and safety measures required," Najimy wrote. 
Read the full letter from the MTA here.