COVID
'Emotions are starting to come up': As state reopens, health care providers reflect on impacts of pandemic to mental health
"This is definitely affecting us greatly on a mental health level, and we're not immune to that at all."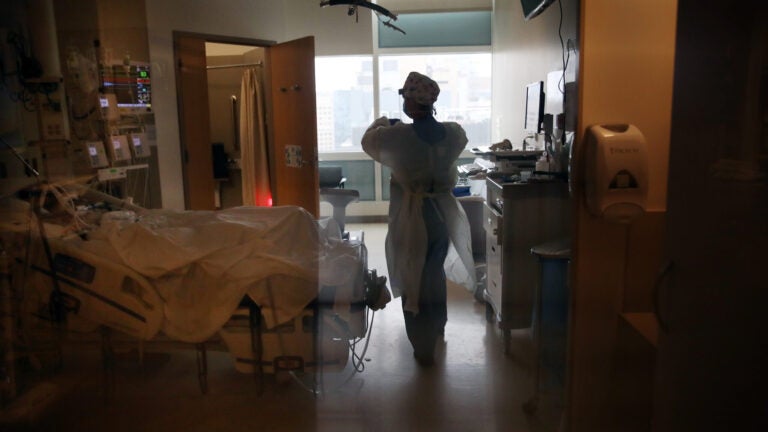 On May 16, one of the patients Melissa Hagen was caring for passed away.
Under normal circumstances, she would have performed the post-mortem care that nurses are typically responsible for — bathing the deceased and caring for the remains before bringing them down to the hospital morgue.
But the patient had succumbed to the coronavirus on the floor of Brigham and Women's COVID-19 intensive care unit, where Hagen has been working since the outbreak began. The usual processes of post-mortem care, like so many other routines, have been disrupted by the arrival of the virus, which has killed more than 7,000 people in Massachusetts.
So on that Saturday in May, Hagen followed the COVID-19 procedures, bringing her patient's body down to the morgue. It was so full she recalled having to rearrange the stretchers in order to get her patient inside.
When she returned to her floor upstairs, she started to cry.
"It was honestly traumatic," Hagen told Boston.com.
She realized in that moment that she needed a break from the stress and emotional toll of seeing the daily impacts of COVID-19 on her patients' bodies and lives. She took five days off.
"It has definitely been very rough," she said of the impacts to her mental health of working in the COVID-19 ICU. "It's been very stressful. It's been very frustrating."
Before the coronavirus outbreak began, Hagen, who has worked as an R.N. for five years, was assigned to Brigham's Trauma and Burn ICU. In that setting, patients would stay for three or four weeks at the most, she said. She'd only had one or two patients pass away.
Working in the COVID ICU, that number has changed. Hagen's now seen "vastly more" deaths in just a few months than she had seen in her entire career.
"I'm used to people getting better and things progressing," the ICU nurse said. "And these patients, most of them, they're there over four weeks. It's the slowest progression of them getting well. You feel like no matter how much you do, it doesn't make a difference at the end of your shift, they're so sick. So that's been a big issue for me. You feel like you're always going above and beyond and you just can't fix some of these people. They're just so sick."
On top of adjusting to the caring for very ill patients suffering from a virus that wasn't well understood, concerns about whether or not there would be enough personal protective equipment, or PPE, to keep health care providers safe, frequent changes to guidelines for care, and fears of a surge in cases all contributed to the level of stress she and her colleagues experienced at the start of the outbreak.
Then the surge hit, bringing its own set of challenges and demands.
But as the state continues to see a decline in new cases and hospitalizations, Hagen said the discussion among her colleagues has turned toward examining the impacts of the pandemic on the mental health of those who have been providing care. Brigham and Women's, she noted, has been vocal from the start in making clear to employees that resources are available to anyone who may be struggling and providing tools for meditation and self-care.
Hagen said she believes that as her colleagues in health care have time to examine their experiences during the height of the outbreak in recent months, there's going to be a greater need for mental health support — both in the immediate and long term for those who experienced the pandemic on the front lines.
Already, she said she knows of nursing colleagues for whom the pandemic has altered their perspective on the field and they may change their career or end up leaving altogether.
"Now that this is all slowing down, I think that people are reflecting and emotions are starting to come up," she said. "I think as far as right now and long term, definitely now is going to be the time when the mental health issues are going to start coming out — more so because people are able to start actually coping with things and realizing how they're feeling and reflecting back on what they were just dealing with for two months."
'You just wish that you could just fix these people and you can't'
Hagen isn't alone in her concerns about the impacts of the COVID-19 pandemic on the mental health of providers.
Derek Monette, an emergency room attending physician at Mass. General, has been working to raise awareness about the impacts of the coronavirus on the wellbeing and mental health on those in health care.
"One of the challenges we face is for years predating the pandemic we've not as a group been all that great at taking care of ourselves," he told Boston.com. "We sometimes feel a sense of obligation to hide our own feelings or emotional reactions to patient care. That predates the coronavirus pandemic, which almost sets us up at almost more of a challenge to make sure that we're taking care of ourselves and looking out for each other."
Working in the emergency department, Monette said one of the most stressful periods of the pandemic for him and his colleagues was in the days and weeks when the city and state were anticipating a surge in COVID-19 cases, witnessing medical systems in New York City and in Italy being overwhelmed.
"It was the first time I ever went to work being so worried about my own safety," he said.
Worrying about his own safety while trying to care for patients brought guilt. Because, the emergency room doctor pointed out, health care providers don't go to work to worry about themselves — they're there to take care of others.
That fear dissipated once it was clear there was enough PPE, Monette said. But the images of health care providers in other cities wearing trash bags to care for patients for lack of protective gear remain ingrained in his brain, he said.
"We never got into a scenario in which we had to limit resources for patients who needed those critical care resources, which is a reason to celebrate," Monette said. "At the same time … I almost feel as though we still lived through that, even though we never got there. Because we spent at least two to three weeks preparing for this 'what if scenario' and day-in, day-out you were just waiting for this horrible situation to come across us."
That feeling of bracing for a crashing wave was compounded by the distress of knowing colleagues in New York who were in the thick of it.
"There's almost a sense of survivor's guilt, trying to understand why we were spared where another city was not," he said, looking back at March and April. "And again, New York is just so darn close, and [emergency medicine] is a small community. We know a lot of those doctors and teams, so it felt personal for us, too."
Hagen said she struggled with feeling helpless, with the lack of concrete interventions for patients and the slow recoveries. It's not something she was used to with her previous assignments.
"I've had some pregnant patients — it was their first time having a baby and now they're intubated in the ICU, and that was awful," she said of her COVID-19 patients. "It's just — you just wish that you could just fix these people and you can't. So that has been really hard, too."
Restrictions for end of life care — which eventually allowed patients one visitor but also saw hospitals using technology to connect families to patients over FaceTime — were among the most difficult, Hagen said.
"That was a whole other level of awfulness because people who haven't been able to see their parents in four weeks while they've been battling this whole thing and then come to find out that they're not going to make it through it — you have to sit there with the iPad and FaceTime with them," she said.
'People don't realize that we're normal people, too'
The coronavirus pandemic has stretched many health care workers outside of their comfort zones, pushing many to work in settings that may be different than their traditional assignment, Christine Tebaldi, a nurse and psychologist who is the director of clinical business development at McLean Hospital, told Boston.com.
Tebaldi was involved in developing the mental health resources made available across the Mass General Brigham system. She said providing education and support around coping and self-care from the start of the outbreak was key for addressing concerns of the mental health impacts of the virus on staff, while also communicating the most accurate information about the virus and strategies for safe care in a timely way.
"What we're trying to normalize is that everybody right now can and should benefit from self-care strategies, from these coping strategies and these proactive or in the moment sorts of supports, like apps, like peer-led support groups, and things like that," she said."Because being able to address some of that stress experience as you go has the potential to reduce these longer term impacts, around trying to avoid people not being burned out or experiencing compassion fatigue, and really looking at putting these things in place for everybody. It's almost like universal precautions for one's emotional health, if you will, that everybody should be accessing. And then for those individuals who are experiencing a higher degree of diagnosable mental disorder, those resources are available, too."
The impacts to mental health from the pandemic, she said, have similarities to other high-stress situations like a natural disaster or a mass casualty event. But, Tebaldi pointed out, it's a more protracted event.
Each institution developed its own webpage for resources, but in general, Tebaldi said, the majority of the efforts are around offering support to frontline health care staff through peer-led support groups, education on coping and self-care tips, and breaking down concepts like psychological first aid in order to help individuals manage stress and be well.
Health care providers are also experiencing the worry, anxiety, and concern from the pandemic outside of work, she pointed out.
"Everybody is affected in some way by what's happening," she said. "So we have sort of both issues — an individual working perhaps worried about your own health and safety, worried about your family's and that of your patient. So that can be a tremendous challenge."
To address the implications of the pandemic on the mental health of health care providers in the short term, Monette said it is essential that individual departments and organizations support workers in ways that are best suited to the individual needs of that group.
In his emergency department, they've held biweekly Zoom meetings to provide support at a peer level, in addition to the hospital-wide resources.
"People can still feel alone even if they have a lot of resources in front of them," he said. "They just don't necessarily see them because they're not mentally or emotionally in a place to recognize all of the resources around them, which is why I think simply peer support, supporting your colleagues, supporting the people you work with, can sometimes be one of the more impactful interventions in the short term."
Monette, Hagen, and Tebaldi agreed that often health care professionals may put off self-care because their profession is centered around providing for others.
"You're so used to making sure everybody else is OK and taking care of everybody else that usually the very last person you're thinking of is yourself," Hagen said of the challenge she sees for herself and others working as health care providers. "So I know that self-care for health care professionals gets put last all the time. I can speak to that myself … The more you talk about it, the more it becomes normal."
While dealing with the stress of providing care amid the coronavirus, Hagen said it hasn't helped that most people don't understand what health care providers are experiencing.
At one point, she said, she deleted her Facebook account and began staying off social media because she couldn't take reading posts from people claiming the coronavirus was "fake" or advocating against control methods like mask-wearing, while seeing what she was at work.
"You have to control your impulse to yell at everybody and everyone telling people not to wear masks," Hagen said. "That's been very stressful."
The only people she has felt she can talk to about her experiences are fellow nurses, even though she counts herself as having a valuable support network of family and friends. Like everyone else, Hagen has been isolated when not at work, following the guidelines of stay-at-home advisories and social distancing to prevent transmission of COVID-19.
But even with all the stress and frustrations from working on the front lines of COVID-19, Hagen said her passion and dedication to nursing — a profession she knew was the one for her as a child — hasn't been altered. She's learned through the pandemic that it's "OK to not be OK" and to ask for help if she needs it.
She hopes the coronavirus has brought greater awareness to the mental health needs for health care providers and helped dispel the stigma colleagues may feel for seeking support.
"I think, everyone's like, 'Oh, you guys are heroes,' and they build you up — people don't realize that we're normal people, too," Hagen said. "This is definitely affecting us greatly on a mental health level, and we're not immune to that at all."