Coronavirus
Massachusetts is launching more than 50 pop-up coronavirus test sites for people who participated in protests
Here's the complete list.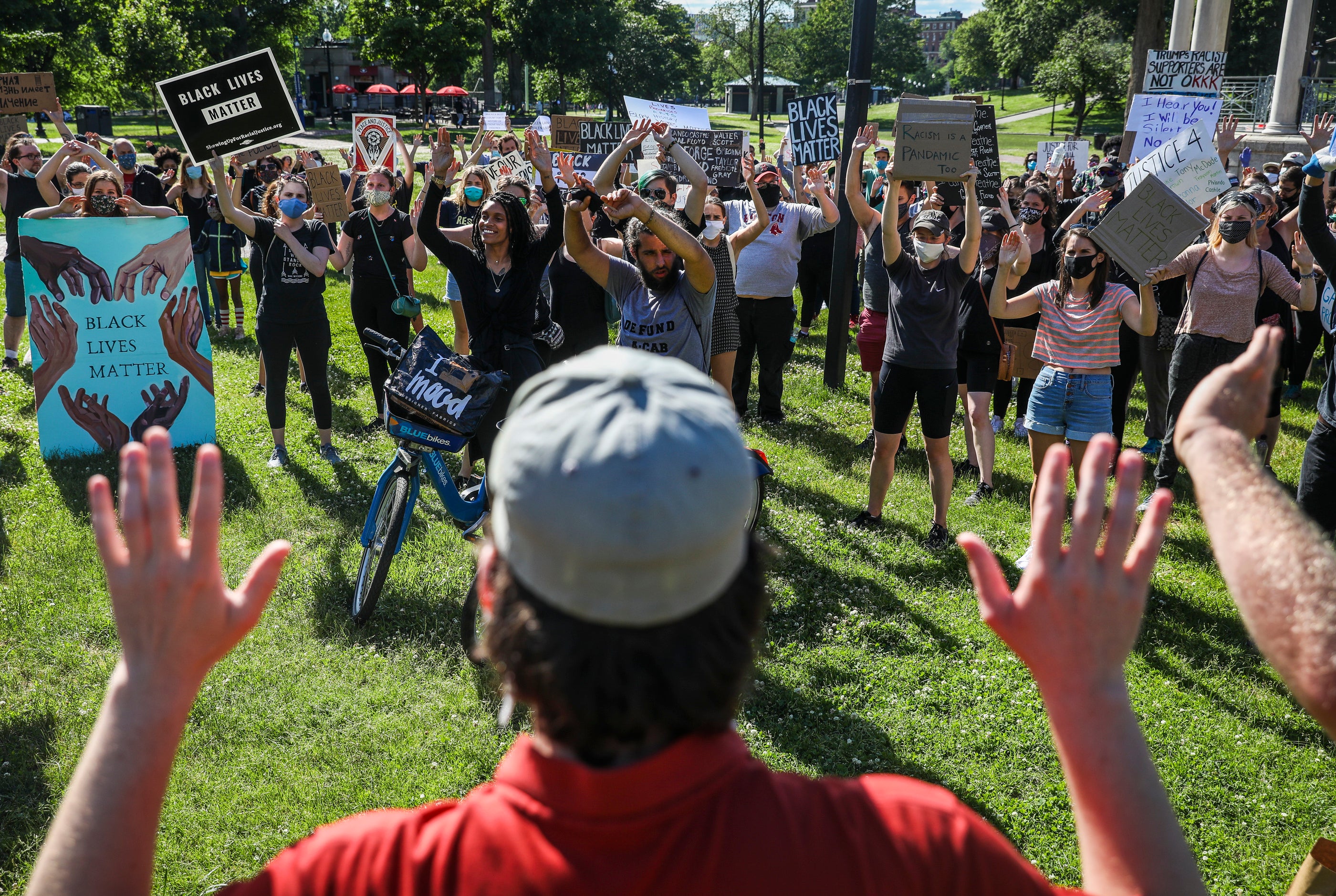 Massachusetts has seen the rate of positive COVID-19 tests drop 90 percent over the last two months. But after two weeks of mass protests against racial injustice, officials in the hard-hit state are ramping up efforts to monitor the disease.
During a press conference Monday afternoon, Gov. Charlie Baker announced that his administration is making 52 free COVID-19 testing sites available this week for anyone who has recently participated in a large gathering, given the risk of the virus spreading through groups of people in close contact with each other.
The pop-up testing sites — which include hospitals, health centers, and CVS pharmacies — will be open Wednesday and Thursday on a walk-in or appointment-only basis (or both), depending on the the location.
Tests results will be provided confidentially (view the full list of sites below or on the state's website).
"We certainly support people's rights to express their views peacefully but we need to keep up our fight to slow the spread of COVID-19 here in Massachusetts," Baker said, noting that many people who are infected by the virus remain asymptomatic and could spread it to family members and other close contacts.
In the wake of the killing of George Floyd by Minneapolis police, Baker said there have been 300 events "of one kind of another" across Massachusetts with more than 100 people. And while the governor noted that the recent demonstrations were not the first time the state had seen protests during the pandemic, he said they "certainly" had the most participants and coincided with the state's phased reopening, when "more and more people are moving around with each other."
"Many of them had more than 1,000," Baker said. "And while [at] a lot of them, people wore face coverings and they were outdoors and people were moving, there was also a lot of chanting and yelling and those — right up there with singing — is one of the things that a lot of the medical community worries about."
Under the two-day testing initiative, Health and Human Services Secretary Marylou Sudders said the state hopes to provide 10,000 additional test a day, which would effectively double the current number of daily tests conducted throughout Massachusetts. The additional capacity was created through both expanded sites and expanded hours at existing test sites for symptomatic individuals and people who are close contacts of confirmed COVID-19 cases.
The new pop-up sites come a week after the city of Boston launched a two-day walk-in testing center similarly aimed at individuals who had participated in protests. According to Sudders, city officials had expected to conduct an additional 1,000 tests a day at the Roxbury site; they ultimately tested between 1,200 to 1,500 individuals each day.
Officials in Boston are still waiting for data on the results of those tests. And it remains too early to determine whether the recent protests have contributed to any increase in COVID-19 cases, according to Baker, who noted that it usually takes at least two weeks for people to develop symptoms.
Massachusetts still has the third most deaths due to the coronavirus of any state in the country.
However, even as the number of new coronavirus cases increase in more than 20 other states that began reopening earlier, Baker said Monday that Massachusetts has continued to see "very positive progress." And in addition to the "amazing work" residents had already done, he said that getting tested this week was "another important way to play your part."
"Please, if you were at a large gathering in the last couple of weeks, check out the website and find a testing site near you," Baker said.
Read the full list of sites below:
CVS testing locations
All CVS sites are appointment-only and will be open 9 a.m. – 6 p.m.
To make an appointment, go to www.cvs.com/minuteclinic/covid-19-testing. Where the form asks "Have you been prioritized by your state or local health department for testing? (e.g., for public health monitoring)?" select "Yes."
| City | Address |
| --- | --- |
| Bellingham | 370 Pulaski Boulevard |
| Bridgewater | 9-19 Summer Street |
| Burlington | 34 Cambridge Street |
| Carver | 100D North Main Street |
| Charlton | 142 Worcester Road |
| Chelsea | 1010 Revere Beach Parkway |
| Danvers | 311 Newbury Street |
| East Falmouth | 419 East Falmouth Highway |
| Haverhill | 150 Lafayette Square |
| Holbrook | 480 North Franklin Street |
| Holbrook | 842 South Franklin Street |
| Ipswich | 114 Central Street |
| Lawrence | 266 Broadway |
| Lowell | 32 Reiss Avenue |
| New Bedford | 136 Ashley Boulevard |
| Northampton | 366 King Street |
| Pittsfield | 107 West Street |
| Raynham | 266 Route 44 |
| Salem | 272 Highland Avenue |
| Salisbury | 2 Lafayette Road |
| Shrewsbury | 720 Boston Turnpike Road |
| Southwick | 215 College Highway |
| Waltham | 800 Lexington Street |
| West Springfield | 928 Riverdale Street |
| Westport | 599 State Road |
| Winchendon | 301 Central Street |
| Worcester | 481 Lincoln Street |
| Worcester | 44 West Boylston Street |
| Wrentham | 652 South Street |