Coronavirus
State eases COVID-19 regulations for reopening child care centers and summer camps
The move follows feedback received from providers raising concerns about the feasibility of the reopening guidance.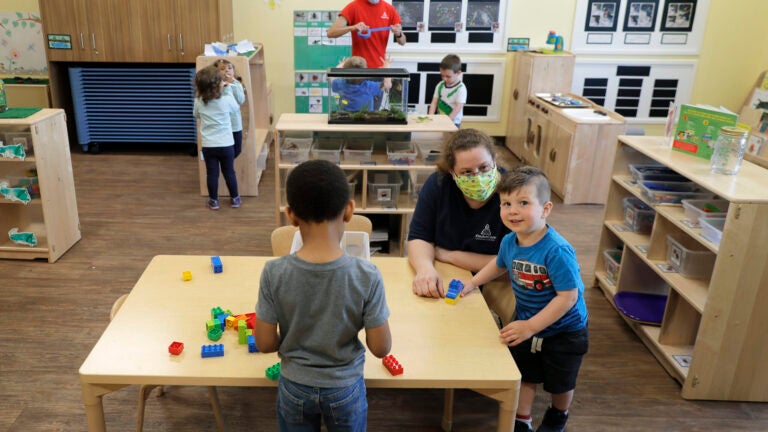 After receiving feedback from child care providers, Massachusetts is updating some of the regulations put forward for the businesses and summer camps to safely reopen amid the coronavirus pandemic. 
With the easing of some restrictions, the Department of Early Education and Care is no longer requiring temperature checks for staff and children before entering the child care spaces, but parents or guardians will still be required to answer questions about their child's health daily in screening for symptoms of coronavirus. 
Most notably, the department has also removed the stipulation of a maximum group size for kids and adults "so programs can establish the staffing plan that makes the most sense for their program."
Previously, the state said child care programs must be restricted to a maximum of 10 children, with a total of 12 individuals including children and staff in each room —  requiring an extra preschool teacher in each room. 
Child care providers expressed concern that the required ratio of 10:2 — when pre-coronavirus regulations allowed providers to enroll up to 20 preschool-aged children in one class with two adults watching over them — would result in a financial hit to the industry with the reduction in the number of kids who could enroll, according to WBUR.
"The state is putting us in a bad position, as educators and as business owners," Jessica Teixeira, owner of the Imagination Station Early Learning Center in Revere, told the station. "It's like we're losing, losing, losing. I don't know how they expect businesses like us to stay open."
With the updates to the group sizes — returning the ratio to one staff member for a classroom of 10 preschoolers — the state is still asking that staff do not move between cohorts of children or float between groups during the day or day-to-day, unless needed to provide supervision of specialized activities. 
"Programs should work to propose a staffing plan that abides by the ratio and group sizes outlined in the requirements while preventing contact across groups, adapting their model to the best of their ability," the state said. "Reasonable staffing plans that ensure adequate supervision of children while implementing the requirements will be considered adequate for reopening."
Officials are also now only encouraging, not requiring, the wearing of masks or face coverings by staff and children over the age of 2. For staff, face coverings are required when social distancing is not possible.
Child care providers were allowed to submit their plans for reopening for review and approval to the state starting on Monday. The EEC says it will immediately review the plans and self-attestations from the providers to ensure they are complete and then give providers conditional approval, allowing them to immediately reopen services. Final approvals will be given within 60 days after the department performs a more "thorough review of plans and address any support needs for on-going operations."