Coronavirus
Providence approved a plan to allow outdoor adult entertainment. Strip club owners are having 'second thoughts.'
"You're not making any money, you're just going through the motions."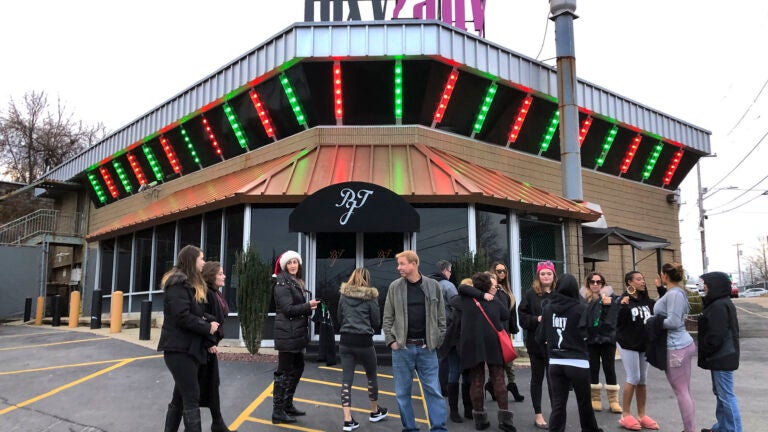 The second phase of Rhode Island's reopening plan allows restaurants to host live music and concerts, as long as they're outside. And at least in Providence, officials are applying an encompassing definition of "live performances."
Last week, the city's licensing board approved a plan by four local strip clubs to offer outdoor adult entertainment under the new reopening rules aimed at preventing the spread of the coronavirus.
However, according to WPRI, some club owners are now questioning whether the plan — which requires performers to wear face coverings and bans "side dances" — will actually work.
"It seems a little over the top," Lori Savickas, the entertainment manager for the Providence club Foxy Lady, told WPRI.
While the COVID-19 pandemic has wrought devastation across the hospitality sector, club owners say that the "adult entertainment industry has been one of the hardest hit." Like other businesses deemed nonessential, strips clubs were forced to close across the country. But they were also excluded from federal aid programs during the shutdown (at least until a court ruling last month).
Claiming "millions of dollars" in losses, the four Providence clubs presented a joint plan to the city's Board of Licenses last Wednesday proposing how they could feasibly reopen and abide by the state's Phase 2 rules.
"Adult entertainment might not be everyone's favorite sector of the economy," the plan said. "But it is a constitutionally protected industry that generates millions in income to those who work for these clubs, and substantial local tax revenue which pays for the things we care about most in our city."
The proposed rules included limiting indoor seating to 50 percent capacity (with no indoor entertainment) and spacing tables eight feet apart, both inside and outside. Customers had to be seated for food and drink service.
Club staff, "including performers," were required to wear masks at all times. And customers were required to wear masks while "interacting with staff, especially performers." Stages had to be surrounded by plexiglas barriers. Customers were prohibited from making any physical contact with dancers. And individual performances had to take place in an open area "visible to management and security" and adhere to a two-foot "Boston Rule" or have a barrier between the patron and employee.
Dylan Conley, the chair of the Board of Licenses, told WPRI that owners will also have to ensure that any "entertainment would not be visible from any public point of view."
The plans also called for stringent cleaning measures and temperature checks for both employees and customers. Entertainers also were encouraged to arrive at work "dressed with make up and hair already done to limit the use of dressing rooms."
But right now, performers apparently don't want to return at all.
Frank DeLuca, the owner of Club Fantasies, told WPRI that only one dancer was willing to return when he prepared to open last Thursday under the new rules. According to DeLuca, most of the dancers, who are independent contractors, were uninterested in returning when they found out they couldn't do side dances, also known as lap dances, during which they make more in tips.
Conley told The Boston Globe that lap dances won't be permitted until indoor entertainment is allowed. Then, the clubs will have to submit another safety plan.
"I think the nature of a lap dance is, if you consider the [potential for] spreading contagious diseases, much more challenging than other services that are normally performed at restaurants and bars, so that will be complicated," Conley told the Globe.
Still, for now, club owners might have to wait until then for the return of performers and patrons alike.
Dick Shappy, the general manager for The Cadillac Lounge, told WPRI that he was having "second thoughts" about a planned reopening Thursday; his club's staff weren't interested in coming off unemployment — where they can get a $600 federal boost through the end of July — and customers aren't comfortable returning to the current format.
"You're not making any money, you're just going through the motions," Shappy said.