COVID
Here's how state regulators are considering reopening Mass. casinos
Finalizing the guidelines was delayed this week due to concerns from casino and slots parlor operators.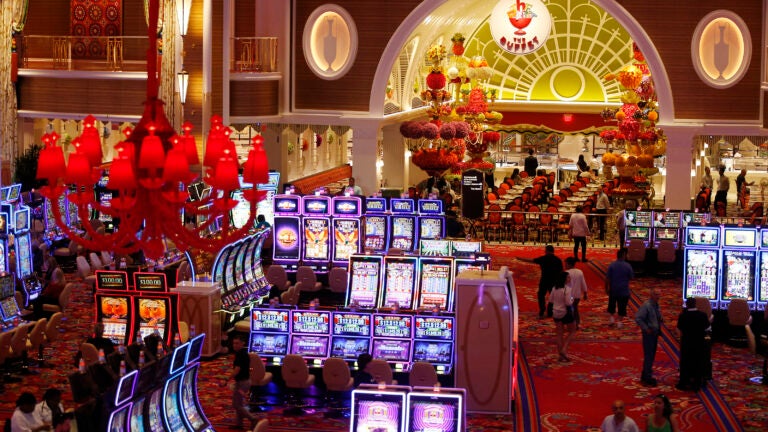 Plexiglass dividers between players and dealers at Blackjack-style tables. No craps, roulette, and poker until further notice. Drink service only for stationary guests playing in the gaming area.
These are a few of the potential minimum requirements the Massachusetts Gaming Commission may put forth to the state's casino and slots parlor operators, as the three establishments look to possibly return to business during Phase 3 of Gov. Charlie Baker's reopening plan during the coronavirus pandemic.
But while commissioners hoped to solidify those requirements, among others, Wednesday, they ultimately opted to delay finalizing the reopening approach after hearing concerns from the casino licensees.
According to the State House News Service, the license holders voiced issues with what the overall impact will be on business should the commission, which is also considering occupancy limits, follow through on limiting the number of gaming positions — Blackjack-style tables could be limited to three player positions — and requiring barriers between players at gaming tables.
"Our licensees are saying to us that there is a potential that that is a game changer for them, to impose that requirement," said commission Chairwoman Cathy Judd-Stein. "We have, without knowing that, we all agreed that that made good sense in light of the current public health standards."
The 11-page document the commission is currently working with would mandate that Encore Boston Harbor in Everett, MGM Springfield, and Plainridge Park Casino in Plainville each have a detailed plan for reopening filed with regulators at least a week before opening their doors.
The earliest casinos can reopen under Baker's plan is June 29.
The commission has reached informal consensus around most of its minimum requirements for reopening.
Under the measures, guests will be required to wear masks or face coverings in the gaming area and will be encouraged to use hand sanitizer upon entering. Operators should also consider performing temperature checks upon welcoming guests to the properties, turning away any individuals who have a temperature of 100.4 degrees or higher after two tests. Signage at the entrance will ask guests not to enter if they had any COVID-19 symptoms recently.
Slots machines and chairs should be sanitized "as frequently as possible between player turnover and at regular intervals, at a minimum every four hours," with sanitizing wipes available nearby for guests, the requirements say. Players should also be given the option of receiving jackpot payouts via tickets or cash inside an enclosed envelope.
For table games, guests should be encouraged to use hand sanitizer before playing, and operators should have protocols in place to sanitize chips and replace cards "based on volume and frequency of play," among other actions, according to the requirements.
Cage windows should also have plexiglass partitions between guests and employees, the document says.
The two casinos and slots parlor should prepare a plan for how to handle guests who do not comply with the COVID-19 related protocols, according to the memo.
Commissioners have also said guidelines will likely change once the establishments reopen and officials see how the requirements are playing out in practice.
On Wednesday, licensees told the commission they wanted to gain a better sense of how reduced capacity limits could impact their businesses, the News Service reported. They also want to provide the commission with updated counts of their employees, should officials consider the number of staffers when determining capacity restrictions, according to the outlet.
"We're all in uncharted water here, we're doing the best we can," said Patrick Madamba, counsel to MGM. "I'm sure we will work through this as well very, very quickly."
Commissioners held off on approving the requirements, instead opting to collect the relevant information from licensees, the News Service reports. The next meeting notice will be posted "as soon as possible," Judd-Stein said.
According to the News Service, the Baker administration will release its own set of guidelines for the industry that the two casinos and slots parlor will have to follow, too.