COVID
Electricity, water shut off to Oxford gym that has continually defied state order
Prime Fitness and Nutrition reopened on May 18 even though gyms aren't allowed to open until Phase 3.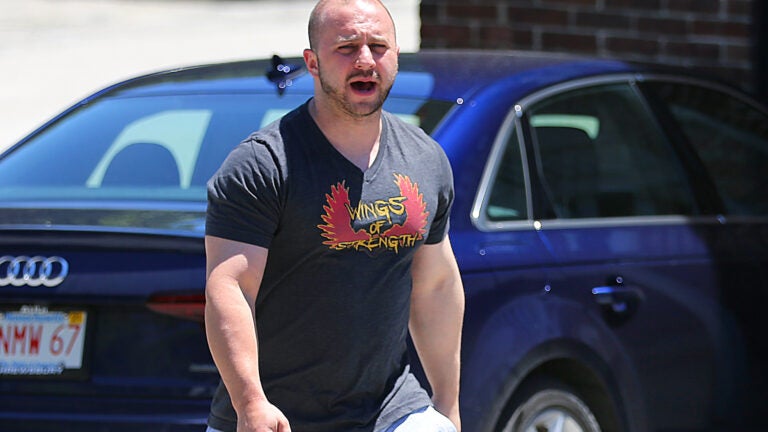 After defying the state's phased reopening plan for weeks, Prime Fitness and Nutrition has been left in the dark. Literally.
Electricity and water have been shut off to the Oxford gym, which reopened back on May 18 despite gyms being placed in Phase 3, which may start later this month, at the earliest.
Mark Reich, an attorney with KP Law representing the town, confirmed Thursday morning via email that the two utilities had been cut.
A court order allowed the town on Tuesday to "take any and all reasonable actions" to close the gym, Reich had told Boston.com on Wednesday during a phone interview. 
"We are trying to avoid any unnecessary confrontation with Mr. Blondin and his supporters while complying with the court's order," Reich said, referring to Dave Blondin, the gym's owner.
Update: In an email Thursday evening, Reich said the building's locks had been changed: "Please be aware that the locks have been changed and the building secured with the cooperation of the building owner, who is not Mr. Blondin. The Town is hopeful that this action will resolve the matter and assure protection of public health and safety, which is the sole intent of the Town in this action."
Since its reopening, Prime has racked up thousands of dollars in fines. Reich said the town had been issuing a fine of $300 per day for "quite some time." As of last Friday, when a judge imposed an order of contempt, the fines went up to $1,000. A revisiting of the order Tuesday allowed for the town to pursue the avenues to shut down the gym, which remained open Thursday. Prime must also pay for the town's court and legal fees.
While some may ask why the town doesn't allow the gym to stay open without penalty until Phase 3 begins, Reich said it's a matter of keeping people safe.
"We are seeking to protect public safety," he said. "The reality is, we're in a state of emergency. … Yes, it's costing him money, but he's creating a serious threat to public health and safety. That's not an issue of dollars and cents."
Blondin did not return a call seeking comment on Wednesday. A call to the gym Thursday went right to voicemail, and the inbox was full.
Blondin posted a Facebook video Wednesday asking those interested to join him at the gym at 10 a.m. Saturday for a "peaceful protest."
"All are welcome to come protest, train and fight for our rights," he said, asking people to bring a protest sign of their choice. 
In a video posted Monday, Blondin appears to mock protesting by holding a sign that says, "I stand with Prime," and walking back and forth outside the gym while shouting "Prime" repeatedly. He smiles at the end, and someone off screen can be heard laughing.
"Since protests are ok, this means I can stay open right?" the video's caption says.
A GoFundMe campaign was set up to help offset Prime's fines. As for Thursday around 4:45 p.m., it had raised over $14,700 of a $50,000 goal.
Since protests are ok, this means I can stay open right? 🤷🏻‍♂️..Please come join me 🤣🤣#istandwithprime

Posted by Prime Fitness & Nutrition, Inc. on Monday, June 15, 2020