COVID
Charlie Baker announces that indoor dining in Massachusetts can begin Monday
Here's what the "second step of Phase 2" of the state's reopening plan includes.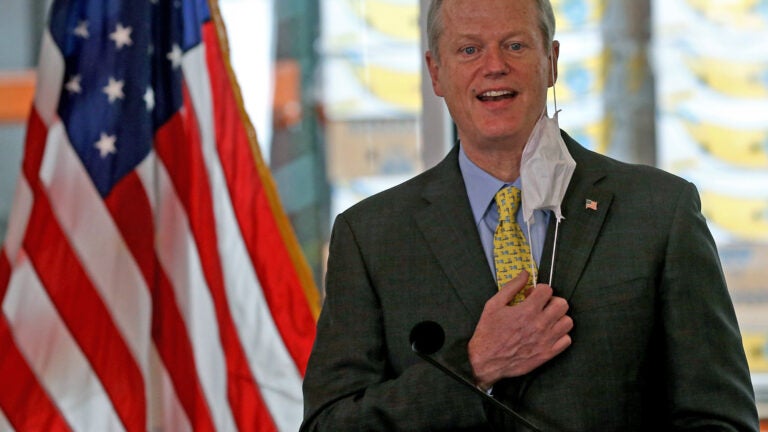 For the first time in more than three months, restaurants in Massachusetts will be allowed to open for indoor dining next week.
During a press conference Friday afternoon, Gov. Charlie Baker announced that the "second step" of Phase 2 of the state's reopening plan will begin Monday, as COVID-19 cases in hard-hit Massachusetts continue to decline. The move will also allow other close-contact businesses, from nail salons to appointment-only personal training, to reopen.
"We are making the progress we're making because of the actions that people here in Massachusetts are taking every day," Baker said, stressing the importance of face coverings and continued social distancing.
Massachusetts, which has had the third most deaths due to COVID-19 in the country, is the last state in New England to allow indoor dining to resume, after New Hampshire and Connecticut allowed restaurants to welcome customers back to eat inside this week.
But the dining experience won't look like it did before the outbreak.
As opposed to capacity limits, tables must be spaced at least six feet away from each other (unless separated by some sort of barrier) and limited to groups of up to six people.
Patrons will have to wear a mask when seated not at their table. Bar areas will remain closed. And reusable menus will be prohibited; restaurants can either provide single-use paper menus or display food and beverage options on a chalkboard or website.
State officials are also encouraging restaurants to require reservations or call-ahead seating.
Asked about residents' potential hesitancy about returning to indoor restaurants, Baker said he was "pleasantly surprised" by the number of people who tried outdoor dining since Phase 2 first began on June 8, despite the restrictions and work-from-home advisories.
"People liked it, and they used it," the governor said.
However, "step two of Phase 2," as officials call it, doesn't only include indoor dining.
Offices will be permitted to raise their occupancy limits from 25 percent to 50 percent, though employers are still encouraged to let employees work from, especially in the Boston area where officials want to avoid crowding on the MBTA.
It also includes a slate of close-contact businesses, predominantly around personal care. Here's the full list, per Baker's office:
hair removal services; including laser services, depilatory salons, waxing services, threading, and electrolysis services
massage, body treatments, eastern treatment, energy therapies and other body work therapies;
skin care services; including peels, facials, serums, Botox and filler
nail care services; including nail salons
other hair services; including hair replacement services, scalp treating services
makeup salons;
makeup application services;
personal trainers; provided that in Phase 2 any indoor personal training service is limited to appointment-only training with only one customer (or two from the same household) allowed in the facility at a time;
tanning salons; including other businesses that provide spray tanning and tanning beds; and
tattoo, piercing, and body art services
The second step also eases the restrictions on barbershops and hair salons allowing them to offer "non-hair services," like beard trimmings and manicures.
However, all close-contact businesses are still required to keep waiting rooms closed and accept customers on an appointment-only basis, among other industry-specific safety rules. Face coverings are also required for both employees and customers.
Retail stores will also be allowed to open dressing rooms on an appointment-only basis, in the hopes of avoiding lines.
Baker said the administration wants at least "two weeks of indoor dining data" before making a decision about when to begin Phase 3, which would allow casino floors, gyms, and museums to open with restrictions.
Lt. Gov. Karyn Polito said it was "imperative" that Massachusetts residents continue to follow best practices when it comes to face coverings, social distancing, and hand-washing, as the state transitions toward a "new normal."
"It really is in your hands," Polito said.