COVID
Massachusetts updates self-quarantine advisory to exempt visitors from 7 other Northeast states
"COVID-19 will not be taking a summer vacation."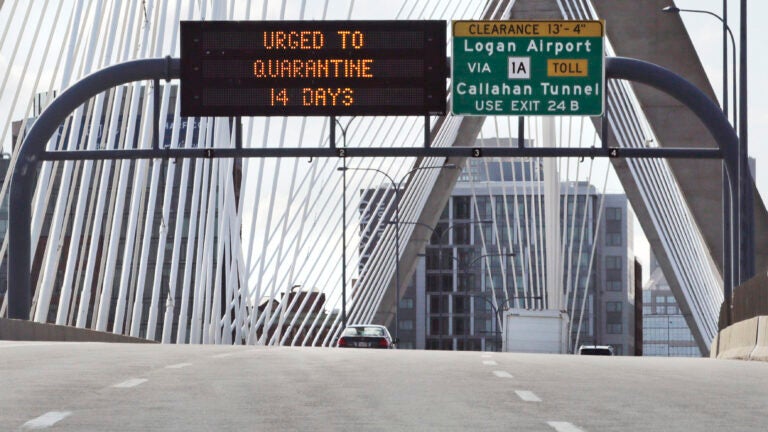 Even in the midst of the COVID-19 pandemic, Gov. Charlie Baker hopes tourists can still enjoy their "favorite places" in Massachusetts this summer. And beginning on Wednesday, visitors from seven other northeastern states will no longer be asked to self-quarantine first.
Baker announced Tuesday that Massachusetts will exempt travelers — both arriving and returning — from Rhode Island, Connecticut, Vermont, New Hampshire, Maine, New York, and New Jersey from the state's 14-day self-quarantine advisory, due to declining coronavirus rates in those states.
"People in those places should be able to visit Massachusetts without living up to that 14-day quarantine," Baker said during a press conference, noting that the change "reflects the facts on the ground."
The two-week quarantine advisory — which directs out-of state visitors to stay inside and avoid contact with people outside one's household  — remains in place for most visitors from other places, except for essential workers traveling to Massachusetts for work purposes.
Anyone with symptoms of COVID-19 is instructed not to travel, officials say.
"We're home to many destinations that people usually travel to visit from all over the world, and there's no doubt this season will be different and immensely difficult for visitors and businesses," Baker said.
The change — just days before the July 4th holiday weekend — comes a week after Connecticut, New York, and New Jersey began requiring visitors from states with high coronavirus rates to quarantine for 14 days, as places like Arizona, Florida, and Texas report record numbers of new cases. Those who don't comply with the requirement could face fines ranging from $2,000 for first-time offenders to $10,000 for repeated violations.
In his opening remarks, Baker alluded to the "sharp increase" in hospitalizations and infections across the South and West regions of the country, which he called "a very real reminder to all of us about just how contagious this virus can be."
However, the Massachusetts governor said he had no plans to couple the state's quarantine advisory with any enforcement measures, even for visitors from hotspot states.
"There are real constitutional issues associated with limiting travel between states," he said, when asked about threatening to fine visitors who don't comply (several states with mandatory quarantine requirements are facing lawsuits).
Based on information from the local lodging community, Baker said the voluntary quarantine advisory in Massachusetts had thus far proven to be "a very effective tool to limit the number of people who come here," whether it be to rent a home or book a hotel room.
"It definitely has had an impact," he said.
And those who have visited Massachusetts have been "pretty good about complying with" the quarantine advisory, the governor said.
Baker said he expects people in Massachusetts to vacation for "a few days out of town at some point over the course of the summer," but added "that probably means staying a little closer to home — somewhere around New England or the Northeast."
"We'd like to see them go to the states that have the same kind of positive test trends that we have, which would be the ones that are generally around us," he said.
For those planning to leave Massachusetts, Baker urged them to likewise follow local quarantine rules.
"COVID-19 will not be taking a summer vacation, and the way we deal with it should continue to factor that into our daily decisions," he said.