COVID
UMass Amherst has released its reopening plan for the fall. Here's what to know.
"Life on campus during fall 2020 will not be anything resembling normal college life."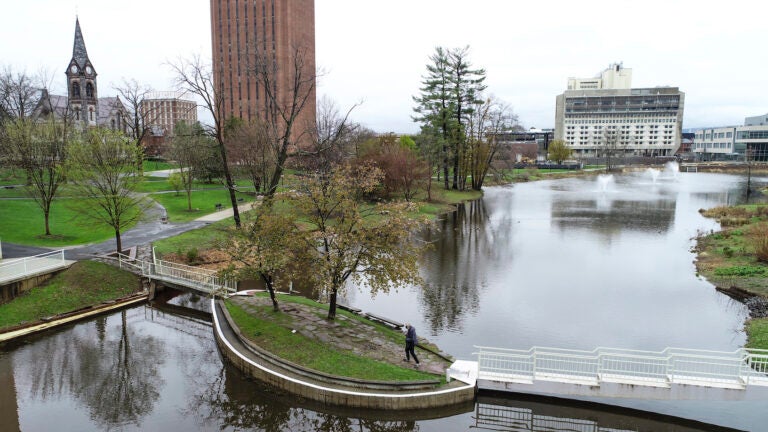 UMass Amherst will conduct most of its courses remotely this fall, but students who want to live on campus will have the option to do so under a reopening plan unveiled by the state's flagship public campus Monday.
"As students evaluate how they wish to pursue their studies at UMass this fall, it is important to understand that life on campus during fall 2020 will not be anything resembling normal college life," Chancellor Kumble Subbaswamy wrote in a letter to the school community. "The bottom line is this: While all courses that do not require physical presence on campus will be offered remotely this fall, all undergraduate students who have reserved on-campus housing for the upcoming semester, and for whom there is space available, are invited to live on campus under strict public health behavioral restrictions."
The move is unlike other plans made by colleges and universities in Massachusetts for classes this fall in the age of COVID-19. Institutions such as Northeastern University and Boston University, among others, are planning for a hybrid semester where students will attend classes both in person and, at times, over the computer.
According to Subbaswamy, the decision to let students come back to campus even though there will be minimal in-person courses offered was made after administrators heard "overwhelming feedback" from students who said they wanted to be back on campus, so much so that some intended to rent apartments off campus should the school keep its doors closed.
But those who do return should plan on following strict rules to limit the spread of coronavirus.
Here's what to know about the reopening plan:
Students who live on campus are not guaranteed in-person classes
Students should expect very much the opposite, Subbaswamy wrote.
"Students who choose to reside in campus residence halls or return to the area to live in off-campus housing must acknowledge that doing so will not guarantee that they will be able to take in-person classes," the chancellor wrote. "In fact, it is highly likely that most, if not all, of their classes will be conducted remotely."
Subbaswamy said the only courses and activities that will be carried out on campus are select labs, studios, performance, and other courses "involving hands-on work."
"Advanced graduate students who are engaged in laboratory research will continue to have their access to lab space reviewed and approved by the relevant faculty, department, dean, and the vice chancellor for Research and Engagement," he added.
Student advisers will work with students who have an underlying medical condition or who feel unsafe on campus but have a face-to-face class to make a schedule that contains only remote courses, the plan says. Students who want to have a residential experience but are uncomfortable on the Amherst campus can apply for housing at the Mount Ida Campus in Newton, where the total housing population will be limited to less than 500 students.
For those who do have in-person instruction, classrooms will have limited capacities to allow for physical distancing, and schedules will be reconfigured to allow for 30 minutes between classes, the plan says. The change will reduce foot traffic on campus while also providing staff the needed time to clean spaces when necessary.
Dormitory bathrooms will be cleaned frequently; pedestrian flow in buildings will be redirected; and no guests will be allowed. Students are allowed two people each to help them move in and out, and all must wear masks.
According to the plan, tuition will be set by the university's Board of Trustees this summer, but "tuition for fall 2020 will not be altered based on the mode of instruction."
"Courses that will be offered remotely will be of the same caliber and quality, taught by the same outstanding UMass Amherst faculty," the plan says. "The cost to provide instruction (faculty salaries, advising, etc.) does not change based on the mode of instruction. In some cases, the cost of providing remote instruction is actually higher than in person, as a result of the technological resources required. Students will be provided the same resources and support services, such as the Learning Resource Center and academic advising, regardless of modality."
The plan indicates that UMass President Marty Meehan will recommend to the trustees a tuition freeze to keep rates the same as they were for the 2019-2020 academic year for in-state undergraduate students.
The semester will kick off on Aug. 24 and run through Nov. 20. After that, students will not be returning to campus as final exams will be conducted remotely after Thanksgiving, according to the plan.
On-campus students will have to sign the 'UMass Agreement'
All students on campus will be tested for the coronavirus before moving into residence halls or participating in programs, according to Subbaswamy. Students will also be tested should they exhibit any symptoms of the virus.
"Given the prevalence of the virus in the general population, it is expected that a number of students will test positive for COVID-19 while remaining asymptomatic," Subbaswamy wrote. "As is required under CDC and Massachusetts Department of Public Health guidelines, those who test positive for the virus, even those who are asymptomatic, will be required to self-isolate. Students who have been determined through contact tracing to have been in close contact with someone who has tested positive will also be required to self-quarantine."
Students arriving on campus also must sign the "UMass Agreement" to acknowledge their role in mitigating the spread of the virus.
"Students are encouraged to limit their travel to the local area," the plan says. "Students who travel outside of a certain mileage range will be required to report their travel and possibly quarantine upon return."
Students will be required to follow strict physical distancing rules, to wear a face covering when outside their rooms, to limit the number of people they come in contact with socially per day, to submit daily symptom monitoring and reporting, and to assist with contact tracing, among other protocols, according to Subbaswamy.
If a student breaks protocol under the agreement, he or she could be removed from campus and have to complete his or her studies remotely until the case is closed, "due to the serious impact of breaches to public safety," the plan says.
What we know about other UMass schools' reopening plans
At UMass Boston, where administrators unveiled a draft plan for the fall 2020 semester earlier this month, classes will be held remotely, with the exception of certain lab courses in the sciences and nursing courses, according to a June 22 letter from Interim Chancellor Katherine Newman.
"We believe this approach is advisable because at this point in time, it is not possible to guarantee the safety and well-being of our campus community, and the neighborhoods in which our commuting population is embedded," the UMass Boston plan says. "Comprehensive testing — which ideally involves everyone coming to campus — is neither readily available … nor likely to be feasible or affordable in the near term."
The plan also cites the challenges in allowing adequate space for physical distancing on the urban campus, including the faculty's and students' reliance on public transit.
"Comprehensive weekly testing of a large urban population of commuting students, faculty and staff, isolating those who are infected from their fellow students, colleagues and family members, and quarantining at scale would be very hard for our campus," Newman wrote. "Opinions vary on how necessary it is to invoke such a strict standard for a largely commuter campus, but we feel that our community deserves a significant degree of caution given the many unknowns about this virus."
At UMass Lowell, officials say fall classes will be held on campus "at reduced capacity with social distancing, augmented with virtual classes," with labs, clinicals, and studio courses prioritized for on-campus instruction.
"Residence halls will be limited to 3,600 beds in single occupancy for traditional halls and limited to double occupancy in suites or apartments," the university's website says.
Daily self-health checks for coronavirus symptoms are required, as are face coverings and adherence to physical distance protocols, according to plans. Policies and procedures on testing protocols are still in the works.
Campus plans for UMass Dartmouth have not yet been released, although the school released committee reports studying how the university can operate come the fall semester.