Coronavirus
A local public policy research group is urging the state to do more in combatting COVID-19 in nursing homes
"There's a glaring contrast between the state's hyper-vigilant closure of the schools and preparations in the hospitals, on the one hand, and insufficient preparation in eldercare facilities on the other."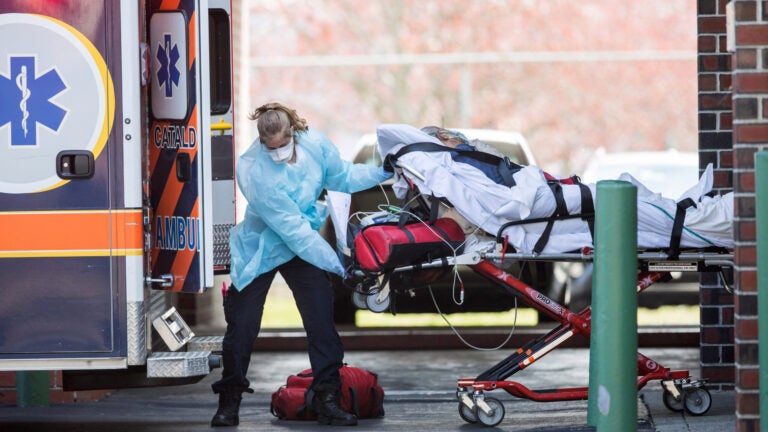 The coronavirus pandemic has grimly highlighted needed nursing home reforms in Massachusetts, particularly as ongoing state practices accelerated and exacerbated the virus's disproportionate death toll on the elder community, according to a Boston-based watchdog public policy research group.
"COVID has wiped out 10 percent of Massachusetts' nursing home population," Barbara Anthony, a senior health care fellow at the Pioneer Institute, said in a statement. "The state needs to take affirmative steps to control infection and prepare nursing homes for the duration of the pandemic and beyond,"
Anthony co-authored an open letter on June 29 to the state's COVID-19 Study and Recommendations Task Force, laying out recommended improvements in elder care facilities for officials to review, especially regarding enhanced oversight and transparency of nursing home protocols.
As of Tuesday, the state Department of Public Health had reported 23,453 total probable or confirmed COVID-19 cases in nursing homes and other long-term care facilities, with 5,106 deaths reported in those centers alone. At least one case has been reported in 369 facilities.
The death count makes up the majority of the total deaths reported in the commonwealth throughout the pandemic. On Tuesday, the death toll sat at 8,054, while the total number of cases climbed to 108,882.
According to the Pioneer Institute letter, the deaths of residents and staff of long-term care facilities make up 63 percent of the total — higher than the national average of 40 percent.
Anthony, along with co-authors Mary Connaughton, Pioneer's director of government transparency, and Research Assistant Andrew Mikula, wrote that even before the arrival of the troubling statistics, there have been conditions that have been in place for years that require more oversight.
Standards require facilities to follow an "all-hazards approach" in emergency preparedness plans, but there is "no clear evidence that annual state and federal surveys have applied these standards in a thorough and consistent manner."
"We would like clarification as to whether these past surveys were primarily accomplished through self-attestation by the homes or whether they involved thorough on-site reviews and inspections," the trio wrote. "The state's most recent infection control audits, which were ordered only after immense public scrutiny of the deadly impact of COVID-19 in nursing homes, have revealed that over one-third of these facilities have failed to comply with measures meant to proactively stem the spread of COVID-19 as of May 21."
However, other calls made by officials more recently also exacerbated the reach of the outbreak, they say.
When Gov. Charlie Baker made the call to close nursing homes to visitors, it was already too late, the letter says. Staffers and visitors likely brought in the coronavirus as asymptomatic carriers.
Community transmission accelerated the spread, they wrote.
"There's a glaring contrast between the state's hyper-vigilant closure of the schools and preparations in the hospitals, on the one hand, and insufficient preparation in eldercare facilities on the other," Pioneer Executive Director Jim Stergios said in a statement. "Given the risk profile of eldercare residents, we hope that lessons learned in the first wave of the pandemic translate to permanent reforms in Massachusetts nursing homes."
Personal protective equipment shortages because of supply chain challenges and lack of available testing, "as well as shortages of staff with appropriate infection control training, created infectious conditions that spiraled out of control," the letter said.
Starting in April, nursing homes were offered additional funding to allow COVID-19 patients from hospitals into their facilities, according to the letter.
Citing research from the Massachusetts Advocates for Nursing Home Reform, the Pioneer Institute wrote that the data suggests half of the homes taking the offer had low ratings from the Centers for Medicare and Medicare Services, or essentially "severe operational deficiencies."
"Initially, the state may have relied on self-certifications from the homes that they had proper isolation units for infected residents; later, we believe, inspections related to the 28-point infection control program included the isolation units," the letter says. "It is not clear how facilities with low CMS grades became COVID checklist-compliant so quickly. This incentive structure needs reform to prioritize quality of resident care over monetary gains, with ongoing transparent oversight from state officials prior to placement of COVID patients."
The Pioneer Institute is calling on state officials to provide the public with easily accessible and transparent information about transferring elderly patients between care facilities and hospitals so that families can better make decisions about where to house their loved ones, especially if the state will face a second wave of COVID-19.
"The state's recent efforts to increase the precision of case and death counts at Massachusetts nursing homes is a good start, but we would like to see more in-depth statistics going forward that take into account risk factors such as the facility's layout and other diseases among residents," the authors wrote. "This may include data on whether their long-term care facility has multiple wards with shared staff or a designated dementia unit. Additionally, data should include special considerations for protecting those with dementia."
Among a long list of recommendations for the state task force to further study, the institute is asking that the state prioritize nursing home residents and staffers for a COVID-19 vaccination once it is available. Nursing homes should also be required to have stockpiles of PPE and have an infection preventionist on site to ensure processes and PPE are in place to halt the spread of illnesses.
"Pioneer calls for a single person, with no other responsibilities and answerable directly to the governor, to be appointed to oversee the state's response to COVID in nursing homes," the group said in a statement.
Regular COVID-19 testing for residents and staff should also be mandated, the letter says.
"The state was very quick to close schools and colleges and to focus on acute care settings, but the treatment of elders in nursing homes has been intolerable and demands reform," the letter says. "Moving forward, we hope the state will not repeat past mistakes regarding oversight and attention to facilities that care for the most vulnerable populations among us."