COVID
Phase 3 of the Massachusetts reopening plan will begin Monday. Here's what that means.
"Phase 3 contains some bigger players that will certainly draw more people into indoor settings."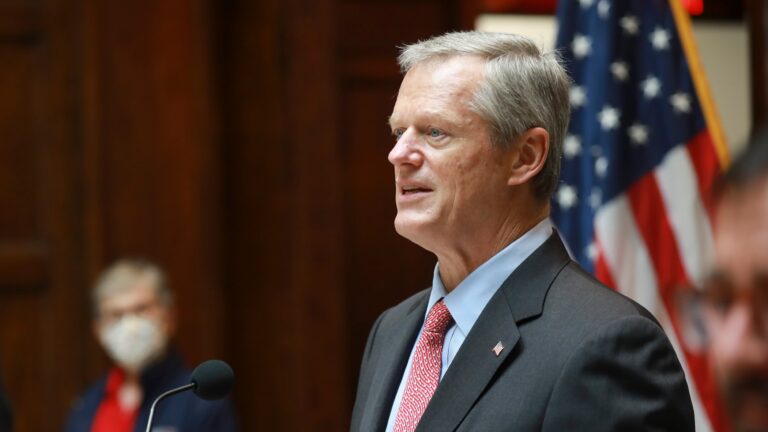 Gov. Charlie Baker announced Thursday that Phase 3 of the Massachusetts reopening plan will begin Monday, as the state continues to report decreasing numbers of COVID-19 cases and deaths.
The announcement means that higher-risk businesses — including gyms, museums, movie theaters, outdoor performance venues, and casinos — can open under "strict new guidelines" and limited capacities, Baker said. It also allows professional sports teams to hold games without spectators.
"Phase 3 contains some bigger players that will certainly draw more people into indoor settings," Baker said, noting that medical evidence has found the coronavirus has "a much higher risk of spreading indoors in enclosed spaces than it does in outdoor spaces."
Still, with key metrics like the state's positive test rate and deaths due to COVID-19 down significantly, the governor credited the work of Massachusetts residents to slow the spread.
Similar to Phase 2 of the reopening plan, Phase 3 will operate on a two-step basis. However, compared to the first two phases (which lasted three and four weeks, respectively), Baker said Phase 3 "will last significantly longer" so that officials can monitor public health data on the virus.
State officials said the first step of Phase 3 will be delayed a week for the city of Boston, where it will begin July 13.
Phase 4 will not begin until there's an effective therapeutic or vaccine for COVID-19, according to Baker. He said his administration expects to release more details about how it plans to monitor the potential spread of the disease during Phase 3.
"These are all important steps that continue to bring us closer to what we might call our ultimate new normal," Baker said.
Gyms and fitness centers
Gyms and fitness centers had been limited to personal training sessions during Phase 2. According to state officials, Phase 3 allows them to open generally, including for weight training, cross training, yoga, and spin classes.
Mike Kennealy, the state's secretary of housing and economic development, said such fitness centers will be limited to 40 percent capacity. Face coverings will also be required for employees and customers, and equipment must be sanitized between each use, he said.
However, according to guidance released by the administration Thursday, there is a face covering exception for those exercising, as long as they are at least 14 feet away from other people.
"If customers cannot wear a face covering during strenuous fitness activities, physical distancing must be at least 14 feet," the guidance says. "If customers are wearing face coverings during fitness activities, physical distancing must be at least 6 feet."
Exercise equipment — including weights, machines, treadmills, and bikes — must also be spaced at least 14 feet apart, unless there are physical barriers in between.
"Going to the gym may not look the same it did before the pandemic, but we hope these new protocols will allow more residents to return to exercise and fitness, and get back into those routines that they were accustomed to," Lt. Gov. Karyn Polito said during the press conference Thursday.
Casinos and cultural sites
Kennealy said museums, cultural sites, and guided tours will be required to have clearly visible signage and "a preference for timed-entry ticketing." They'll also have to limit groups on vehicles like buses, trolleys, and duck boats to 50 percent capacity.
For casinos, the Massachusetts Gaming Commission approved reopening plans last week, which include a formula for occupancy limits and a face covering requirement.
At least initially, certain table games, like craps, roulette, and poker, will not be allowed. And slot machines must be separated by at least six feet of space or by plexiglass dividers. Drink service will also be limited to those who are seated and actively gambling; in other words, players won't be able to carry alcoholic beverages around the gaming floor.
Polito said the state's three casino operators, which includes giants like Wynn and MGM, were working closely with the Gaming Commission and have demonstrated "a protocol that's pretty significant" at their casinos around the world.
However, Polito also said she didn't expect the local casinos to open immediately Monday, due to the time it would take to train employees. Encore Boston Harbor in Everett subsequently announced plans to open Sunday, July 12.
"Updates to all guidance will happen periodically in Phase 3," Kennealy said, adding that "data and not dates will dictate our progress."
Indoor and outdoor gatherings
Officials also eased restrictions on indoor and outdoor gatherings that take effect Monday (except in Boston).
Baker said that indoor gatherings, where the risk of transmission is highest, will be limited to eight people per 1,000 square feet, and no more than 25 people in a single enclosed space. Outdoor gatherings, like weddings and other events, are limited to 25 percent of a facility's permitted occupancy with a maximum of 100 people — although Baker noted that those rules do not apply to unenclosed outdoor spaces, like public parks or backyard cookouts.
According to Kennealy, wedding and party guests should not be seated in groups bigger than six people. Bars and dance floors at such events are also required to be closed.
Baker noted that bars and nightclubs, which have been linked to recent coronavirus surges in other states, remain in Phase 4.
"As difficult as it is for the people who operate and work in those institutions, we could not figure out a way to do that safely," he said.
Asked about concerns that the state was moving too quickly, Baker said the Phase 3 plans went under a "rigorous review" by the administration's medical advisory board and came after Massachusetts residents demonstrated "time and time again that they're willing to comply" with the state's guidelines.
Baker noted that when it came to indoor dining — a similarly higher-risk activity that was allowed to resume June 22 — businesses and residents were "for the most part" abiding by the rules around face coverings, physical spacing, and other safety measures.
"The place where you get into the biggest trouble with all of this is not abiding by the rules," he said.
In his opening remarks, Baker stressed the importance of continuing to follow the state's face covering requirement, as well as the guidelines encouraging social distancing and frequent hand washing.
"This may seem like a simple set of rules, but it is enormously effective in slowing the spread of the virus," he said. "We know COVID-19 won't be taking any time off this summer."