Coronavirus
Your guide to Fourth of July weekend during the coronavirus pandemic
All the questions you have about celebrating July 4th weekend during the coronavirus, answered.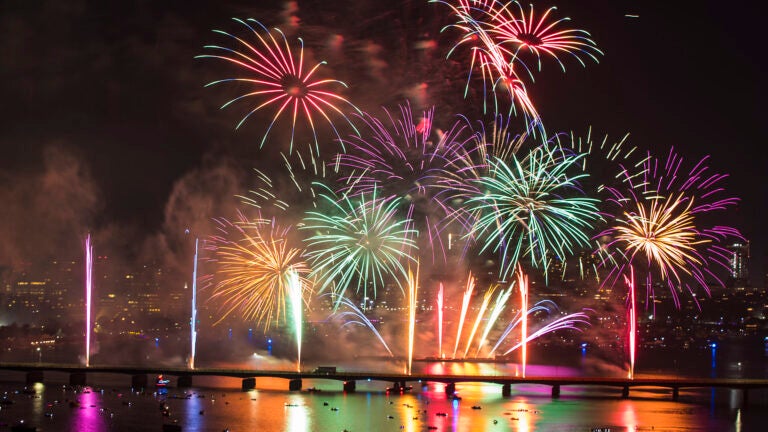 Even as Massachusetts moves toward Phase 3 of its reopening plan on Monday, Gov. Charlie Baker warned Massachusetts residents to remain vigilant about coronavirus over Fourth of July weekend.
"The Fourth of July, as we all know, is right around the corner, and I know that everyone has been through a lot over the course of the past few months," Baker said in a press conference Thursday. "So I hope people can take a minute this weekend to celebrate and enjoy the weekend. But I do ask that you all keep in mind the things that you have been doing that work to stop the spread."
Baker added that he knew residents would do their best to hold safe Fourth of July barbecues, but urged caution so that Massachusetts would not "move backwards" in the fight against the coronavirus.
"It's critical that we continue to be smart about how we do this," Baker said. "The last thing we want to do is move backwards as we've seen other states have to do."
Here's what to know about celebrating the Fourth of July weekend safely in Massachusetts during the coronavirus pandemic.
Can I safely host a Fourth of July weekend party or barbecue?
When Phase 3 begins Monday, guidelines around the number of people allowed at both indoor and outdoor gatherings will change, reflecting the fact that places like museums and movie theaters will be allowed to reopen. But as of now, Gov. Baker's March 23 order prohibiting gatherings of 10 or more people remains in effect, meaning any party you want to host must be a small one. Additionally, any gathering that involves people you don't live with should involve social distancing of at least six feet. If you're planning to gather in a public space, masks or face coverings must be worn when social distancing isn't possible.
Joseph Allen, an assistant professor of exposure assessment science in the Department of Environmental Health at Harvard T.H. Chan School of Public Health, said in a conference call for media members prior to Memorial Day weekend that a socially distant gathering may feel awkward, but is an acceptable activity provided you limit it to a small network of people.
"It may feel funny or awkward at first, like a physical-distance barbecue," Allen said. "But there's nothing like seeing friends face to face and hopefully share a couple laughs in this really stressful time."
Are Fourth of July fireworks celebrations allowed?
Town fireworks celebrations are permitted this year, but with a few caveats: The displays must be remote and have no organized viewing spots, and viewers must watch them from their own home, according to a spokesperson for Gov. Charlie Baker's office. Any parades or other gatherings associated with the celebration are also prohibited.
Boston.com traditionally publishes a list of July 4 fireworks displays each year, so we conducted the research again for 2020. In all, we found more than 70 displays that are canceled or postponed. The only town that has publicly announced it would be holding a fireworks celebration is North Brookfield, and it was criticized by a local health board for doing so.
Jennifer Mieth, the public information officer for the Massachusetts Department of Fire Services, said that she hoped any towns that did hold fireworks celebrations would only advertise the shows to town residents to prevent overcrowding.
"With the decreased number of displays and the need to encourage appropriate social distancing, I believe that advertising those displays taking place should happen locally, directly to residents," Mieth told Boston.com in an email. "I would hate to see a show overwhelmed by spectators in a space not designed to accommodate so many people safely (health or safety wise)."
Can I travel to other states in New England on July 4th weekend?
In his Thursday press conference, Baker said that Massachusetts residents could "travel locally" for Fourth of July weekend. But venturing to other states for the weekend is a no-go for most people, as mandatory 14-day self-quarantines are the norm for most of New England. New Hampshire and Connecticut have a blanket 14-day quarantine policy, and Rhode Island has a 14-day quarantine requirement for visitors from any state currently under a stay-at-home order, which includes Massachusetts.
The exceptions to the rule can be found in Maine and Vermont. In Maine, you can avoid a 14-day self-quarantine if you provide proof of a negative coronavirus test in the last 72 hours, while in Vermont, you don't have to self-quarantine if you are traveling from a county that has fewer than 400 cases per million residents. According to the Vermont state website, visitors from seven Massachusetts counties (Barnstable, Berkshire, Dukes, Franklin, Hampshire, Nantucket, and Plymouth) would not have to self-quarantine as of July 2.
Can I go to the beach on July 4th weekend?
Beaches in Massachusetts have officially been open to visitors since Memorial Day. If you go, it's important to know that a number of things will be different when you're there. 
Gatherings of 10 or more people will not be allowed, and masks or face coverings must still be worn when social distancing isn't possible. Visitors should also maintain at least 12 feet of distance between towel/beach blanket areas, and will not be able to play organized games like football, volleyball, or spikeball. Changing room facilities will also be closed, though bathrooms will be open with social distancing measures in place.
You can read a full list beach rules and regulations here.
How can I watch Fourth of July fireworks displays on TV or online?
With both the 2020 Boston Pops Fireworks Spectacular and town fireworks shows across the state canceled due to the coronavirus, your best bet for patriotic pyrotechnics may be watching one of several major fireworks shows on TV or online. Here are details on the three biggest fireworks shows airing on Saturday, and how to watch them.
'A Boston Pops Salute to Our Heroes'
Keith Lockhart and co. will still provide patriotic entertainment with a pre-recorded performance airing July 4 at 8 p.m. The program will pay tribute to frontline workers and those who lost their lives during the coronavirus pandemic with a mix of new performances, "all-time favorite moments" from recent celebrations, and "a retrospective fireworks extravaganza."
How to watch: "A Boston Pops Salute to Our Heroes" will air on July 4 at 8 p.m. locally on WHDH-TV and nationally on Bloomberg Television, Bloomberg Radio, and on the Bloomberg website. For those planning to watch other fireworks at 8 p.m., the digital stream of "A Boston Pops Salute" will be available after the July 4 broadcast, and it repeats at 11 p.m. on Bloomberg Television.
John Stamos and Vanessa Williams will emcee the 2020 edition of the annual Washington DC show, which celebrates its 40th anniversary this year. The broadcast will feature performances by artists like Patti LaBelle, John Fogerty, The Temptations, and Trace Adkins, as well as footage from previous editions. The show will conclude with live fireworks from Washington D.C., with PBS promising that more cameras than ever will capture the pyrotechnics.
How to watch: "A Capitol Fourth" will air on July 4 at 8 p.m. locally on PBS affiliates WGBH-TV as well as on the PBS website. If you're looking to watch other fireworks at 8 p.m., "A Capitol Fourth" will immediately repeat on WGBH-TV at 9:30 p.m.
Crowding the 8 p.m. timeslot on July 4, you can also tune to NBC to watch Macy's annual fireworks show. Macy's has changed the playbook a bit this year due to the coronavirus, holding unannounced five-minute displays all week before the grand finale on Saturday hosted by "Today" anchor Craig Melvin. Musical guests expected to make virtual appearances include John Legend, Black Eyed Peas, Brad Paisley, The Killers, Tim McGraw, and the recently renamed Lady A.
How to watch: "Macy's 4th of July Fireworks" will air locally on NBC 10 Boston at 8 p.m., and will be available to watch on the NBC app.
What other Fourth of July activities can I enjoy?
When you look to the sky on Saturday, you may spot jets performing aerial salutes instead of fireworks. The Department of Defense announced that heritage jets would participate in flyovers in several U.S. cities, beginning with Boston. The timing of the flyover has yet to be announced.
Aside from streaming fireworks shows, you can celebrate Independence Day with the National Archives. Livestream programming will begin at 11 a.m. and conclude with a reading of the Declaration of Independence by Soledad O'Brien starting at 4 p.m. Locally you can celebrate virtually with the USS Constitution Museum. Programming streamed to its Facebook page will include a 21-gun salute, a virtual tour of the ship, and a trivia contest.
What will the weather look like July 4th weekend?
Dave Epstein's Fourth of July weekend forecast calls for generally great weather throughout, with cooler weather and some rain showers on Friday being the primary exception. Friday afternoon will be cloudy, with temperatures in the 60s and showers in the Connecticut River Valley. Saturday should be clear aside from some morning showers, with high temperatures in the 70s. Sunday will be the best beach day, with high temps in the 80s and mostly sunny skies with a chance for afternoon thunderstorms.