COVID
Here's what can — and can't — resume in Phase 3 of the Massachusetts reopening plan
The first step of the phase began Monday.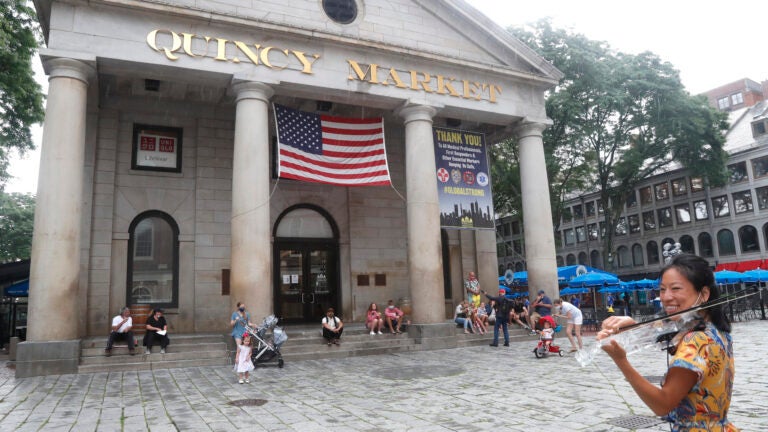 As coronavirus cases in Massachusetts continue to trend downward, the first step of Phase 3 of the state's reopening plan began Monday.
According to Gov. Charlie Baker, the new phase allows businesses and activities to resume that will "certainly draw more people into indoor settings," where there is a greater risk of spreading COVID-19, joining restaurants and retail stores, which reopened under a bevy of restrictions in Phase 2.
However, the highest-risk businesses — from bars to amusement parks and other activities associated with mass gatherings — won't resume until Phase 4, which Baker says will not begin until there is an effective treatment or vaccine for COVID-19.
The activities that can reopen Monday, such as gyms and movie theaters, also remain subject to sector-specific restrictions, including occupancy limits and other measures to promote physical distancing and sanitation.
Here's the full list:
What can resume during Phase 3
Libraries — can open for browsing
Horse racing tracks and simulcast facilities
Theaters and performance venues — Not including large venues.
Outdoor venues only in Step 1 of Phase 3; indoor venues in Step 2 (date to be announced).
Non-athletic instructional classes — all ages; arts, education, life skills
Outdoor event spaces used for gatherings and celebrations
Outdoor gatherings, like weddings, are limited to 25 percent of a facility's permitted occupancy with a maximum of 100 people
Indoor gatherings are limited to 25 people in a single enclosed space, or eight people per 1,000 square feet
Motion picture, television, and streaming productions
Events hosted by fraternal orders
Limited organized amateur sports programs — indoor and outdoor for all ages
Indoor recreation
Step 1: activities with low potential for contact (batting cages, driving ranges, go karts, bowling alleys, rock-climbing walls)
Step 2: activities with greater potential for contact (laser tag, roller skating, trampolines, obstacle courses)
Sightseeing and other organized tours (bus tours, duck tours, harbor cruises, whale watching)
Indoor historical sites
Fishing and hunting tournaments, along with other amateur or professional derbies
Professional sports without spectators
What has to wait until Phase 4
Amusement parks, theme parks, gaming arcades, indoor or outdoor water parks
Saunas, hot-tubs, and steam rooms at health clubs and other facilities
Large-capacity venues used for group or spectator sports, entertainment, business, and cultural events
This includes stadiums and arenas, dance floors, exhibition, and convention halls
Bars, dance clubs, and nightclubs
This includes breweries, beer gardens, and wineries without seated food service under retail food permits
Fraternal orders serving as a large-capacity venue or bar
Overnight summer camps
Arcades
Ball pits
Street festivals, parades, and agricultural festivals
Road races and other large, outdoor organized group athletic events