COVID
A Plymouth nutrition club owner is suing Gov. Charlie Baker over his mask mandate
Noreen Bechade alleges the face-covering order violates her constitutional rights.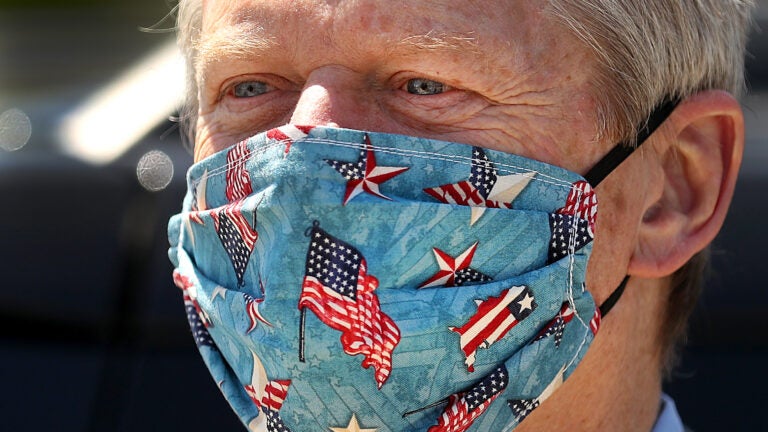 The owner of a Plymouth nutrition club is suing Massachusetts Gov. Charlie Baker over the state mandate he issued requiring face coverings be worn when social distancing isn't possible indoors and outdoors to slow the spread of the coronavirus.
Noreen Bechade, owner of Healthy Vibes Nutrition, charges in her complaint, filed in U.S. District Court on June 12, that the governor's executive order mandating she and her workers wear masks or face coverings inside her business violates her constitutional rights.
Monica Bharel, the state's public health commissioner, and Bill McKinney, the director of the Department of Labor Standards, are also named in the lawsuit.
Bechade's charges in the complaint include that the May 1 order violates her constitutional rights to privacy, to making her own medical decisions, and her free speech because a mask suppresses her facial expressions, "a form of speech."
Residents who refuse to follow the mandate face fines of up to $300.
In the complaint, the Plymouth business owner argues that the Centers for Disease Control and Prevention issued contradictory guidelines for wearing masks related to the COVID-19 pandemic, first advising that masks were not necessary and then changing course.
Public health officials have said that the guidance for masks and face coverings was updated as more was learned about the transmission of the virus and as the outbreak spread.
In the lawsuit, Bechade compares the fatalities connected to COVID-19 to other causes of death, such as heart disease and cancer, making the argument that "there were relatively few fatalities compared to other causes of death."
As of Monday, nearly 8,200 people in Massachusetts had died from complications of COVID-19, according to the state's public health department. Nationally, more than 130,000 people have died, according to the Johns Hopkins Coronavirus Resource Center.
In a statement to the Old Colony Memorial, Bechade said because experts have issued contradictory guidelines on the use of masks, it is her belief that the mandates for face coverings are "arbitrary rules that do not actually keep anyone safer from COVID-19."
"There is a constitutional problem when the government imposes arbitrary rules that infringe freedom of choice," she wrote in her statement to the newspaper. "If the government and the experts are permitted to contradict each other, then there is no lesser good in permitting people and private businesses to choose whether to wear masks, or enforce their own private policies. During this pandemic, I was fortunate enough to have had my business deemed an 'essential business.' My philosophy is: 'To whom much is given, much is expected.' Preserving constitutional rights for everyone—including those who might disagree with me—is my way of giving back to my community."
In the complaint, Bechade asks the mask requirement be struck down and is seeking damages, including lawyer's fees and court costs.
A request for comment to the governor's office was not immediately returned.