COVID
Here's why Mass. has been laying off coronavirus contact tracers
"The number of people who need to be reached out to has dropped dramatically."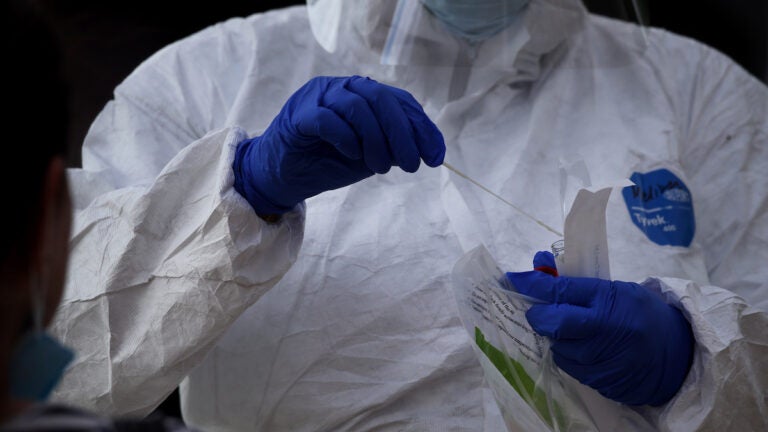 Massachusetts has diminished its pioneering contact tracing program, recently laying off hundreds of tracers hired since the initiative debuted in April.
The state's partnership with Partners in Health to identify people who contracted the coronavirus once boasted 1,900 trained individuals, but that number dropped to about 1,200 in June, The Boston Globe reports.
The Baker administration said other departures means another 350 people have left since then, which still leaves the current number of contact tracers in the collaboration at over 700 people, including staffers at community health centers, according to the newspaper.
Officials of several towns and cities that have utilized the program during the pandemic have said they are frustrated with issues in the program, leading some to drop out, the Globe reports.
Meanwhile, the rate of positive coronavirus cases in Massachusetts has remained at or below 2 percent since mid-June.
Gov. Charlie Baker told reporters Wednesday there wasn't enough work for the Partners in Health employees, which prompted recent cuts.
"The number of people who need to be reached out to has dropped dramatically," the governor said. "We eventually had way more people than we needed."
What contact tracers do
Tracers are responsible for calling people who contracted the coronavirus, as identified by the state Department of Public Health, to learn about their activities and the people they had close contact with in the days before the infected person was tested, the Globe reports.
The close contacts are then contacted and encouraged to get tested and to quarantine themselves until they're informed of whether they have tested positive.
According to Baker, Partners in Health told him the program can re-hire laid-off workers quickly should they need more contact tracers on hand if cases rapidly rise again.
What local leaders have said about the program
Local health department officials told the Globe the state's collaboration with Partners in Health had several problems since it launched in the spring, including training gaps, technical mishaps, and communication issues, that all played roles in the delay of contacting residents with coronavirus.
Some of those issues continue to linger, though others have been fixed, they say.
"I gave up on [the collaborative] because it's more of a pain than it's worth," Wil van Dinter, Watertown's public health nurse, told the newspaper. "I handle all the calls myself. I don't trust them [PIH] or the information they provide."
Van Dinter said the Partners in Health tracers would often return difficult cases to the city days after a positive case appeared in the computer database. He had backed out on collaborative but recently called on the program again.
The problems still remained, he said.
According to van Dinter, Watertown also typically finds at least three close contacts for each coronavirus patient, while Partners in Health personnel usually only reported about two contacts.
"If you report way less than what the average public health nurse is finding, then you seriously start having some doubts," he told the Globe.
In Chelsea, where the coronavirus has hit the community harder than most in the state, local leaders have asked the program to share aggregate data on the city's infections — including occupations of infected individuals and any overlaps in areas such as shopping at certain stores or putting children in specific day care centers — for weeks, according to the newspaper.
Cate Fox-Lent, innovation and strategy advisor to the city manager, said the data would help guide officials in making decisions about reopening and help identify where to focus public education efforts.
But communication issues with Partners in Health remain, she said.
"I don't know what the point of contact tracing is if you are not looking at the big picture," Fox-Lent said. "Case numbers are really low and now is the time to figure this out."
Samuel Wong, director of public health in Framingham, told the Globe in an email that the city has opted out of the collaboration.
"Framingham did not participate in the [Partners in Health] initiative partly because of communication issues with [the collaborative] but more importantly, it is because we have adequate local capacity to conduct case investigation and contact tracing ourselves," Wong said. "Our local team of public health nurses knows our community better in terms of available resources, and are able to connect with our own residents more effectively."
What Partners in Health said
In a statement to the newspaper, Partners in Health said it's working to improve communication with municipal health departments and its overall operations.
"This includes a new team of local health liaisons, starting next Monday and made up of former [collaborative] supervisors, that will be responsible solely for maintaining open lines of communication with local health departments," Partners in Health said in a statement.
The organization added that it is working on "quickly reaching out to new cases on the day a case is received, and contacts within 24 hours."
According to the Globe, state-provided data shows Partners in Health has "engaged with" 47,000 people out of 55,000 the organization has tried to contact — an 85 percent engagement rate — but the information did not elaborate on how engagement is defined.
The Baker administration agreed to pay Partners in Health as much as $55 million for its nine-month contract, which expires in December, the newspaper reports.