COVID
Top Harvard doctor: Florida and other states 'opened up too early and too aggressively'
"I think we all know how we got here."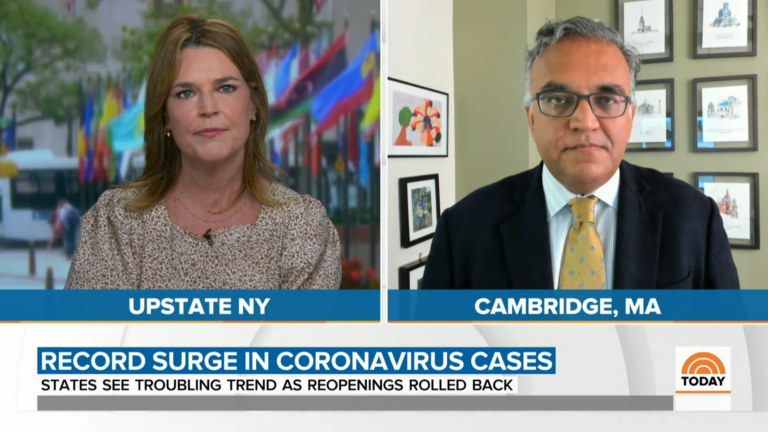 The head of the Harvard Global Health Institute has a simple explanation for the new surge in coronavirus cases seen in Florida and other states: They just opened up too quickly.
Dr. Ashish Jha, one of Massachusetts' top medical experts, spoke on the Today show Monday morning.
"I think we know how we got here," the doctor said. "Florida along with other states opened up too early when they weren't quite ready. They didn't meet the White House's own guidelines and they opened up too aggressively. They had bars and restaurants and other things open when they weren't ready to do it."
Florida continues to break daily records in coronavirus cases; the doctor pointed out that there were more new cases in the Sunshine State Sunday than in all of Europe. Florida reported over 15,000 new infections, beating out the previous single-state record in New York set in early April. European countries like Italy and Spain were walloped by the early global stages of the pandemic, but cases have tapered off across the continent while those in the United States continue to soar.

Florida and several other states, particularly in the west and south, have had to pause or reverse their reopening plans in the last few weeks.
Jha said that Florida needs to be more aggressive in combating the virus, pointing to the lack of a statewide order to wear masks in public. He also said that the rise in cases can't be attributed to an increase in testing alone, as states like Florida are also starting to see more hospitalizations and deaths.
The doctor also commented on the situation in California and the debate over reopening schools during the interview. Watch the whole clip below:
https://twitter.com/TODAYshow/status/1282638129158119424