Coronavirus
'A hot mess': Somerville mayor rips Phase 3 coronavirus reopening plans
"It is completely devoid of actual vigilance."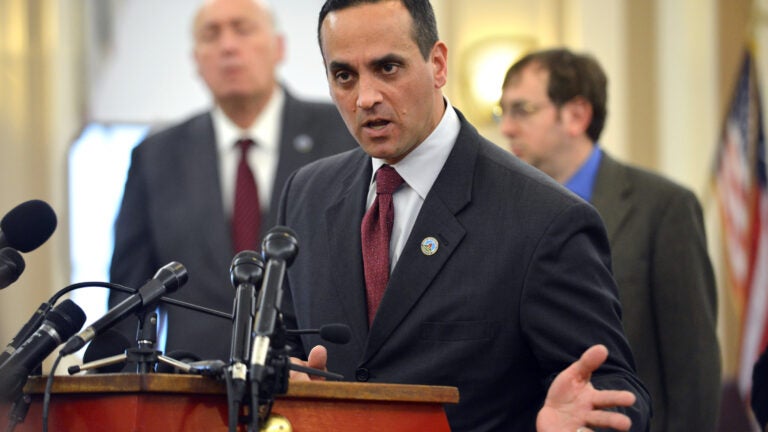 Boston entered Phase 3 of the state's coronavirus reopening plan Monday, joining much of the rest of Massachusetts that began to reopen movie theaters, museums, gyms, and other activities last week.
But Somerville will remain in Phase 2 for at least another week, says Mayor Joseph Curtatone, who says his city has good reason to be cautious about progressing to the "Vigilant" phase.
"With reopening comes responsibility," Curtatone wrote in an opinion piece published Friday in CommonWealth. "Our state is charting a nonsensical path that flies in the face of the data and does not put in place the public health shield needed to protect us from a potential second wave of coronavirus. The plan right now is a smattering of different activities with little regard for where our priorities should be, and it is completely devoid of actual vigilance."
Some residents continue to forgo face coverings, while testing is not free and available to all areas of the state, the mayor wrote. Officials have scaled back on the state's contact tracing partnership with the decrease in cases, but have also done so amid the backdrop of skyrocketing cases in other parts of the country, where leaders didn't clamp down and close up at the pandemic's onset, he wrote.
"More locally, Massachusetts sits on the cusp of where the virus once again spreads quickly. If our decisions were primarily being driven by the data, we would be pumping the brakes on reopenings, practicing actual vigilance," Curtatone says.
On Sunday, Massachusetts reported a total of 111,597 confirmed and probable COVID-19 cases, with 8,325 related deaths.
While Boston initiated Phase 3 on Monday, Mayor Marty Walsh said Saturday the city is entering the phase with some differences than other parts of the commonwealth, including continuing to hold public and private meetings online and prohibiting people from entering public libraries.
Curtatone said the state's reopening plan "is a hot mess."
"We do not have the public health scaffolding in place to respond when, not if, the virus rebounds," he wrote. "We have not built a culture where everyone wears face coverings. We are treating schools like an afterthought in our reopening plans rather than the centerpiece they should be. Simply put, we continue to underestimate COVID-19 even after it's killed more than 8,000 people in our state, killed more than 130,000 people across our country, and dealt a blow to our economy we haven't seen since the Great Depression."
Everyone should be required to where a face covering everywhere in public, according to Curtatone, who pointed to New Jersey's recently instituted requirement as an example of vigilance.
Doing so would protect and also comfort people, making it easier for businesses and public services such as the MBTA to operate if there was consistent practice and enforcement, he wrote.
"Currently, we have a toothless order that gets interpreted differently by each community," he said. "Having a new set of rules every time you cross a city or town line creates the disordered conditions this disease needs to thrive."
Curtatone also lamented the lack of widespread free and accessible testing.
He commended the state for establishing testing in eight underserved communities, but noted the rollout was slow and that plans call for closing down those testing sites in mid-August, just on the eve of the coming school year.
"That makes absolutely no sense," he wrote. "This isn't strategic, it's insufficient."
The mayor called schools "the elephant in the room."
"It is the linchpin to reopening our society," he wrote. "If children can't physically go to school (and to childcare), parents can't physically go to work. Without operational schools we don't have anything like economic normalcy, and our students will miss out on a vital portion of their education."
State officials have released initial guidance for reopening schools this fall. But the plans have faced criticism, including from the Massachusetts Teachers Association, which says schools should open in phases.
"The safety and operational capacity of our schools should come first," Curtatone wrote. "If we can run one extra thing and then try to build around it, that thing should be our schools.
"Instead, the state has put schools at the back of the line," he continued. "We reveal our priorities with what we do. And Massachusetts just entered a new phase of reopenings called Vigilant that opens casinos in advance of opening schools. That's where our priorities currently reside."
Somerville announced Friday it will delay the start of its Phase 3 reopening until July 20 at the earliest.
Appearing on CBS Boston, Curtatone said under current state plans, a lot is at risk.
"We're trading off certain activities, which I don't really consider essential in my life, and I have empathy for them as part of our economy, but what's the trade off here? What's more important?" he asked. "Did we bank all that blood and all the sacrifice and work and deaths to rush to open a casino? No."
Read the full CommonWealth op-ed.