Coronavirus
Walsh on Trump's pandemic response: He's 'pretty much wrong in every single thing'
"I wish he would step aside and let the health experts make the decisions."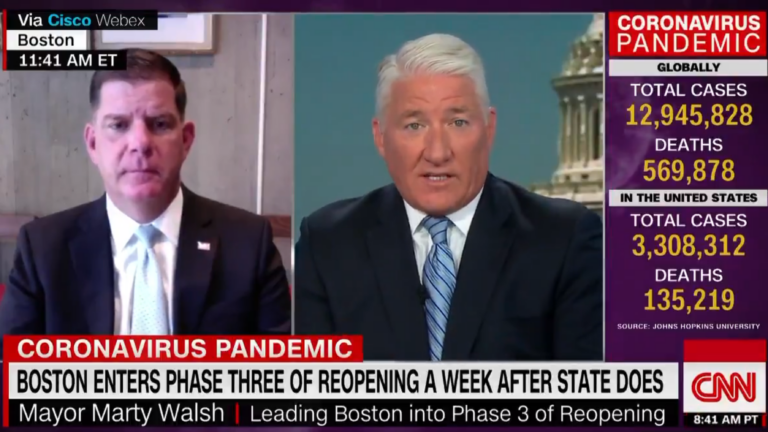 Boston Mayor Marty Walsh says that when it comes to aid and advice from Washington during the coronavirus pandemic, the president has been no help whatsoever.
The mayor spoke with Dorchester's own John King on CNN Monday morning as the city began phase 3 of reopening.
"It's unfortunate that the president has been pretty much wrong in every single thing he put forth here," Walsh said. "He flip-flops back and forth in different ways. What we need right now is leadership to be consistent, and we are in a public health crisis. People have lost their lives, people are still getting sick, we're seeing it in a lot of different states. Quite honestly, I wish he would step aside and let the health experts make the decisions."
"Listen, I'm basing the decisions that I make here on science and data, and I'm listening to the experts. I'm not basing it on a whim or what I think is the right way to go," Walsh said.
Boston launched into the third phase of reopening a week after the rest of Massachusetts. Businesses like gyms and museums are now allowed to open back up in the city. COVID-19 pummeled the city and commonwealth in April, but cases have since slowed and plateaued, while many other states are enduring an alarming resurgence in the virus.
Walsh said that he's still concerned about public health in his city despite the state's relative success in combating the virus.
"What's happening around the country is scary here," Walsh said. "As we're talking about opening schools, as we talk about moving forward here, the virus is still very much here. In Massachusetts we've done a good job of containing the virus, but we were hit pretty hard early on, so what we don't want to see the recurrence of that."
The mayor said his administration is talking to the teachers unions about their concerns with reopening schools. He said he's considering opening the schools in phases.
"When I think of schools it's about protecting our children, but it's also about protecting the staff, the teachers, the janitors, the principals, all the folks inside the schools," Walsh said.
Walsh also discussed the complicated relationship between mayoral and gubernatorial administrations during the pandemic. Watch the interview with the mayor below:
Boston Mayor Marty Walsh says he is considering a phased approach and remote learning options for school reopening plans to ensure safety.

"All of it is on the table. … Right now is actually the time that we have to make very hard decisions moving forward." pic.twitter.com/83vlGxw6Xj

— CNN Newsroom (@CNNnewsroom) July 13, 2020