COVID
Harvard experts issue guidance for reopening schools safely amid COVID-19 outbreaks
"We need a surge for education, just as we surged for health care."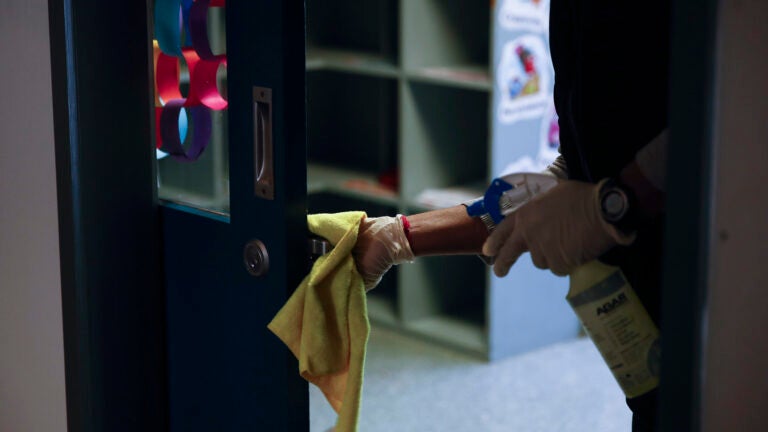 Public health experts at Harvard issued guidance on Monday for how schools can plan to reopen safely as COVID-19 continues to spread, with recommendations for districts based on the size of the virus outbreak in their community.
In "Path to Zero & Schools: Achieving Pandemic Resilient Teaching and Learning Spaces," experts from the Harvard Global Health Institute, Edmond J. Safra Center for Ethics, graduate school of education, and school of public health argue that states seeing high levels of cases, such as California, Texas, and Florida, should plan for online learning in the fall. But there are states, such as Maine, seeing lower activity, which, with investments to make healthy buildings and classrooms and adaptations to teaching and learning, could plan for full reopenings.
"Society has to forge a path forward with school openings based on the reality facing us," Joe Allen, assistant professor and director of the Healthy Buildings Program at Harvard T.H. Chan School of Public Health, said in a statement. "We wanted to provide guidance not just on when it's okay to open, but also evidence-based strategies for how to do it safely."
Drawing on the COVID-19 risk dashboard created by public health experts, including those at the Harvard Global Health Institute, the school reopening guidance gives districts recommendations by risk level coded as red, orange, yellow, and green.
The entire state of Massachusetts is evaluated as yellow.
"If you are in a red zone, there is simply no way to safely open schools now," Dr. Ashish Jha, the director of the Harvard Global Health Institute, said in a statement. "Orange zones will struggle as well. If you open schools in these areas, the chances are that those will likely close quickly when teachers, staff, and possibly students start getting sick in large numbers. If leaders in these counties want to reopen schools in the fall, they must bring down the level of virus, starting now. Yellow counties are in a slightly better position, but must still make hard choices."
To prevent a resurgence of the virus, states and counties rated as yellow like Massachusetts must close bars, indoor dining, and gyms, Jha wrote in The Boston Globe.
"We can open schools in yellow counties," the doctor wrote. "But getting them to a green level will make opening schools much safer. These efforts alone will not be enough. School districts have neither the resources nor the know-how to get their buildings ready to open safely. School officials will have to get creative. For example, doing away with assemblies and cafeteria lunches opens up opportunities to use those spaces as classrooms. Cities and towns should also consider using libraries as supplemental classrooms. As long as weather permits, schools should hold some classes outside wherever possible, as many schools in Europe have done."
Healthy buildings — with enhanced outdoor air ventilation and upgraded filtration, sanitation resources, hygiene practices, physical and group distancing, and "pandemic resilient bathrooms" — are also necessary and key for having students and teachers safely return to in-person learning, the experts said in their guidance.
Adults working in school buildings — regardless of the virus risk level for the community — should all be recognized as essential workers, like health care workers, the Harvard groups wrote.
"They will also need PPE, spatial sequencing, personal hygiene infrastructure, materiality, appropriate ventilation/filtration, and legibility that helps them understand different risk levels in different parts of their building," the experts wrote. "These are all elements of a 'pandemic resilient teaching and learning space.' Depending on the level of community spread in the area surrounding the school, or the 'risk incidence level,' essential workers in schools should have access to routine testing and may merit hazard pay. Those in high risk groups should also have access to alternate, remote assignments, other reasonable accommodations, or disability benefits, where applicable."
Danielle Allen, director of the Edmond J. Safra Center for Ethics at Harvard, stressed in a statement that neither students nor educators should have to teach in "conditions of suffering" where they do not feel safe.
"We need a surge for education, just as we surged for health care," she wrote. "We redesigned hospital spaces and learned how to protect patients and essential workers. We invested in this. We've even done it for restaurants. We can do it for our schools."
Last week, the Massachusetts Teachers Association with the American Federation of Teachers of Massachusetts and the Boston Teachers Union released a plan outlining a phased-in approach to reopening schools in the fall. The unions will be negotiating with the state Department of Elementary and Secondary Education, which released initial guidelines for the fall last month.