COVID
The Red Sox say legal sports betting could help Massachusetts recover from the pandemic. Charlie Baker agrees.
"It would certainly generate revenue."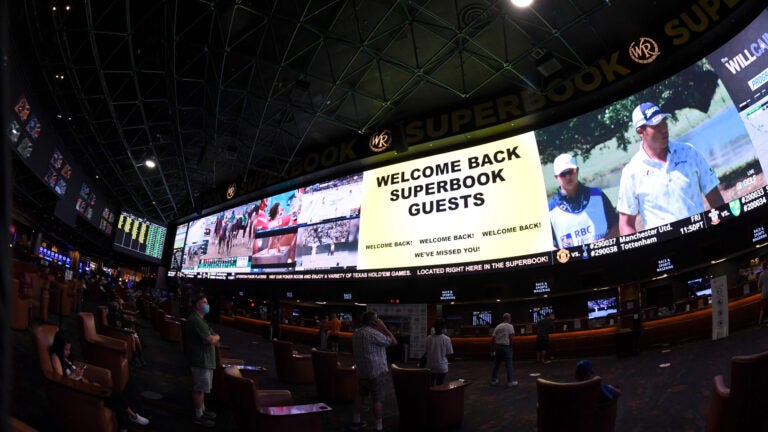 Gov. Charlie Baker said he "absolutely" agrees that legalized sports betting in Massachusetts could generate revenue for the state government as it wrestles with the enormous costs of the COVID-19 pandemic.
During a press conference Wednesday, the Republican governor was asked about comments Tuesday by a Boston Red Sox executive, who reportedly argued legalizing mobile sports betting was a "low-hanging fruit" that should be included in an economic development bill to help avoid "deeper more painful budget cuts."
Baker noted that his administration has filed legislation to allow gambling on professional sports by adults over the age of 21 at the state's casinos, as well as online and mobile betting. However, he said this past January — before the coronavirus outbreak disrupted the legislative agenda — that there hadn't been much progress on the subject.
"We wanted to give Massachusetts the ability to have people play here rather than playing elsewhere," Baker said Wednesday, alluding to moves by neighboring New Hampshire and Rhode Island to legalize sports betting.
"And I absolutely believe that, in addition to sort of the cross-border competition issues that would be addressed by doing something here in Massachusetts, it would certainly generate revenue and it would be something that a lot of people would be interested in here at home as opposed to doing across the border," he added. "We'd like to see that happen."
Despite federal aid, some estimates say Massachusetts — not unlike other states — could face a budget hole in the range of $6 billion to $8 billion, due to declining tax revenues and increased spending in response to the pandemic. The Baker administration has said their sports betting bill would result in $35 million in tax revenue, though others have said it could be twice as high.
David Friedman, senior vice president of legal and government affairs for the Red Sox, testified Tuesday during a State House hearing that legal sports betting could also help the team recoup a "modest" amount of revenue, which has "fallen off a cliff" this season due to the shortened season and ban on in-person fans at stadiums due to the pandemic, in addition to its effect on the state's bottom line, according to the State House News Service.
"To be sure, sports betting won't fix the state's massive budget deficit, but to use baseball terms, while it may not be a grand slam, it's a solid single," Friedman said.
Casinos in Massachusetts were allowed to open earlier this month as part of Phase 3 of the state's reopening plan.
Asked about the concerns that allowing sports betting could affect the "integrity" of the games (i.e. points shaving scandals), Baker noted that an "important" element of legal mobile gambling was that it was more "traceable and trackable."
"And the leagues are laying down some pretty heavy rules associated with anybody who engages in any way with any of that stuff, which I think will be very helpful," he said.