COVID
Buses, recess, and lunchtime during coronavirus: Mass. releases more guidance for return to school
The latest guidelines get specific about how districts can navigate the ins and outs of the school day. Here's what you need to know.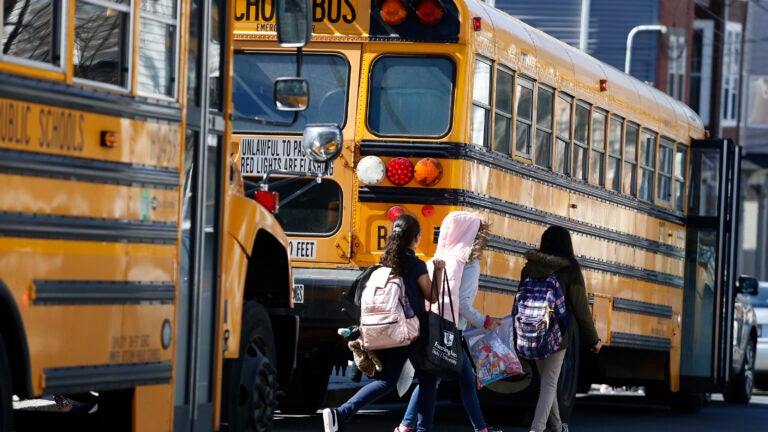 What could schools in Massachusetts look like this fall in the age of coronavirus?
State regulators have painted a fuller picture of what students, parents, families, teachers, and staff can expect, offering up new guidance Wednesday focusing on tweaking transportation, facilities, and daily operations.
The plans spell out how educators can and should put health and safety protocols into place, focusing on everything from how students should sit on school buses to how to physically distance during recess.
In a memo to administrators, state Department of Elementary and Secondary Education Commissioner Jeffrey Riley wrote that the new documents build on the department's initial guidance released last month, which focused on a plan for how to bring back as many students as possible to brick-and-mortar classrooms safely.
State officials are also offering districts flexibility in waiving the usually mandated 180 days of instruction in order to allow more students to receive an in-person education.
But Riley noted that the latest guidance is "subject to change depending on the COVID-19 trends and as we learn more about the virus from medical research."
In the meantime, DESE had already requested that local districts hold off on announcing any finalized return-to-school plans until next month. Some school systems have started to offer a glimpse into what may come, including in Boston and in Worcester, where officials this week released initial plans for how to bring back kids and teens through a hybrid model of in-person and online learning.
Here are a few key takeaways from the latest state guidance:
Educators should create cohorts 'wherever possible.'
All students in Grade 2 and up should wear masks at all times except during meals and mask breaks, and for medical exemptions, officials say.
Teachers and administrators should also look to create cohorts, or self-contained groups, "whenever possible and limiting the cohort from interaction with others," according to the guidance.
"Examples of cohorts could include an elementary school class, students on a bus, or groups of older students with similar schedules," the document says. "By grouping students and staff into cohorts, interaction will be limited. This means that if there is a positive COVID-19 case in the school, fewer individuals will have interacted with that person."
To help create cohorts, all students should have assigned seating, including during meals.
Class outside? Schools should consider spaces beyond the classroom.
Officials say they understand each school will have its own restrictions when it comes to spreading out students for distancing.
That's why they're advising districts to measure the dimensions of each room and keep an open mind about what can be on the table.
"As feasible, consider the use of outdoor spaces for classes, breaks, meals, and other activities," the guidance says. "Some jurisdictions have considered tents, platforms, and other not-permanent structures in spaces adjacent to buildings, such as courtyards, play areas, and parking lots."
Municipally owned facilities could be another option for educators, even if they're located off campus.
Temporary walls can help break up classrooms and large areas, although administrators should ensure that buildings still follow fire code and safety regulations.
As for plexiglass barriers, DESE says there are pros and cons.
"In general, we do not recommend setting up plexiglass barriers in regular classrooms, since they represent an additional high-risk surface to clean and disinfect," the document says. "However, barrier use is permitted if classroom furniture cannot be replaced and if required physical distancing cannot be achieved without the use of barriers such as in shared table or laboratory settings where there is limited capacity and desks are often heavy or immovable."
Officials also recommended that for early childhood and younger elementary classrooms, all soft and cloth-based materials, such as stuffed animals, rugs, and pillows, should be removed. Students can bring their own stuffed animals, but they cannot be shared.
Furniture and shared spaces should be cleaned and disinfected at least daily, according to the guidance. High-touch surfaces should be treated three to four times a day and/or between uses.
"For situations when cohorts of students move between classrooms or where meals are eaten at desks, cleaning of desks must take place between classes and before and after meals," the guidelines say.
Buses should have only one student per bench.
Students can expect to see much emptier school buses than they usually do.
State guidance calls for placing only one student per bench, "alternating sides for each row, which allows students to maintain approximately three feet of physical distance."
Children who live in the same household, however, would be allowed to sit together. Students should be assigned seats.
The distancing rules means buses will have significantly reduced capacities. A large, 83-passenger bus, for example, will only be able to carry 27 passengers, excluding any students from the same household who can sit next to one another. Most buses, whose drivers are also advised to keep their windows open at all times, weather permitting, will therefore be reduced to roughly a third of their full capacities.
Districts should build their own transportation plans with input from contracted transportation providers, officials say. Capacity challenges may require districts to create more bus routes and even stagger school start and end times to ensure there are enough buses to go around.
"This strategy will enable districts to increase capacity in a financially feasible manner, without having to add additional buses," DESE wrote of the recommendation to add routes.
Children who become sick during the school day will not be allowed to ride the bus home. Bus drivers or monitors, if applicable, should be trained to observe students for potential coronavirus symptoms as they enter the bus.
To help offset demand on school transportation, the state is also encouraging local schools to explore ways to get more children to safely walk or bike to school. Part of the guidance suggests schools partner with bike share companies to offer discounts or subsidies.
As for students who rely on public transportation, districts should provide guidelines to students, with recommendations such as limiting how often they touch frequently touched surfaces and traveling during non-peak hours when possible, among other points.
Masks may come off at recess — only if students are outdoors and can maintain a six-foot distance.
If students can play outside and can maintain a distance of six feet from one another, schools can consider making recess an "unmasked time," according to the guidelines.
If not, though, students must be monitored for compliance with mask rules and at least three-foot distancing requirements.
"Playgrounds can be used with staff monitoring to ensure physical distancing and masking," the guidelines say. "Consider whether the number of staff at recess will need to be increased. Additional staff may be needed during high-risk times (the beginning and end of recess) and in high-risk locations (enclosed or small, hard-to-see places on fixed equipment, or anywhere with high child density)."
High-touch surfaces should be cleaned and disinfected between cohort use, when possible. Hand sanitizer and/or hand washing facilities must be used when students enter and leave the recess space, the document says.
Where to eat? Lunchtime could be somewhere else besides the cafeteria.
Based off of recommendations from the U.S. Centers for Disease Control and Prevention, officials prefer students eat in the classroom at lunchtime, given schools follow "strict requirement of six feet of physical distance between each student" since mealtime is when masks can be taken off.
"Schools may consider having half of the class take an outdoor mask break or recess time while the other half eats and then switching these groups to enable six feet of distancing," the document says.
But DESE says it understands this set-up may not be practical for every school.
If students are eating in a large lunchroom, schools must mark where cohorts and students can sit and students must again follow distancing rules.
"Ensure that students do not mingle with other cohorts," officials wrote. "The tables and other surfaces that students are using for meals should be cleaned between groups."
DESE also advised districts to consider "eating in alternative spaces."
"Outdoor meal consumption can be an effective way to ensure physical distancing, weather permitting," regulators wrote.
Hallways are potentially another viable option.
To help schools reopen and expand remote learning technology inventory, state officials have made available $182 million to serve students in grants for districts and $25 million in technology grants. An additional $20 million is at Riley's discretion to distribute to districts with "unmet needs," the guidance says.
"While school and district budgets remain uncertain, these additional resources will help schools and districts provide a healthy and safe environment for in-person learning in the fall," officials wrote.