COVID
Mass. has changed its coronavirus travel rules. Here's what to know.
"Every traveler coming to Massachusetts no matter where they're from has a responsibility to help keep COVID-19 out of the commonwealth."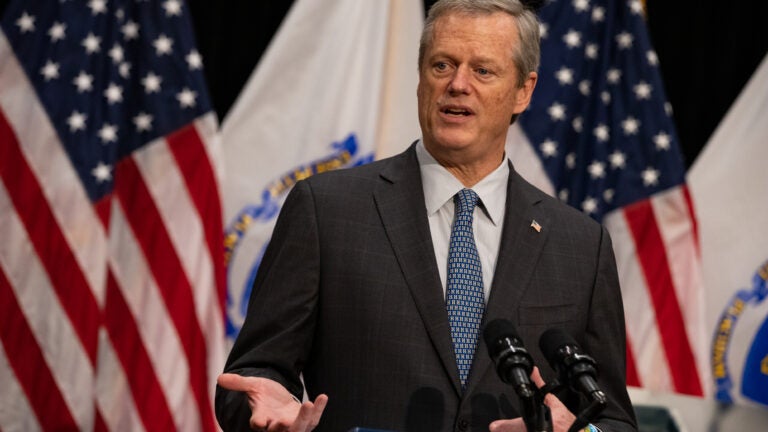 Since late March, travelers to Massachusetts have been asked to self-quarantine for 14 days. Soon, failure to comply, or failure to show proof of a negative COVID-19 test prior to arriving in the state, could result in fines.
Gov. Charlie Baker announced the new travel requirements, including a Massachusetts Travel Form for anyone coming to the state, unless they're coming from a lower risk state or meet certain "limited exemptions," during a Friday press conference. This includes Massachusetts residents who are returning to the state after traveling elsewhere and international travelers.
"Every traveler coming to Massachusetts no matter where they're from has a responsibility to help keep COVID-19 out of the commonwealth," Baker said.
The new travel order goes into effect on Aug. 1. Anyone who doesn't follow the new rules is subject to a fine of $500 per day.
"At this time of year, many people are traveling to and from Massachusetts for vacation or in some cases getting ready to come back to school," the governor said. "We've already seen an uptick in activity at Logan Airport."
There are a few exceptions to the order. These include people (including returning Massachusetts residents) coming from nearby states, including the rest of New England – Connecticut, Maine, New Hampshire, Rhode Island, and Vermont — plus New York, New Jersey, and Hawaii, as they're considered "lower risk."
Other exceptions include people who commute outside the state regularly for work or school, people who are provided medical care from a Massachusetts-based doctor, military, and those who provide "critical infrastructure" — cyber security, first responders, and emergency communications, among others.
People who are just passing through Massachusetts on their way to somewhere else are also exempt, the rules say.
All others, age 18 and above, plus "unaccompanied minors," must complete the travel form before they enter Massachusetts, or when they do. This does include students when they return for the fall semester, according to a press release.
Travelers are exempt from the 14-day quarantine if they can show proof that they received a negative result from a COVID-19 test and the sample was taken no longer than 72 hours prior to their arrival in Massachusetts. If they took a test and are awaiting the results upon their arrival in Massachusetts, they have to quarantine until they receive their negative result, the regulations say.
The form mandates that the traveler must agree to the regulations, and must agree with one of four quarantine options:
They take a COVID-19 test within 72 hours before in Massachusetts and it is negative

They will pay for a COVID-19 test and remain quarantined until they test negative

They are awaiting the results of a COVID-19 test and will stay in quarantine until they receive a negative test

They will stay in quarantine for 14 days after they arrive in the state, or will stay in quarantine for the entirety of their visit if less than 14 days.
The form also mandates that the traveler must agree that they have not had any COVID-19 symptoms, have not been in close contact within the last two weeks with someone who has it or is suspected of having it, and that they will wear a mask in public and maintain standard social distancing of six feet, according to the guidance.
While in quarantine, travelers must not have contact with anyone other than those they've traveled with for two weeks, must not be out in public, must not let anyone else into their quarantine area, must have food delivered, and should have the correct amount of face coverings for everyone, the guidelines say. They can only leave to seek "urgent medical care."
Prior to arrival, travelers will be notified of the order by airlines, bus companies, and train travel companies, as well as Airbnb, hotel, lodging operators, and major travel agencies, Baker said. He said employers are "discouraged" from sending workers outside of the lower risk states. Roadways will have signage informing drivers, too.
"Lodging operators like hotels and Airbnb will be required to inform guests about this order at the time of booking and arrival, and [are] encouraged to communicate this information on their websites and on site," Lt. Gov. Karyn Polito said.
Compliance is based on an "honor system," Baker said, saying that it has "worked pretty well."
State Department of Transportation Secretary and CEO Stephanie Pollack said there's been "a gradual but steady increase since March, both on our roads and at Logan Airport."
In July, traffic measurements at "key areas" were just 10 to 15 percent lower this year compared to last year. Passenger counts at Logan have also increased, though they're still much lower than last year, according to Pollack.
"Massachusetts residents are increasingly headed out to other states, and travelers from other states are increasingly coming to Massachusetts," she said. "All such travelers have a responsibility to help the commonwealth keep transmission rates as low as possible."