Coronavirus
Charlie Baker responds to concerns about COVID-19 uptick in Massachusetts
"We never said we're going to get to zero without a vaccine. We won't."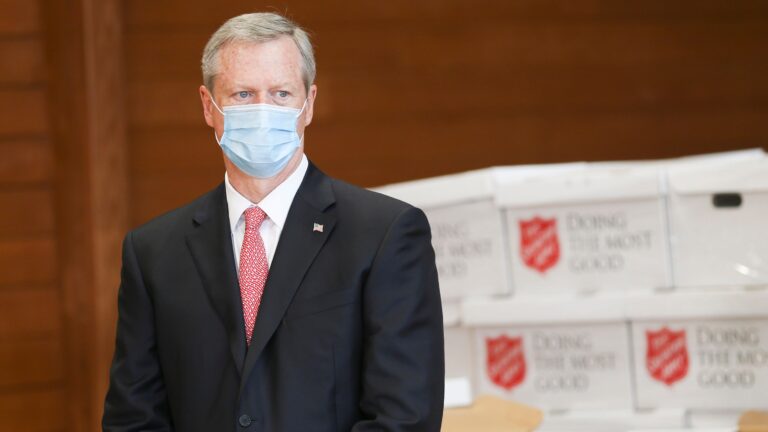 Coronavirus cases may be inching upward again in Massachusetts, but Gov. Charlie Baker expressed confidence Monday that the state doesn't need to reverse course in its reopening plan.
During an afternoon press conference, Baker — once again — emphasized the importance of individuals continuing to follow guidance around social distancing and mask wearing, amid concerns about the recent uptick in cases. After four days of more than 200 positive COVID-19 tests, Dr. David Rosman, the president of the Massachusetts Medical Society, tweeted Sunday that the state may need to go back to an earlier phase of the reopening plan.
"The data is early, but it looks like we are on the way back up," Rosman wrote. "We should consider backing down a phase."
Baker suggested Monday that it was too early to make such a judgment.
"I think at this point in time the most important thing we need to do is continue to do the things that got us here in the first place," the Republican governor told reporters, after being asked about Rosman's tweet.
While he said the state's public health data "is going to drive our decision making," Baker attributed recent reports of COVID-19 clusters to people "letting down their guard," as opposed to what activities and businesses have been allowed to resume. Specifically, Baker said a recent "cluster" warning in Chatham was the result of a large private party, while a new outbreak of at least three dozen infections at a hospital in Springfield came after a staff member returned from a "hotspot" state and was "not really abiding by the mask guidance."
The new concerns come after Massachusetts and other hard-hit states in the Northeast successfully brought down COVID-19 levels from their springtime peaks, even as cases have surged in southern states that moved earlier to lift their shutdown and stay-at-home orders.
Still, with the recent uptick, some fear that the Bay State and others could be on the same path; in Massachusetts, a measure of the virus's transmission rate, known as Rt, surpassed 1.0 last month, which is the threshold where it will "spread quickly." Rosman suggested Massachusetts should go back to prohibiting indoor dining, as other states and cities where the coronavirus has rebounded have recently done.
This is real. We shouldn't eat inside. We shouldn't be gathering if at all avoidable. Hey Mass. Let's get vigilant. Let's #wearamask. Let's #separate. If you have any hope of school opening. Do some investing now by staying apart. @MassMedical https://t.co/2WFAKIyE9i

— Dr. David Rosman (@darosman) July 26, 2020
Massachusetts is currently in Phase 3 of its reopening plan, where Baker has said the state will remain until a vaccine or effective treatment is developed — or until the data forces the state to go back to an earlier stage. In addition to restaurants and all retail businesses, Phase 3 allows gyms, museums, movie theaters, and casinos to reopen under certain social distancing and face covering guidelines.
During his press conference Monday, Baker acknowledged that the positive test rate had "ticked up" in recent days from 1.7 to about 2 percent.
But he suggested that Massachusetts will have to tolerate a certain level of infection for the foreseeable future, especially as businesses reopen and people go out more in the warm weather.
"We never said we're going to get to zero without a vaccine," Baker said. "We won't. But the question about how much COVID we have and the job that we do managing the spread does comes down, in many respects, to the individual decisions being made by all of us."
His administration also announced eight new free COVID-19 testing sites in communities where the rate of positive tests was higher than the state average. The new sites are in Agawam, Brockton, Methuen, Randolph, Revere, Springfield, Taunton, and Worcester. The administration had previously launched free testing sites in Chelsea, Everett, Fall River, Lawrence, Lowell, Lynn, Marlborough, and New Bedford.
But in addition to the state's testing and tracing efforts, Baker stressed the importance of all residents continuing to wear a face covering and properly socially distancing where possible.
"Most of the time, if people do the right things, we should continue to be successful in containing this," he said. "If people don't do the right things, obviously that's another story."