Coronavirus
A photo of a 'crowded' harbor cruise ship in Boston draws ire — and a response from the company
"We'll get this right; we are committed to that effort, and understand how, in our current environment, this photo has created such a stir."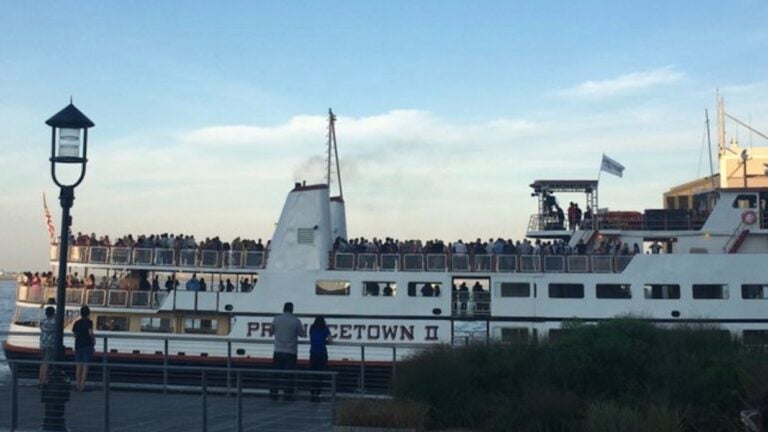 Dozens of people can be seen standing along the decks of a harbor cruise ship in Boston Harbor Saturday night in photos and video circulated on social media, which have sparked public concern amid the coronavirus pandemic — and responses from the company and Gov. Charlie Baker.
The Provincetown II, operated by Bay State Cruise Company, was sailing as part of a harbor cruise between 7 and 9:30 p.m., company owner Michael Glasfeld said in a statement. The vessel, which has a capacity of 900 people and measures 194 feet, according to the company's website, sailed at about ⅓ of its total capacity, Glasfeld said, even though sailing at 44 percent capacity would allow enough room for a 6-foot circle, or 28 square feet of space, between passengers. It was the fourth harbor cruise the company has done since Phase 3 of Massachusetts's reopening plan began earlier this month, he said.
Glasfeld, sharing a photo of the cruise, said there were 74 people on the vessel's top deck and 34 in the middle deck.
"As passengers enjoy moving toward the railings when a ship is either leaving port or entering port, it is likely that the same number of people are on the other side of the vessel's railings as well," he said. "Not in the frame of the photo are passengers at the forward 1/3rd of the vessel's exterior railings."
With the reduced capacity, Glasfeld said there is "ample space for social distancing." There's also a "constant breeze" because the ship sails at a speed of 9 knots. In addition, the company has enhanced cleaning protocols and protocols for workers, as detailed in an email to Boston.com.
"We have a semi-enclosed middle deck as well that, at nine knots, exchanges its entire volume of air in less than one minute," Glasfeld's statement said.
While a photo of the boat, posted on Twitter, taken at a distance makes it difficult to see how many people are on the boat and if they're wearing masks, apparent videos from the boat show guests dancing and drinking, many without a face covering.
How is this crowded party boat in Boston Harbor allowed? pic.twitter.com/HfGILXWLrE

— Marty Walz (@MartyWalzAssoc) July 26, 2020
When asked about the outing during a Monday press conference, Baker said the Boston Public Health Commission is investigating. While he said Massachusetts residents have worked to reduce the number of positive cases, he said people shouldn't think that the virus is gone completely.
"When the numbers came down and the weather got warm, I think we all got a little concerned that it would be more difficult for people to continue to demonstrate the vigilance they've shown day over day, week over week, and month over month since April," he said. "I can't express how important it is for everybody to continue to do the things, play by the rules, and use the guidance and compliance that have been developed by the reopening advisory board to ensure that we continue to fight the spread."
The number of COVID-19 cases and how much the virus spreads depend on the willingness of people to follow the guidelines, he said.
Phase 3 mandates that all outdoor gatherings, such as weddings, are capped at 25 percent of a facility's allowed occupancy with a 100-person maximum. Things like backyard cookouts and public parks are exempt.
Bay State Cruise Company said that its top deck, which it says is considered an outdoor space, does not fall under COVID-19 occupancy limits, while its middle deck, which it says is considered a "semi-enclosed" outdoor area, is limited to 100 people.
"We assume that lack of regulatory reductions in capacity are because of the benefit of open air, and, particularly in the case of a boat, the fact that air is flowing over the deck as we make our way through the harbor," Glasfeld said. "Having said that, however, the number of people on the top deck Saturday night was roughly half its legal capacity, and, moreover, has the deck area to provide roughly 150 individuals with 28 square feet of social distance (the area of a 6' circle)."
Glasfeld noted that public perception "is far more important" than what is allowed under Phase 3 rules.
"We value our reputation as being a company that does the right thing, and we are working with the City of Boston's Dept of Health this week to further work on what needs working on," he said. "We'll get this right; we are committed to that effort, and understand how, in our current environment, this photo has created such a stir."