COVID
Harvard's Dr. Ashish Jha: We're only at 'the top of the fourth inning' in course of pandemic
He doesn't see the crisis wrapping up until June 2021.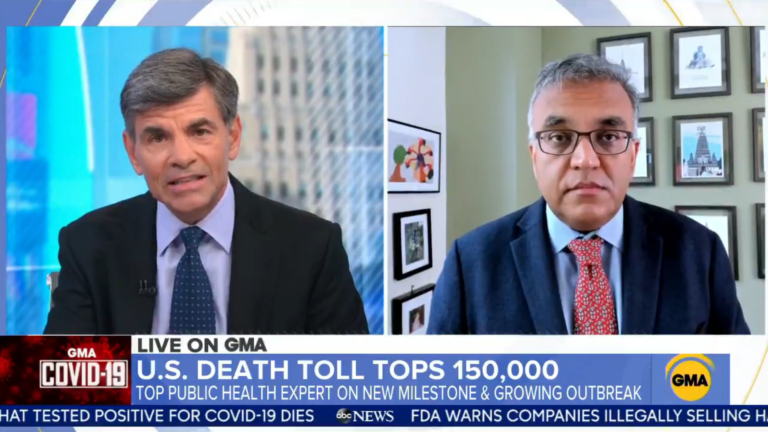 Dr. Ashish Jha says that even in the most optimistic timeline, the coronavirus pandemic is not even halfway over.
Jha, the head of the Harvard Global Health Institute and now-frequent guest on TV news, spoke with George Stephanopoulos on Good Morning America Thursday. According to him, the best-case scenario is that the global crisis lasts 18 months, from January this year with the first major outbreaks in China to June next year when safe vaccines may be readily available.
"That puts us in about the beginning of the top of the fourth inning," Jha said. "We have many more months ahead of us than we do behind us, and if we don't get our act together, we're going to have a lot more suffering and death, and none of that is necessary."
Top of the fourth, of course, means that there are still nearly six full "innings" remaining in the pandemic.
The doctor's baseball metaphor is one that he's frequently cited over the last few months as the pandemic persists in America and abroad. Deaths in the U.S. hit 150,000 Wednesday as sections of the country continue to endure a stark rise in cases. The national surge has begun to plateau, but the country is still by far the worldwide leader in cases and deaths.
"We are the global hotspot and we have mismanaged this virus in a way that I think much of the world simply can't believe, and the reason is that we just haven't take this seriously," Jha said. "We have not followed scientific advice and guidance. We opened up too early, we've opened up too much."
While Massachusetts has been largely spared from the surge hammering parts of the country this summer, the commonwealth has seen a slight but sustained uptick in cases in recent weeks. Wednesday was the first time new cases in the state hit over 300 in a month — although that can partially be attributed to "a technical reporting error by a hospital group," according to the state — and the rate of infection tipped past 1.0 in mid-June and continues to slowly rise.
Jha provided straightforward solutions to survive the rest of the innings in America's new pastime: End the debate on masks, rethink how we test for illness, and close down indoor venues like bars and gyms.
"I think if we do all of those things within the next couple of months, we can become one of the success stories as opposed to one of the global failures right now," Jha said.
He also said that "priority number one" should be developing a national plan on how to handle schools, which are set to start opening within the next month.
"We can't have pandemics fought by individual cities, towns, and superintendents," Jha said. "I really believe we can get kids back to school, but we need a national plan to suppress the virus, improve the quality of the buildings of the schools, and if we can do this, we can get kids back in."
Watch the full interview below:
https://twitter.com/GMA/status/1288794192039350272