Coronavirus
'A recipe for disaster': Charlie Baker rips 'lapses in judgment' contributing to coronavirus uptick in Massachusetts
"If we continue to see rises in positive test rates, we're going to have to make some changes."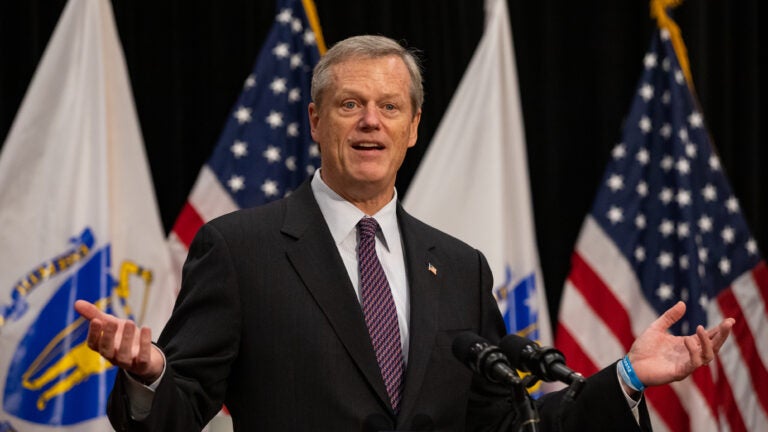 Gov. Charlie Baker says a "troubling" pattern of COVID-19 clusters is to blame for the recent uptick in cases in Massachusetts.
And during a press conference Friday afternoon, Baker forcefully denounced a series of "disturbing reports of large gatherings" where people were not wearing masks or socially distancing, which he said was contributing to the increase.
"These lapses in judgment — these missed opportunities to keep the door that we all worked so hard to close shut — are contributing to a slight, but important, rise in positive cases here in Massachusetts," the Republican governor said.
Baker reiterated that, for the most part, Massachusetts residents had "done the right thing," driving down the rate of coronavirus infections and hospitalizations in the previously hard-hit state, even as other regions of the country deal with "uncontrolled outbreaks."
"But COVID does not follow any rules," he said. "We should not and cannot let our guard down."
However, Baker went on to tick off a number of instances where people were doing just that.
The governor mentioned a lifeguard party in Falmouth that resulted in at least eight cases and a cluster linked to a house party in Chatham. He also announced that officials were investigating potential clusters linked to an unauthorized football camp in South Weymouth, a high school graduation in Chelmsford, a large house party in Wrentham, and a 90-person prom party in Cohasset.
Baker said the gatherings were planned by young people and adults and demonstrate "an at-times unwillingness to accept" the "invisible" and highly contagious nature of the virus. The governor said another recently reported cluster at a Springfield hospital occurred after employees got "lax" about wearing face coverings in the break rooms.
Officials are also investigating several COVID-19 cases linked to a party on a private boat in Boston Harbor, he said, though it's unclear if Baker was referring to the same cruise that was photographed and widely reported on earlier in the week.
"The situations I just recapped are a recipe for disaster and need to stop if we want to continue to reopen and get back to a new normal," Baker said.
Marylou Sudders, the state's secretary of health and human services, said Friday that cluster investigations are launched when two individuals, who are not from the same household, test positive for the coronavirus after being at the same event. And she said they can balloon into much more widespread outbreaks, noting that the Weymouth football camp included kids from 17 different communities.
Baker had previously pushed back against the notion that Massachusetts might need to reverse course in its reopening plan, attributing the recent increase to people simply not following the state's guidance. Over roughly the last two weeks, the state's positive COVID-19 test rate — which hovered as high as 30 percent at its peak in Massachusetts — has increased from 1.7 percent to 2 percent over the last two weeks. Baker called it a "slow creep." But if it continued, he said the administration would "have to consider a number of options," including reducing the 25-person limit on indoor gatherings to a smaller number.
"If we continue to see rises in positive test rates, we're going to have to make some changes," Baker said.
While he acknowledged that canceling certain plans and other sacrifices — especially during New England's limited warm-weather months — may be "difficult," Baker reflected on the much greater hardships local health care workers faced at the outset of the surge in COVID-19 cases in Massachusetts, often working double shifts without proper protective gear to save lives.
"If this whole thing goes south, it's going to land on them."
"When I talk to any of those people now, they say, 'I am so grateful that Massachusetts finally got to the point where we could actually catch our breath, figure out what our staffing models need to look like, actually maybe have a day off once and a while, and not spend every moment of every day worrying about how many people I was going to have to try to save or lose when I came to work,"' Baker said.
"If this whole thing goes south, it's going to land on them," he added. "And they're the ones who just finished helping us dig out under really trying circumstances."
As of Thursday afternoon, there had been 8,375 confirmed deaths due to COVID-19 in Massachusetts, along with 109,400 total infections.
During the press conference Friday, the administration also announced the launch of a new "#MaskUpMA" campaign, featuring videos of Baker, Lt. Gov. Karyn Polito, and others urging residents to wear a face covering. The state's entire House delegation also posed for a photo kicking off the public awareness effort Friday.
#MaskUpMassachusetts pic.twitter.com/FFYl4GUzue

— Congresswoman Lori Trahan (@RepLoriTrahan) July 31, 2020
Baker noted that the state's contact tracing team would work with local officials to investigate potential clusters and follow up with people who may have been exposed to the virus. He said contact tracing is a critical part of the state's COVID-19 mitigation efforts, since it could notify potentially infected individuals before they spread the disease to others.
"But the best way to deal with a cluster is to not have one in the first place," Baker said.