COVID
Interactive tool to determine your COVID-19 danger level is not for the faint of heart
Beware falling down the Event Risk Assessment rabbit hole.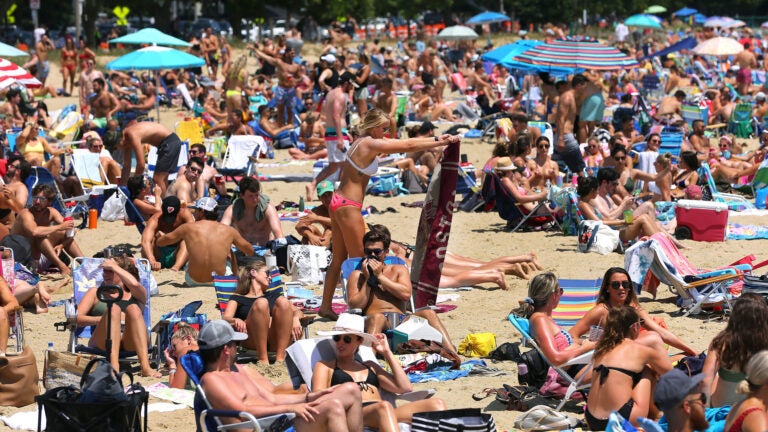 Technology: It's great, until it isn't. For instance, a website allowing ailing people to enter their symptoms and get an immediate diagnosis must have sounded like a fabulous idea … until WebMD wound up making a certain segment of us (we know who we are) prone to thinking every ache and pain was a sign of our inevitable and imminent demise.
And that was pre-COVID-19.
Now that we're in a pandemic, we have a whole new set of worries to obsess about — whether we've acquired the disease, yes, but also the likelihood of acquiring it, should we happen to leave the house, be it to shop for groceries or take in some sun at M Street Beach.
Fortunately — or not? — a few months ago researchers at the Applied Bioinformatics Laboratory at Georgia Tech developed the COVID-19 Event Risk Assessment Planning Tool, an interactive map that will show you, down to the county, how likely you are to come across someone infected with the novel coronavirus while in your travels. This was less necessary before the start of Gov. Charlie Baker's reopening plan, when many of us were firmly ensconced indoors — but definitely useful now that we've not-so-slowly but surely ventured out into group settings as restrictions loosen up.
The tool allows you to zoom in on your county and determine how likely you are to encounter a COVID-positive individual based on the size of the event you're attending. So let's say we're talking about an American Legion baseball game in Essex County with 25 players, coaches, and umpires and an equal number of spectators, for a total of 50 people gathered at the old ballfield. According to the planning tool, there's a 28% chance somebody there has COVID-19 — not what you'd call minuscule odds, although hopefully the players and spectators would be somewhat spread out around the field.
But if you're talking about a gathering of, say, 50 Barnstable County lifeguards, the odds of coming across an infected person are actually slightly lower than at the Essex County ball game, at 24%. (Of course, if it's at a party that's at least partially indoors and involves up-close, breathing-related activities, you could be talking about a more problematic situation that the model doesn't account for.)
Move to a more highly infected area of the country, meanwhile — say, Orange County, Florida, home of Walt Disney World — and for that same gathering of 50 people, those odds increase to 96%. It is a small world, after all.
The problem with this admittedly impressive and ostensibly useful tool, of course, is that — like with WebMD — you can easily find yourself down an Event Risk Assessment rabbit hole. Before you know it you've spent all morning entering and re-entering various scenarios and locations in an attempt to find out which is safest — or, conversely, which are the least safe, and hence the most likely to endanger you personally after someone in your "COVID bubble" attends, let's say, a 5,000-person political rally in Tulsa County, Oklahoma. (Current odds: Greater than 99%.)
The COVID-19 Event Risk Assessment Planning Tool is, of course, not the only interactive option on the web when it comes to obsessive tracking of coronavirus-related trends and risks. Children's Hospital of Philadelphia allows you to project your area's likely case trajectory over the next four weeks — where again things look pretty sunny (so to speak) here compared to our friends in Florida.
And rt.live goes state by state in projecting "Rt," or the average number of people who become infected by an infectious person. In Massachusetts we were under 1.0 for a while, which is good — but now we're not (1.07 and counting), which is bad. (Or, on the other hand, who knows?)
But, as in the baseball game vs. lifeguard party mentioned above, circumstances play a huge role here, no matter what the models say — indoors vs. outdoors, amount of space to spread out, whether participants are masked, and, as is the case in so many areas of life, just how dirty we are. After all, as Dr. Howard Koh of the Harvard T.H. Chan School of Public Health put it, "What we can accomplish in the long run depends so much on whether we can maximize the power of prevention based on the tools we have: face masks, social distancing, and hygiene."
Given that we're currently only in about the top of the fourth inning when it comes to battling this pandemic (at least according to Koh's esteemed and telegenic colleague, Dr. Ashish Jha), concentrating on those areas over the coming weeks and months would probably be more productive than trying to game the online risk trackers. And stay off WebMd too while you're at it.