COVID
Universities in Boston look to hotels to help maintain social distancing
Northeastern University wants to rent the entirety of The Midtown Hotel, according to plans submitted to the city.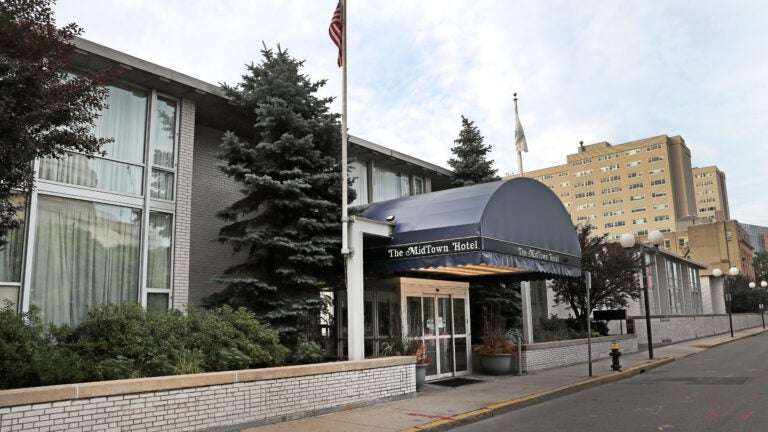 When Northeastern University begins the fall semester, the entire Midtown Hotel could serve as campus housing.
In an effort to maintain social distancing when students return to campus this fall, Northeastern, along with Suffolk University and the New England Conservatory, have all filed proposals with the city that would allow them to use portions, or all of, hotels for student housing, classroom space, dining, and office space for faculty and staff.
For Northeastern, the university wants to occupy 850 to 875 beds in 425 to 440 rooms for students at the Westin Copley Place, plus 45 to 65 beds for staff, according to its proposal submitted to the Boston Planning and Development Agency. At the Midtown Hotel, Northeastern intends to take up 297 beds in 149 rooms with eight rooms for staff.
Northeastern also intends to lease additional apartment spaces in various buildings, mainly along Hemenway Street and Huntington Avenue. The university also wants to turn 14,000 square feet in the Cohen Wing of Boston Symphony Hall into a dining area with a "grab n' go" meal option.
The additional rooms will allow Northeastern to limit room occupancy to just two students per room, eliminating triples or quads, the proposal says.
At Suffolk, the university intends to give each student their own room to allow for social distancing. This cuts the university's available housing to just 768 beds; full occupancy usually supports 1,560 students, a proposal with the BPDA says. 
To help with the housing crunch, the university wants to rent all of The Boxer Hotel's 80 rooms on Merrimac Street, plus portions of the DoubleTree Hilton on Washington Street, the Wyndham Hotel on Blossom Street, and the Hyatt Centric Hotel on Devonshire Street.
The New England Conservatory also intends to have just one student per room in its existing campus housing. To accommodate students, the school plans to lease a portion of Revolution Hotel on Berkeley Street and would take up 65 to 98 rooms of the hotel's 163-room occupancy, a proposal submitted to the city says.
"Housing students in single occupancy rooms will reduce the risk of infection spread and if necessary in the event of exposure, allow students to quarantine in their rooms," the proposal says.
Colleges have taken varying approaches toward dealing with the COVID-19 pandemic in their planning for the fall. Harvard, for instance, will allow only freshmen to live on campus, while holding all classes remotely; MIT will also allow only a certain percentage of students back on campus, while in-person classes will be limited to small groups with a "particular focus on classes that require access to labs, workshops and performance spaces."
Other schools, like Boston University, Northeastern University, and Tufts University, are promising a greater level of in-person instruction. Berklee College of Music, meanwhile, nows says it will change course and offer classes exclusively online, after announcing preparations for a hybrid model in June, The Boston Globe reported.
Get Boston.com's browser alerts:
Enable breaking news notifications straight to your internet browser.