COVID
Why Harvard's Ashish Jha is worried about coronavirus levels in Massachusetts
"There's a two-to-three-week period where, if you aren't paying attention, you can miss it. And that's the two-to-three-week period we're in."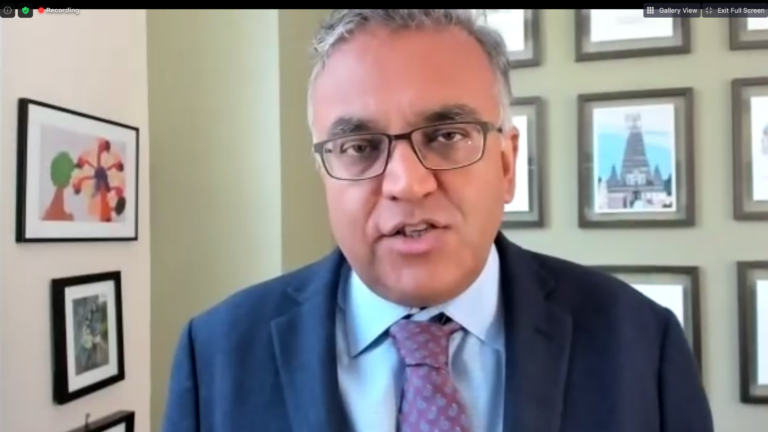 Dr. Ashish Jha, the director of the Harvard Global Health Institute, says Northeast states like Massachusetts did "what the country needed to have done" in response to the coronavirus: shut down, stay shut down until they had crushed the so-called curve of infections, and then reopen slowly and methodically.
As a result, the once-hard-hit region became a relative success story, especially as other parts of the country grappled with unparalleled numbers of infections this summer. Jha says the outbreaks in those worse-hit states — Arizona, Florida, Texas — have begun showing signs of stabilizing. But now, he is turning back to places like his home state of Massachusetts and beginning to worry.
"They're heading in the wrong direction," Jha said during a conference call Monday. "And I worry that a lot of people living in the Northeast think that we're done with the pandemic."
Even as states across the southern and western regions of the country continue to report much higher rates of COVID-19 infections and deaths, a "slow creep" has recently begun in the rate of reported COVID-19 cases in Massachusetts and other parts of New England; in addition to Massachusetts, Jha specifically mentioned Rhode Island. In both states, health experts have expressed concerns about the uptick in cases.
"It's entirely possible we could find ourselves back in deep trouble if we don't act aggressively," Jha said.
While the levels of infections, hospitalizations, and deaths remain a small fraction of their peak levels in April, he suggested the states could be following a similar path as Arizona, Florida, and Texas, where officials did not react quick enough to prevent a devastating wave of infections after reopening this spring.
According to Jha, it was clear those southern and western states were "headed in the wrong direction" by early June, despite what he called a "disingenuous" article written by Vice President Mike Pence downplaying the problem on June 16. But by late June, the problem was undeniable.
"By July, it was a raging wildfire," Jha said Monday.
"The point is there's a two-to-three-week period where, if you aren't paying attention, you can miss it," he said. "And that's the two-to-three-week period we're in in a lot of these states in the Northeast and Midwest."
In a follow-up interview, Jha said that Massachusetts has seen a 50 percent increase in the number of newly reported COVID-19 to the point that the state is averaging about 400 a day, combining confirmed and probable cases. And while he expects officials would act before an outbreak in Massachusetts got as bad as Arizona or Florida, he said the initial trend looks very familiar.
"In the beginning there's always an explanation — 'It's this, it's that' — but at some point you get enough cases that then you start seeing really large outbreaks and increases, and at that point it's just much, much harder to control," Jha told Boston.com.
"I feel like I've seen this movie before," he said. "And I don't like where it goes."
"They'll probably lose out on the chance to reopen schools this fall."
During the conference call, Jha said he was most concerned about states like Mississippi and Missouri, which are reporting more cases than ever before. But he also said states like Massachusetts and Rhode Island have "let too much go in terms of indoor gatherings," where the risk of transmitting and contracting the virus is highest. He suggested the states' governors should do more to limit — if not shutter — indoor dining and gyms.
"I stare at state data every single day," he said. "It's very clear to me that these states are headed in the wrong direction. The amount of action they'll have to do is much more aggressive. And they'll probably lose out on the chance to reopen schools this fall."
Gov. Charlie Baker has suggested individual behavior — as opposed to the reopening rules themselves — was the root cause of the recent uptick. During a press conference Friday, the Massachusetts governor highlighted house parties and other "lapses in judgment" where residents did not follow public health guidance around mask wearing and gatherings, leading to COVID-19 clusters.
"The question about how much COVID we have and the job that we do managing the spread does comes down, in many respects, to the individual decisions being made by all of us," Baker said earlier last week, when asked about the concerning trends.
Still, the Republican governor said his administration was prepared to make changes if the positive COVID-19 test rate in Massachusetts — which has risen from a seven-day weighted average of 1.7 percent to 2.2 percent in recent weeks — continues to rise.
Baker specifically mentioned potentially reducing the 25-person limit on indoor gatherings back to a smaller number, but did not entertain calls to re-close indoor dining or gyms. Baker also has not said what positive test rate threshold would trigger such action, though he had previously pointed to 5 percent as a goal when the state's positivity rate was much higher.
"To me, it's not the absolute number," Jha said. "It's the trajectory, and it may be that we just want to wait two more weeks, and when we get there, we'll act. But there's no question in my mind that, unless we do something differently, we're going to get there."
Some medical experts have suggested Massachusetts return to an earlier phase of its reopening plan in response to the current, multi-week upward trend. However, Dr. Julia Marcus, an epidemiologist at Harvard Medical School, has said the solution might lie in the state's contact tracing data.
"If clusters are coming from indoor dining, casinos, or gyms, then shut them down," Marcus tweeted Sunday. "But if cases are mainly from house parties, closing things down may not be the solution."
Jha says he hasn't yet seen evidence indicating either way. But to a certain degree, he says the ultimate result is the same, as clusters lead to community spread.
"It's not that it doesn't matter where it's coming from — of course it does — but as you start getting more virus in the community, let's say it is house parties, what will happen is it becomes a set up for more and more outbreaks," Jha told Boston.com. "Once you start getting into enough cases, they just become seeds for more cases."
Additionally, the extent of the response may depend on how much officials are willing to do to ensure schools reopen. If states decide they "don't really care if kids are all online," Jha says "you probably have a bit more running room" in terms of allowing indoor activity like restaurants, bars, and gyms.
"You won't fill up your hospitals too much and some people will get sick and some people will die, but you can tolerate a certain level," he said.
Massachusetts is currently in Phase 3 of its reopening plan, which allows gyms, casinos, and indoor dining (though not bars) under certain capacity limits and other safety restrictions, as officials advise schools to prepare for at least some classes to be conducted online this fall.
Still, given the societal value of holding in-person classes (as well as avoiding preventable deaths), Jha says states should be asking themselves if they can afford that approach.
"My argument, largely, is not right now," he said.
However, addressing private house parties at its root isn't as simple.
Jha, who lives and works in the Boston area, says he knows people "who are hosting house parties where people are spending a lot of time indoors," which he called "a huge problem." He said he had talked with three different governors' administrations about addressing house parties and still had "no idea" what the best approach is outside of more effective communication about the risks and guidelines.
"That is another way that a lot of this stuff is starting to spread," Jha said. "And that's just people getting relaxed and feeling like it's totally fine to have 20 people over to your house on a Sunday afternoon, and it probably isn't."