COVID
Charlie Baker warns Massachusetts could roll back reopening if COVID-19 uptick continues
"If we need to make adjustments, we will."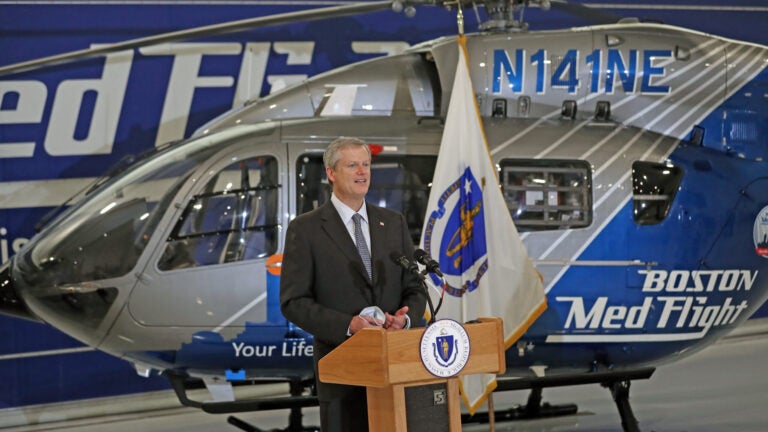 Gov. Charlie Baker said Tuesday that his administration is prepared to walk back its reopening plan if COVID-19 continues to trend in the wrong direction in Massachusetts.
"We've only had a slight uptick from a low of 1.7 percent to 2 percent," Baker said in an afternoon press conference, referring to the weighted seven-day average of the state's positive test rate.
"But we'll be forced to update our plans if the data warrants it," he continued. "That could mean gathering sizes could be reduced, or we could make some of our business regulations more strict. Reopening and staying open is obviously a big part of the goal, but obviously we can't do that if we don't have everybody's help to continue to move forward."
Baker stressed the state's recent campaign encouraging face coverings, as well as new quarantine rules for many out-of-state travelers that took effect over the weekend and come with the threat of a $500 daily fine.
His comments come as some of the most prominent public health experts in Massachusetts speak out about what they say is a slow, but concerning, uptick in coronavirus cases, even if the numbers remain far below peak levels from this past spring.
Massachusetts is currently in Phase 3 of its reopening plan, which allows gyms, casinos, theaters, and other "higher risk" indoor businesses (including restaurants, which reopened in Phase 2) to reopen under a number of restrictions.
During the phase, gatherings are also limited to no more than 25 people in a single enclosed space and no more than 100 individuals — or 25 percent of a facility's permitted occupancy — in a single, enclosed outdoor space.
Dr. Ashish Jha, the director of Harvard's Global Health Institute, said Monday that Massachusetts and Rhode Island, which is also experiencing a notable rise in COVID-19 cases, have "let too much go in terms of indoor gatherings" and should act more aggressively to control the virus, especially if state officials want to reopen schools this fall.
"If we need to make adjustments, we will," Baker said Tuesday, reiterating that any decision would be driven by data.
However, speaking at the Boston MedFlight headquarters in Bedford, the Republican governor declined to get into "hypotheticals" about what specific changes could be necessary or what data threshold would trigger such action.
Baker noted that officials had used the World Health Organization's 5 percent positive test rate standard as their goal during the reopening process — which Massachusetts achieved in June and has remained below since.
As of Tuesday afternoon, the seven-day weighted average of the state's positive test rate was up to 2.2 percent, as officials reported 438 new COVID-19 cases and nine additional deaths due to the virus.
But Baker said the administration isn't solely looking at positive test rates.
Since the beginning of the reopening process, state officials have monitored five other additional metrics: deaths due to COVID-19, hospitalizations, health care system readiness, testing capacity, and contact tracing capabilities.
Baker also suggested that part of the reason for the recent increase in cases was the administration's decision to launch 17 targeted free testing sites in communities where COVID-19 levels were higher than the state average but had experienced a decline in testing since April.
Baker said the fact the initiative was uncovering previously undetected cases was a "really good thing," even if it did contribute to a rise in the state's official numbers.
"We added a whole bunch of communities to this process specifically to see if we could find additional positive cases in communities where testing levels had dropped dramatically," he said. "And we did. That's not a bad thing; it's a good thing."
Baker had previously blamed the uptick in cases on "clusters" caused by house parties and other "lapses in judgment" where people were not following the state's guidelines.
"We've been concerned and worried about, um…" Baker said Tuesday, pausing to carefully choose his words.
"The overwhelming majority of the people of Massachusetts have stayed true to all the things we talked about with respect to face coverings, social distancing, hand washing, and all the rest," he continued. "But we've talked several times in some of our most recent press conferences about the the fact that there's definitely been some slippage in certain circumstances and situations."
Baker implored residents to keep doing what works: "Wear a mask if you can't socially distance, socially distance wherever you can, wash your hands, hand sanitizer, good hygiene, wipe surfaces."
"I mean, this stuff is like gold standard," he said. "But you have to be vigilant and you have to be disciplined and you have to do it over and over again."
Baker, who said he had gone without seeing certain friends for months, acknowledged that some of the guidance can be a "bitter pill," especially during New England's short warm-weather season. But the governor said the "simple truth" is that if the "slippage" continues, "it is going to affect the way we move forward."
"We hope we will be able to continue to move forward," he said. "But if the data doesn't support moving forward, as we have said many times, we won't."