COVID
A Boston city councilor is urging Boston University, Northeastern not to host in-person classes this fall
"The best 'harm reduction' strategy at this juncture is simply not to encourage your far-flung student bodies to return to Boston this month."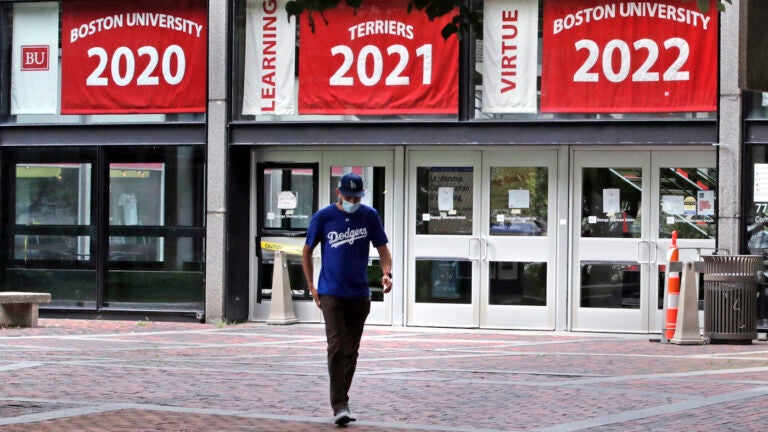 Boston City Councilor Kenzie Bok is urging Boston University and Northeastern University to hold their fall semesters entirely online, fearing the city's usual massive influx of out-of-state students poses a public health risk during the coronavirus pandemic this year.
"Each of your institutions draws nearly three-quarters of your undergraduate students from out of state; for the safety of the city, as many of them as possible should stay home," Bok wrote in a letter to the presidents of both institutions Monday.
"No large city in America has the same scale of population swing as Boston in late August and early September," the councilor added. "In this season of pandemic, that pattern poses a unique risk."
Bok, whose district includes the student-heavy neighborhoods of Fenway, Kenmore, and Mission Hill, called on the universities' leaders to make the shift to "entirely virtual models" of instruction and learning, coupled with other precautions for students that do return to campus, such as access to isolation housing and protocols for quarantine and off-campus monitoring.
"Your plans for the fall — in terms of testing capacity, dorm de-densification, cleaning protocols, and public health messaging — reflect a great deal of thought," Bok wrote in the letter, published Tuesday. "Yet the best 'harm reduction' strategy at this juncture is simply not to encourage your far-flung student bodies to return to Boston this month."
The District 8 councilor added that plans for students who live off-campus are "concerningly weaker."
"The seniors and other vulnerable populations who live in these neighborhoods must not be put at such elevated risk," she wrote.
Yesterday I sent a letter urging @BU_Tweets & @Northeastern to switch to all-virtual fall semesters & NOT encourage their students (~75% out of state) to return. The 9/1 population influx is Boston's biggest public health threat right now; we can still reduce it. #bospoli #mapoli pic.twitter.com/wtGKWG3NXv

— Kenzie Bok (@KenzieBok) August 4, 2020
At Northeastern, school officials announced back in May they intended to reopen buildings for in-person learning and on-campus living. As for what that will look like, the university said in June that it would use a "hybrid-flexible learning model" that integrates in-person and virtual learning, and the school's website says the institution is "actively planning for a multitude of scenarios and will continue updating the campus community on a frequent basis."
Further details of the plan released last week state that all Boston students — those who live on and off campus — will be tested for the coronavirus on the day they arrive and then again on the third and fifth days following the initial test. Students will go into quarantine until they receive a negative test result.
Northeastern says it has the capacity to administer thousands of tests per day.
The university is also one of several schools in the city planning to use local hotels to provide students a place to stay, since residence hall capacities will be reduced. Students living on campus who test positive for the virus will be asked to self-isolate for 14 days in a single-occupancy room with a private bathroom, according to the school.
"Northeastern has undertaken countless extraordinary measures to plan for a safe fall semester," Renata Nyul, a university spokesperson, told Boston.com in a statement responding to Bok's letter. "This includes launching a large-scale testing program, strict protocols around masking and healthy distancing, and completely reimagined approaches to dining and residential life. We are moving cautiously and carefully ahead with the plans we announced in June."
At Boston University, students are slated to receive a mix of in-person and remote learning, school officials announced in June.
Students will also be tested upon returning to campus this fall, and twice per week throughout the academic year, through the school's in-house testing program, according to the university.
As for housing, students will create "small communities or 'households'" on campus in which they "must exercise careful control of how shared spaces are used and maintained, and everything from bathroom use to household cleaning to shared elevator use must be scheduled and coordinated," according to the university's website.
Students who live on campus and test positive for the coronavirus will "potentially" be placed in a room with another student who has also tested positive, the university says. If a student has potentially been exposed and must enter quarantine, he or she will be moved to a private room with its own bathroom until test results are available.
"Boston University is in close contact with Councilor Bok on testing protocols and public health best practices," the university said in a statement. "We will continue to work with the Councilor and her constituents to prioritize their health and safety along with the health and safety of the entire B.U. community."
Bok, in her letter, said the two schools should offer isolation housing to all off-campus students who test positive, and students should be required to confirm their plans to comply with Massachusetts's quarantine requirements upon their arrival. Those who don't should not be allowed to register for classes and should have their campus access revoked, Bok wrote.
"Violations of public health guidelines off-campus — especially the holding of large gatherings — should be directly linked to serious university discipline, including suspension and the inability to complete the semester," she wrote. "University personnel should be on call for rapid incident response, and equipped with address and contact information to quickly identify offending students."
Bok, on Twitter Tuesday, thanked both Simmons University and Berklee College of Music for opting to hold all of their classes virtually this fall.
"Very hard situation, but must put community health (first)," she wrote.
TY @BerkleeCollege & @SimmonsUniv for making right call already. Very hard situation, but must put community health 1st. @BU_Tweets & @Northeastern have highest # out-of-state students, but same dynamics hold for all non-commuter colleges bringing many students from outside MA.

— Kenzie Bok (@KenzieBok) August 4, 2020
Get Boston.com's browser alerts:
Enable breaking news notifications straight to your internet browser.