COVID
To avoid a COVID-19 horror show, Salem is planning a scarily scaled-back Halloween
Salem anticipates the state's reopening will remain in Phase 3 in October.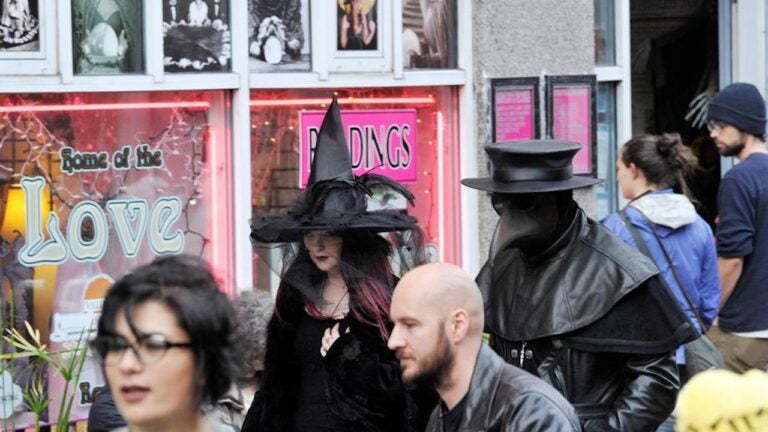 Though the holiday is still a couple months away, Salem is already planning for a drastically pared-down Halloween season this year due to the COVID-19 pandemic.
Many of the beloved Haunted Happenings events will be cancelled, or changed to coincide with the state's reopening plan, according to an announcement from the city. The cancellations are based on the idea that the state is likely to remain in Phase 3 as of Halloween time. Phase 3 of Gov. Charlie Baker's reopening guidance limits indoor gatherings to 25 people, and outdoor gatherings to no more than 100. These limits are placed not just on events thrown by the city, but private events as well.
"Based on that guidance, while some events and activities may still be able to take place with restrictions, including several attractions, museums, walking tours, retail shops, and restaurants, many large-scale functions will not be able to proceed, " a news release from the city says.
As of Tuesday's announcement, the list of cancellations includes the Haunted Happenings Grand Parade, the Mayor's Night Out, the Kids' Costume Parade, the Biz Baz Street Fair, the Salem Food Truck Festival, Haunted Harmonies, outdoor food vendors including the Fiesta Shows food trucks, and the Howl-o-ween pet parade, the release says.
Those planning to visit Salem for any event are "strongly encouraged" to check with organizers, or the business involved in advance.
Those hosting private events will be notified by the city of the Phase 3 regulations to make sure they are followed, according to the release. Limitations are also planned for outdoor retail and street performers.
"The City is evaluating the best course of action for Halloween night," the release said. "Public programming including the concerts, beer garden, and fireworks will not be planned. Public safety, public health, transportation, and parking are the City's priorities because we know people will still come to Salem on Halloween, just as they will come to Salem during the month of October. Further details on planning and expectations for Halloween night will be forthcoming in the coming weeks."
Salem Mayor Kim Driscoll noted that those looking forward to visiting Salem "will be disappointed" by the limitations.
"However, as a community we are committed to doing our part to help protect residents, visitors, and staff and prevent the spread of COVID-19 in Salem," she said in the release. "There is no doubt this circumstance will have an impact on the many small businesses — including museums, restaurants, shops, attractions, vendors, service industry staff, and other partners that rely heavily on the increased business that October attracts.
"We will strive to explore options to provide Haunted Happenings experiences that comply with state guidelines and encourage creatives and entrepreneurs in our community to do the same," said Driscoll.
The city is  planning to emphasize supporting local businesses throughout the pandemic via a marketing campaign. Trick-or-treating is planned to continue as normal. Those planning to visit Salem are still asked to use public transportation as in prior years.