COVID
Charlie Baker clarifies quarantine rules for travelers between Rhode Island and Massachusetts
Sort of.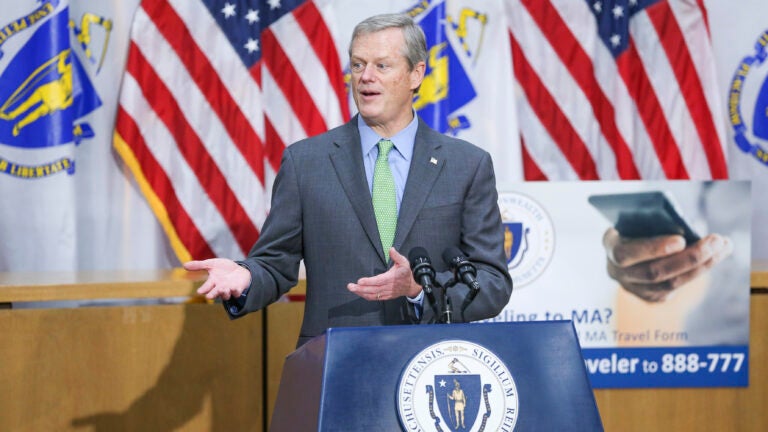 Gov. Charlie Baker says the quarantine rules for out-of-state travelers to Massachusetts are, at their core, "pretty simple."
According to the rules, people traveling and returning to Massachusetts from states with heightened levels of COVID-19 are required to quarantine for 14 days or show proof of a recent negative coronavirus test result.
Simple enough.
But after Rhode Island was removed from the list of states exempt from the rules, life for some residents living near the border of the two states got somewhat complicated.
As of Friday, Rhode Island became the first and only state bordering Massachusetts from which travelers are subject to the quarantine rules since Baker made violations a $500 fine. And while the order includes exemptions for people who regularly cross the border for work or school, other casual short-distance trips and errands seemed to be in a gray area.
For example, as NBC 10 reported Thursday, Pawtucket residents whose closest supermarket is the Market Basket in Attleboro were left wondering if their regular grocery run was a now a fineable offense. Even the mayor of Attleboro was bereft of answers. Residents of a road straddling the Fall River-Tiverton, Rhode Island, border, as the Herald News reported, were even more confounded.
During a press conference Friday afternoon, Baker tried to clear things up.
The Massachusetts governor noted that the order also has an exemption for "transitory activities," which he said includes "grocery shopping" and "banking."
"Yeah, go to the store, do your shopping, wear a face mask, keep six feet apart from people, and go home," Baker said.
The state's website does mention medical care and "transitory travel" among the exemptions to the quarantine rule, but essential errands like grocery shopping and banking are not specifically mentioned — though they were similarly excluded from the state's previous stay-at-home advisory.
Baker's office did not immediately respond to a request for clarification Friday afternoon, so border-town residents will have to take the governor's word for it.
It's unclear how broadly the administration defines "transitory travel." The state's website mostly refers to the term in the context of traveling through Massachusetts to another state:
This includes people who are passing through Massachusetts and permits travelers to drive through the State or to connect to their airplane, bus or train, or to stop at a highway rest stop, but this exception extends only so long as is reasonably required for the traveler to complete their transit, make any necessary airplane, bus, or train connection, or make use of travel services such as at a highway rest stop.
However, the website later adds that a family member or guardian dropping off a student at college or boarding school "and then immediately [leaving] the campus and the state" would meet the exemption of transitory travel. But if they stay overnight, it would not.
Baker did however suggest Friday that casual trips across the border for nonessential reasons won't be exempted.
"I don't think you should be doing recreational activities," he said. "If you want to recreate and you don't want to have to abide by the rules associated with the travel ban, stay in Massachusetts. There's plenty of nice places to recreate around here."
Another option would be to travel to one of the seven lower-risk states that remain exempt from the quarantine rule: Connecticut, Maine, New Hampshire, Vermont, New York, New Jersey, and Hawaii.
Rhode Island was removed due to a recent spike of COVID-19 cases, which led to it exceeding the two public health indicators for the list: an average positive test rate below 5 percent and new daily cases per 100,000 residents below six.
"There were a pretty clear set of metrics around what puts somebody onto the travel ban list or off of the travel ban list and Rhode Island's numbers basically went above the threshold and I reached out to Gov. Raimondo and told her and said that, as a result of that, we would be implementing this," Baker said Friday.