COVID
Harvard's Dr. Jha: If we ignore public health, 'we may find ourselves looking at a lockdown'
The doctor was back on Good Morning America on Monday, and interviewed Dr. Tony Fauci last Friday.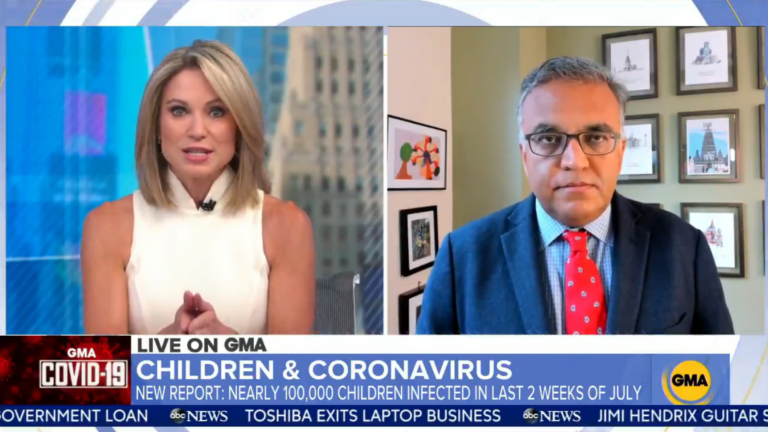 As more and more children test positive for coronavirus, Dr. Ashish Jha, the director of the Harvard Global Health Institute, returned to Good Morning America to discuss the proper way to reopen schools. He spoke with Amy Robach Monday.
According to the American Academy of Pediatrics, over 97,000 children tested positive for coronavirus in the last two weeks of July, a marked increase well before the start of the school year. Nearly 340,000 kids have tested positive over the course of the pandemic so far, which represents nearly 9% of total nationwide cases. Hospitalizations and deaths continue to be very rare among children, however.
"Those numbers are a reminder that kids are not immune from this disease," Jha said. "They obviously don't get as sick as adults do and that's really good news, but it's a reminder to me that we have to be careful as we think about schools and not turn this into a political issue."
New York Governor Andrew Cuomo announced Friday that schools in his state are allowed to reopen for in-person learning in the fall and that it's up to local districts to determine how to act. Jha mentioned several factors that he'd carefully consider before choosing a school for his kids if he was a parent in New York.
"I'd want to make sure that there was a plan for making sure all the kids have masks on, that there is reasonable amount of distancing in schools," Jha said. "I'd also want to look at simple things like, can you open up the windows and could you hold classes outside? Anything that improves ventilation, I think would make a very big difference and I would really push for all of those factors before I made a final decision."
Jha also recently led a digital conversation with Dr. Anthony Fauci, the nation's leading infectious disease expert. Jha told Good Morning America he agreed with Fauci's perspective on how to proceed in the fall.
"If we have a targeted policy in the hot zones, we really pull back on indoor gatherings and get everybody to wear masks and make other policy changes across the nation, we can head into the fall and be in much better shape," Jha said. "If we ignore that basic public health stuff that we've all been talking about, then it is going to be a really hard fall and winter and we may find ourselves looking at a lockdown, but I think all of us would love to avoid that if possible."
Watch the full Good Morning America clip with Dr. Ashish Jha below.
Influx in coronavirus cases among children ahead of back to school. Dr. Ashish Jha speaks with our @arobach about the recent report from the AAP and explains the ongoing debate about sending kids back to school amid the pandemic. https://t.co/cWeWYT1hSB pic.twitter.com/VT0hSBhjzw

— Good Morning America (@GMA) August 10, 2020