COVID
The Boston Teachers Union is pushing for remote learning to start the school year
The return to school should take on a phased-in approach for in-person learning, the union says.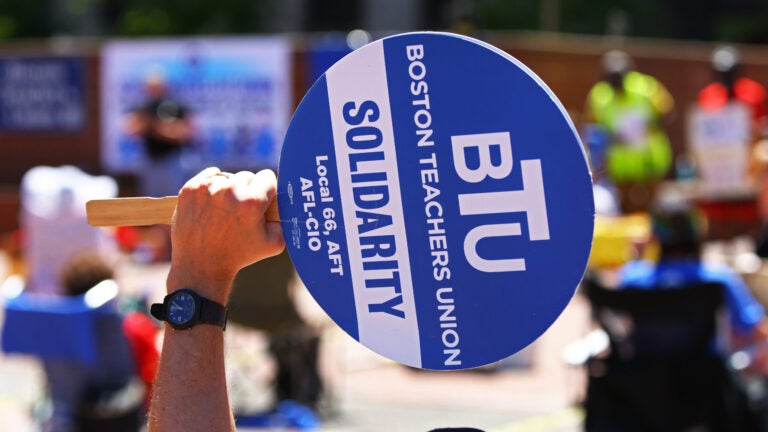 The Boston Teachers Union is in the midst of a four-day series of actions pushing for a fully remote start to the coming school year as officials weigh options for the return to public schools during the coronavirus pandemic.
With the "Safe School Restart: Week of Action," the union is seeking to draw attention to its own proposal for how classes can safely resume.
The plan, released last week, spells out reopening criteria the union says is necessary to protect students, such as having the public health infrastructure to handle testing, surveillance, tracing, and isolation in schools; a firm grip on community transmission rates; and numerous safeguards within buildings, such as upgraded ventilation systems.
"We are calling on BPS to plan for a fully remote opening to begin the school year and a phased-in return to any in-person learning only when all safety protocols are in place and verified," BTU President Jessica Tang said in a statement Aug. 7.
Actions kicked off Monday with a social media campaign aimed at spreading the word about the event. On Tuesday, the union called on the public to call 311 to tell Mayor Marty Walsh and School Committee Chairman Michael Loconto to reject the district's so-called "hopscotch" option for reopening and pick up the union-backed proposal instead.
We're calling on BPS to plan for a fully remote opening to begin the school year and a phased-in return to any in-person learning only #WhenItsSafe – when all safety protocols are in place and verified.

We call on you, our members and allies, to join us for a week of action. pic.twitter.com/FcNYk1miYr

— BostonTeachersUnion (@BTU66) August 10, 2020
Boston Public Schools has presented two options for the school year: one in which all students would learn remotely, and another, potential hybrid model that mixes virtual and in-person learning.
The draft hybrid plan would let parents decide whether to let their children exclusively learn from home or go back to the classroom two days a week. Under the model, as proposed, students would still begin their studies remotely before they are allowed back to school buildings through a phased approach, with half of them learning in-person and half online.
Students in grades 1 through 12 are scheduled to begin school on Sept. 10, with teachers starting for the year two days earlier. Pre-K and kindergarteners return on Sept. 14.
Tang has called the district's plan "unrealistic," The Dorchester Reporter reports.
"While there are aspects of BPS's reopening plan that we find encouraging and that we agree with, we don't think the plan is tenable or realistic," Tang said during a recent School Committee meeting.
"The main areas where we disagree are on the misguided simultaneous hybrid approach and the feasibility of accomplishing the goals set forth within the timeline provided, especially if COVID-19 data continues trending in the wrong direction as it has recently," she added.
Under the union's proposal, school staff who are at high risk for COVID-19 or who live with someone who is would have the option of whether to teach in-person. The plan also calls for six-foot physical distancing and for schools to supply personal protective equipment and the resources needed to clean and sanitize facilities, including school buses.
For Wednesday, the union is asking members to attend its Town Hall meeting and for the public to register to testify at a hearing of the Boston City Council's Committee on Education set for 5 p.m.
The committee is scheduled to discuss "the preparation and planning of BPS for extended social distancing measures, and related school closures into the 2020-2021 school year," a hearing order says.
And on Thursday, the union has planned a car caravan and rally, with the former beginning at noon at the Madison Park Vocational High School parking lot in Roxbury, where participants will decorate their vehicles before setting out at 1 p.m. to deliver the union's reopening plan to Walsh at City Hall. There, members will host a physically-distanced rally kicking off at 2:30 p.m.
Boston school officials, in the draft plan, acknowledged the proposed "hybrid model is not perfect." They are currently seeking feedback on the proposal before a plan is finalized.
"Many have commented that the simultaneous teaching of students in person and online is impossible for our BPS teachers to do, no matter what technology supports are provided," the plan says. "Now is the time to identify how BPS teachers can equitably teach all students — each of whom is legally entitled to structured instructional time, every day of the school year. That is the task before us; the time to complete that task is now."
Get Boston.com's browser alerts:
Enable breaking news notifications straight to your internet browser.