COVID
Gloucester mayor sounds alarm on boaters gathering in groups on the water
"Just because being outside is low risk... doesn't mean there isn't one."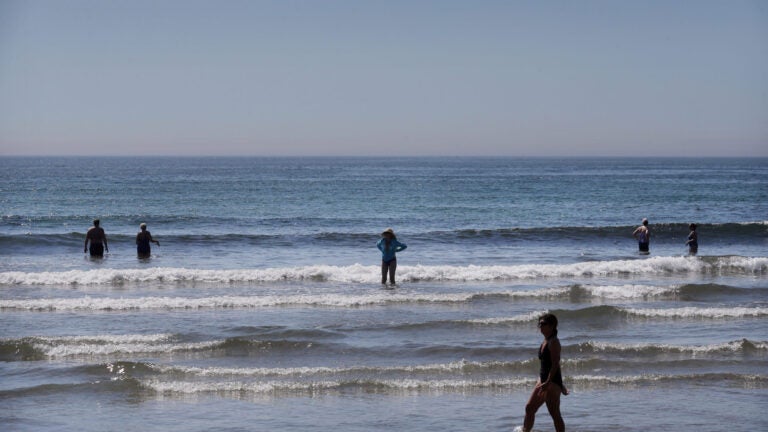 Gloucester Mayor Sefatia Romeo Theken is pleading with boaters and beachgoers visiting her city by land and sea to respect public health guidance and do their part to prevent the spread of COVID-19. 
After photos emerged over the weekend of boats tied together "rafting" on the Annisquam River, crowded with passengers not following social distancing guidelines, the mayor told WHDH she's "tired of everyone's baloney."
Early Tuesday, the mayor took to Twitter to emphasize the risks with gathering in large groups — even if it's outside. 
"Just because being outside is low risk … doesn't mean there isn't one," she wrote.
Speaking of Sea.. they think Covid doesn't go out to Sea.. they been rafting boats & gathering it's like a big swimming pool with boats when the raft.. just because being outside is low risk.. doesn't mean there isn't one.🤦‍♀️ https://t.co/NjsQcO4CPB

— Sefatia Romeo Theken (@STheken) August 11, 2020
The city's chief of police, Edward Conley, told the station officers are patrolling the area with Environmental Police and the Coast Guard, but handing out fines to the offending boaters is difficult. 
"Some of this comes down to taking personal responsibility and learning how to keep yourself and your own family safe," Conley told WHDH.
The Mayor of Gloucester is not playin' folks. "I'm tired of everyone's baloney!" @STheken

Her reaction comes after photos show boats on the Annisquam River tied together with more than 100 people NOT physically distancing. @Brandon_Gunnoe has more #7news pic.twitter.com/DwaljfG0eT

— Amaka Ubaka (@AmakaUbakaTV) August 11, 2020
During a Tuesday interview with Webrádio Insuperável, an online Brazilian radio station based in Framingham, Theken said she's been "complaining" about the problem of rafting in Gloucester for "a while."
"We have a beautiful ocean, the ocean does belong to everyone," she said. "But when you put everyone else's life in jeopardy — people think OK, low risk at the beaches, outside on boats. Absolutely. But not when you tie up together … You're like in one big swimming pool with boats."
 As of Sunday, Gloucester had 317 cases of COVID-19 since the outbreak began and 26 resident deaths related to the pandemic, according to the mayor. 
She told the radio station she's asked for the state for help in patrolling the waters around the city, as boaters move closer and closer into private beaches and disregard instructions from the harbormaster to break up their "raft" gatherings. The city is also seeing problems with beachgoers parking in areas where they're not supposed to in order avoid municipal efforts to prevent overcrowding at beaches. 
Theken said the Gloucester City Council is considering raising the fine for illegal parking to $150 in order to address the impacts to the local community and complaints being received about the overcrowding. 
Beach visitors are also not carrying out trash and failing to wear their masks on boardwalks to the water, she said. 
She called for individuals and groups visiting the city for recreation on land and water to do better. 
"It's not your constitutional right to come onto a beach," Theken said during her radio interview. "It's not your amendment. It's respect. What happened to respect? You're not entitled to this. We all work for it. We're supposed to be in it together. Massachusetts for Massachusetts. Gloucester is a welcoming community all the time, but respect us. That's all I'm asking — respect."