Coronavirus
Massachusetts releases color-coded map of town-level coronavirus rates
"Residents need to be aware, first of all, that they are in a high-risk community."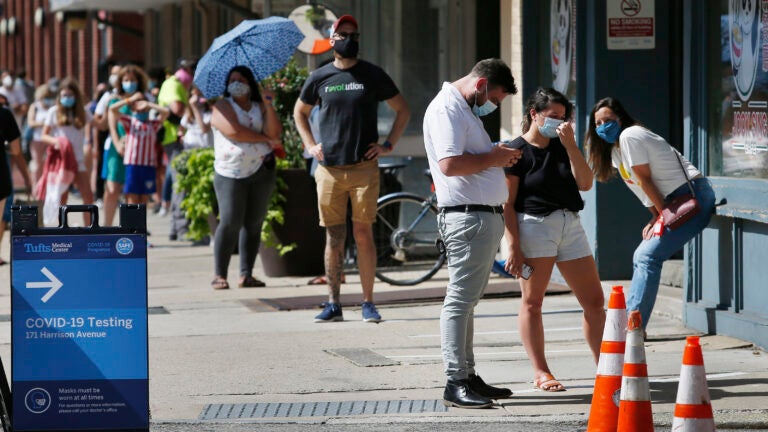 Gov. Charlie Baker's administration released a color-coded map of Massachusetts cities and towns Tuesday, showing that 33 communities have COVID-19 rates above a widely used benchmark indicating greater risk of the virus.
In response to a recent uptick in statewide COVID-19 cases, the new visual comes as the Baker administration focuses mitigation efforts in communities where there is "significant community spread concerns."
"The good news is the vast majority of the communities in Massachusetts are experiencing low COVID case numbers and most are seeing trends that are moving in the right direction," Baker said.
Over the last two weeks, the state's map shows that 318 cities and towns are either in the green category for having less than four average daily COVID-19 infections per 100,000 residents or the white category for having less than five cases in total.
However, Baker said his administration has reached out to the 33 other communities, which fell into the yellow and red categories, to develop specific strategies to address the higher rates of COVID-19.
According to the map, four Massachusetts cities — Chelsea, Everett, Revere, and Lynn — fell into the red category for having more than eight average daily cases per 100,000 residents, a level that Baker said Tuesday is "extremely high risk for COVID infections."
"Residents need to be aware, first of all, that they are in a high-risk community," he said.
Boston and 28 other cities and towns were put in the yellow category indicating moderate risk, though Baker said about half of those communities have seen downward trends in recent weeks.
Click here for a larger version of the map.
While new coronavirus rates in Massachusetts have decreased dramatically since May, the Baker administration says it is working with local officials to tailor community-specific strategies through a recently announced cross-agency team, from ramping up enforcement of gathering and business rules to additional support for tracing and testing initiatives to assistance accessing federal funds.
Baker said he expects the efforts will specifically focus on restaurants and gatherings — both of which are subject to new rules that took effect Tuesday.
"Some of these higher-risk COVID communities may also see restrictions or shutdowns with respect to parks, playgrounds, some businesses, or other entities that are determined to have been part of the issue with respect to the spread based on contact tracing and other conversations," he said Tuesday.
However, the Republican governor stressed that even communities in the green and white categories are not risk-free.
"Regardless of where your community sits, COVID is not going away," Baker said. "Your actions — no matter where you live or where you work — will determine in many respects whether and how this virus spreads."