COVID
Massachusetts health secretary says certain residents should consider face coverings inside their homes
Residents of four higher-risk cities may want to keep their mask on at home if they live with someone vulnerable to COVID-19, according to Marylou Sudders.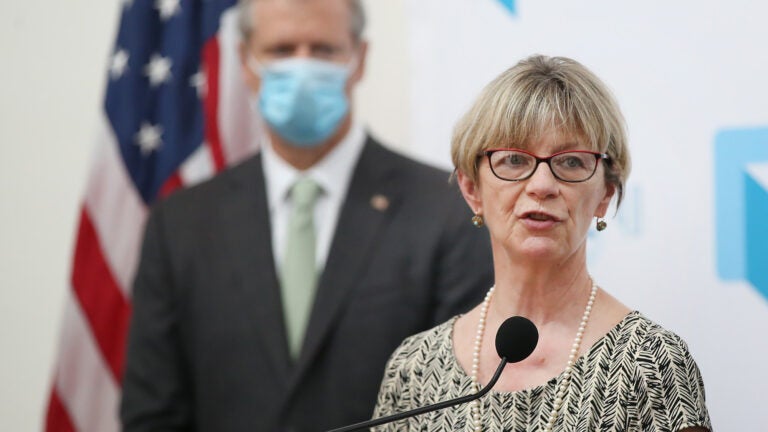 Gov. Charlie Baker's new order requiring people in Massachusetts to wear face coverings at organized gatherings of more than 10 people from more than one household took effect on Tuesday.
But according to the state's top health official, some residents should consider wearing a face covering even more often than that.
During a press conference Tuesday afternoon, the Baker administration identified 33 communities in Massachusetts with moderate to high rates of COVID-19, including four cities — Chelsea, Everett, Lynn, and Revere — where there has been, on average, more than eight daily daily cases per 100,000 residents over the last two weeks.
"To residents of these communities, we have some simple messages: There is an extremely high level of COVID in your community," Health and Human Services Secretary Marylou Sudders said.
"Residents of these higher risk communities should wear a mask at all times, particularly when you cannot keep six feet away from others," Sudders continued. "You should also consider wearing a face covering inside your home if an older individual or someone with compromised medical condition is part of your immediate household."
Baker's office confirmed Tuesday evening that Sudders was referring only to residents of the four cities currently in the highest-risk "red" category by the administration's new color-coded statewide map.
The suggestion of wearing masks at home — which Sudders emphasized for households where members were regularly going out for work or recreation — comes as the administration increasingly stressed the importance of face coverings.
Federal health officials have said that universal mask wearing could help the United States get its rising coronavirus caseload under control in a matter of weeks.
For residents of high-risk Massachusetts communities, Sudders listed wearing a face covering "at all times when outside of your home" among a raft of important safety guidelines. Others included diligent hand washing and not sharing food, drink, or utensils, which Sudders acknowledged could be hard, but necessary.
"The COVID pandemic is not over," she said.
The Baker administration has blamed "clusters" caused by gatherings where people weren't social distancing or wearing masks for the recent uptick in COVID-19 cases.
And during the press conference Tuesday, the Republican governor said the recently announced initiatives to slow the spread — including stricter limits on restaurants and outdoor gathering — were prompted by discussions with officials in higher-risk communities who said mask adherence was one of the biggest challenges they faced.
"Over and over again, what these folks said is there are too many informal gatherings, there are too many people at them, and nobody is wearing face coverings," Baker said. "That was literally like a unified message across every conversation that both of us had."
Previously, the administration only required people in Massachusetts to wear masks in public places where they could not consistently maintain six feet of physical distance from other people.
But given the reports from local officials and evidence of continued spread by asymptomatic individuals, Baker announced last week that we would reduce the limit on outdoor gatherings to 50 people and require people to wear face coverings at multi-household gatherings of more than 10. The restrictions were also extended to apply to private homes and backyards.
Event hosts could be subject to fines of up to $500 per violation
Baker said Tuesday that the intention of the new gathering and masks rules was not to issue "big fines" but instead to "create a framework that's a little different that the one we had before."
"It's really important if you're putting a bunch of people in your house or in your backyard and they're not the immediate people you have in your house everyday that you live with, people need to wear face coverings," he said.
A growing body of evidence has found that wearing a cloth face covering can significantly reduce the likelihood that contagious individuals could spread the disease to others, in addition to perhaps even offering some personal protection against the disease.
However, a recent study by Duke University found that a certain type of stretchy, thin neck gaiters — popular among runners — may in fact be less effective than wearing no mask at all
Sudders said Tuesday that the administration is reassessing its general face covering guidance in light of the findings, noting that a simple test was "if you can see through [the gaiter or face covering], it's probably not effective."
"I think the first think we're going to do is do some messaging around that," she said.