COVID
Boston College is hiring a police detail to shut down student parties amid COVID-19, city councilor says
But City Councilor Liz Breadon says the college — and Boston University — should do more to protect off-campus students and the surrounding neighborhoods.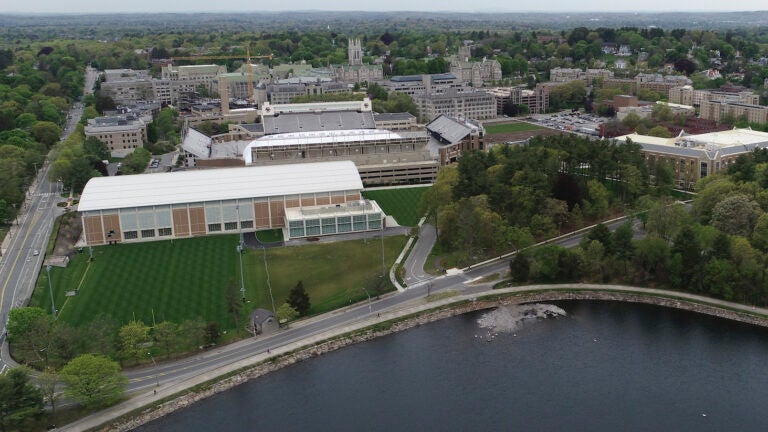 Boston College is cracking down on off-campus, student parties this semester.
To help stop the spread of the coronavirus as students return for fall classes, the college is hiring a Boston police detail to keep an eye on and break up parties on Thursday, Friday, and Saturday nights, according to City Councilor Liz Breadon, who represents the popular student neighborhoods of Allston and Brighton.
Breadon made mention of the plan in an email to constituents Sunday, in which she also detailed her continuing concerns about how the thousands of students expected to return to Boston in the coming weeks will impact public health during the pandemic.
"People coming to Massachusetts must quarantine for 14 days or produce a negative COVID-19 test administered 72 hours before arrival," the District 9 councilor wrote in a separate letter to Boston College President William Leahy and Boston University President Robert Brown over the weekend. "The penalty for non-compliance is a $500 fine, yet I have little confidence that we can enforce this regulation for returning students living off-campus."
Breadon also asked both schools to shift to a fully-remote semester for the majority of their student populations.
"It appears that off-campus students will not have the same level of access to quarantine facilities, medical support and monitoring as those living on campus," she wrote. "The physical proximity of off-campus students to neighborhood residents increases the risk of community spread beyond the university campus."
How exactly the Boston area will fare as the school year attracts hordes of students back to Massachusetts has been weighing on local officials.
Earlier this month, Boston City Councilor Kenzie Bok penned a letter to administrators at Boston University and Northeastern University, urging them to hold their fall semesters entirely online to help deter the student migration.
"Each of your institutions draws nearly three-quarters of your undergraduate students from out of state; for the safety of the city, as many of them as possible should stay home," she wrote.
The mayors of Somerville and Medford, in an open letter to Tufts University last week, asked the school to reconsider its reopening plans, especially as the state sees some signs of a COVID-19 uptick.
Breadon wrote that she wants to see a "more robust plan" for students living off-campus, including an enforceable code of conduct, from Boston College and Boston University.
At Boston College, instruction for students will be in-person and remote, and a hybrid between those two modes depending on the course, although most classes will be taught in-person in de-densified and re-arranged classrooms, school leaders have said.
"Mass testing at the beginning of the semester followed by extensive asymptomatic and high-contact, randomized surveillance testing each week will help provide for the safety of those in the Boston College community and our surrounding neighborhoods," administrators wrote in an open letter last week.
In her letter, Breadon told leaders at the two institutions she is specifically concerned about what medical supports will be offered to students who become sick while living off-campus and how those students will undergo contact tracing. She also asked about what consequences students will face for breaking quarantine protocols, for not wearing masks or not social distancing in public, and for hosting or attending large group parties.
Regarding the latter, Breadon told constituents she also requested the city reactive its "PartyLine" to report parties "as residents are reluctant to call 911 in these circumstances," she said.
In July, Boston College released the "Eagles Care Pledge," mandating health and safety expectations for the school year, and required all undergraduate students to sign it.
The pledge says students are expected to do a daily "self-check" for COVID-19 symptoms, practice good hygiene, and take part in testing and contact tracing as required. Students are also to wear face coverings, follow health and distancing protocols for COVID-19 when off-campus, limit travel when possible, stay home if they are feeling sick, and follow isolation or quarantine mandates if directed by the college to do so, among other expectations.
Boston College did not immediately return a request for comment regarding Breadon's letter Monday.
Boston University, meanwhile, is planning for a mix of in-person and remote learning, school officials announced in June.
"Boston University continues to be in close communication with Councilor Breadon and her office as students return to campus and the local community," Rachel Lapal, a university spokeswoman, said in a statement Monday. "Boston University's testing protocols, contact tracing, and agreement to COVID-19 Health Commitments & Expectations as a condition of being a member of the B.U. community apply to students living both on-campus and off-campus."
Plans say students living off-campus and traveling to Boston from outside the country and states considered at higher risk of COVID-19 must follow self-quarantine practices mandated by the commonwealth.
All undergraduate students, regardless of where they live, will be tested twice weekly throughout the semester, according to the plans. All graduate students will start the year with weekly tests, but the frequency "will be re-evaluated as we learn more about how often cohorts of graduate students are on campus," the university says on its website.
All students who quarantine and isolate, including on-campus and off, will be in regular communication with health care professionals for monitoring, Lapal said.
"Students, both on campus and in neighboring communities, who fail to meet these health expectations and commitments will be prohibited from full participation in the B.U. community," Lapal said. "B.U.'s public health protocols and best practices continue to be focused on the B.U. community as well as its neighboring communities."
Read Breadon's full letter: