Coronavirus
Massachusetts releases new interactive map of coronavirus spread in cities and towns
"This additional data will make it easier for people to understand how COVID is spreading in their communities, or not."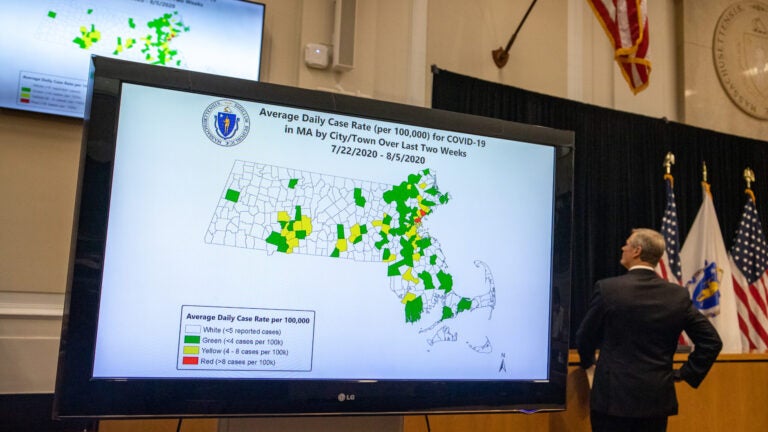 Last week, Gov. Charlie Baker's administration unveiled a map broadly illustrating the number of COVID-19 cases in each city and town in Massachusetts.
However, unless residents could pick out their community out of the state's 351 cities and towns based on its shape and location, it could be difficult to tell where they fell. And the color-coded map didn't go much further than generally indicating each community's respective COVID-19 risk category.
A new statewide map released Tuesday clears up some of the ambiguity.
During a press conference Tuesday afternoon, Baker unveiled a new interactive, community-level map with more detailed coronavirus data and each city and town clearly labeled.
"This additional data will make it easier for people to understand how COVID is spreading in their communities, or not," Baker said. "And it will be updated each Wednesday as part of the Department of Public Health's weekly report on COVID-19."
The navigable map, which is also available on the state's website, uses the same color coding to identify low-risk, moderate-risk, and high-risk communities. Communities with an average daily COVID-19 rate of less than four cases per 100,000 residents are in the green category, while the yellow category indicates between four cases and eight cases per 100,000 residents and the red category indicates more than eight cases per 100,000 residents. The white category indicates less than five total cases.
However, the new map also provides the total case count, two-week case count, how the number of local cases is trending, and the percentage of positive COVID-19 tests for each city and town, as well as the number of tests that have been conducted in each community.
Based on the weekly report released last Wednesday, 11 communities in Massachusetts — Chelsea, Everett, Granby, Holyoke, Hull, Lawrence, Lynn, Salem, Saugus, Revere, Wrentham — are currently in the red category, which Baker has said indicates an "extremely high risk for COVID infections."
Last week, amid signs of an uptick in COVID-19 cases, the state launched a new set of initiatives aimed at slowing the spread in higher-risk communities, including public awareness campaigns and increased enforcement of new gathering and face covering rules. Meanwhile, Baker has urged the vast majority of Massachusetts communities that are in the green and white categories to resume in-person school this fall.
"It would seem to me that you should be able to come up with a plan that makes it possible for you to offer face-to-face education for your student body," he said Tuesday.