COVID
Marty Walsh and Brenda Cassellius respond to concerns about reopening Boston schools
"Shutting down the marathon and closing schools was a lot easier decision than opening them."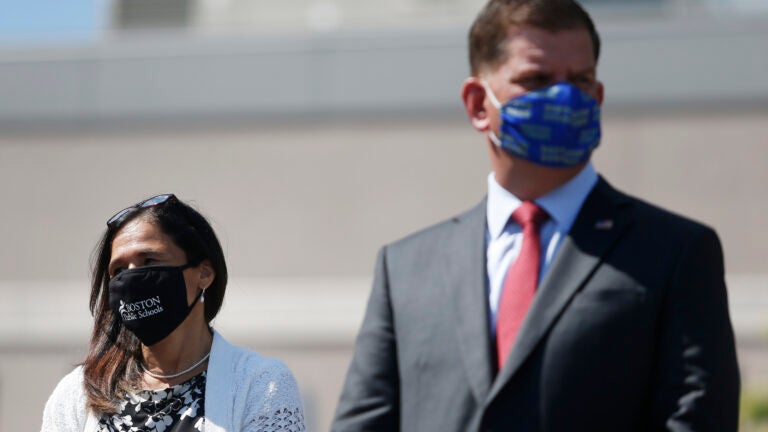 Boston Public Schools Superintendent Brenda Cassellius says she hopes to have a plan finalized "within the next week" on how exactly students will return to class next month amid the COVID-19 pandemic.
But in the absence of a final decision, Cassellius and Mayor Marty Walsh have faced increasing criticism from local leaders — and pressure to begin the new academic year with fully remote instruction.
The city released its latest reopening plans Saturday after filing three different versions with Gov. Charlie Baker's administration, which required districts to develop protocols for a full return, fully remote instruction, and a hybrid model of both in-person and remote learning.
According to The Boston Globe, the state also wanted school districts to indicate which model they planned to implement, but Boston Public Schools did not; so far, the district has only said students will not return full time — and that parents would be able to opt out and pull their children into a fully remote learning plan if officials pick the hybrid model.
"It's not only a decision of our children's education, it's one of safety, and it is absolutely imperative that we take the time to get it right," Cassellius said Tuesday night on WGBH's "Greater Boston."
Casselius noted that the virus — and the corresponding public health guidance — is "always emerging and evolving."
"Even if we were to open or go full remote, there's no telling that this could change in another month or two, so we have to be flexible and nimble, and I think that's why the state said to us that we need three plans," she said.
However, the lack of a final decision has drawn criticism from those who say students, parents, and teachers need time to plan ahead of the Sept. 21 start.
"I remain shocked and disappointed that we still do not have a decision on reopening, but instead have an 80-page document with no decisive plan," City Councilor Andrea Campbell, who favors a fully remote start, told the Globe. "Every day the district delays this decision, we lose an opportunity to prepare our students for success and our community loses confidence that this school year will be safe and successful."
And while Baker said Tuesday that roughly 70 percent of the 371 school districts across Massachusetts have indicated that they will offer a hybrid or fully in-person learning model, the Boston Teachers Union is also calling on the city — which has varying levels of COVID-19 across its neighborhoods — to begin with online classes only.
"I am certainly not going to put teachers or students in harm's way," Walsh said during the appearance on "Greater Boston," noting that the citywide positive COVID-19 test rate recently dropped from 2.8 percent to 2.6 percent.
Still, Boston remains in the state's yellow category for being moderately high risk for infections and has recently seen an increase in case levels, according to public health data.
Pressed on the timeline for their final plan, Cassellius said that "we are really hoping to be able to make that decision, I think, you know, within the next week."
As they deal with the changing information, Walsh asked the city's critics for more patience.
"I'm not sure why Councilor Campbell is shocked and disappointed here," he said. "We still have five weeks to go before we open schools, and these decisions aren't [taken] lightly. We're seeing growing achievement gaps with our Black and Latino students. We have English language learners that English is not the first language in people's homes. So we have — our kids have — a lot of challenges, so we want to make sure that, to try and present them with the opportunity to do in-person learning and, quite honestly, if we can't do that, then we're going to go all remote — and our kids have been all remote for the last six months."
The goal is to get back to some form of in-person learning, the two city leaders said. Under the hybrid plan, half of students would go into class on Mondays and Tuesdays, and the other half would go in on Thursdays and Fridays. On the days they're not physically in class, students would have remote instruction.
Cassellius said the "really nice thing" about the delayed Sept. 21 start date is that officials have several weeks to show teachers the cleaning and social distancing protocols that have been implemented in school buildings.
"I think that they'll feel more settled," she said.
Walsh said the preparation process has included replacing windows, bringing in fans, and fixing ventilation systems. And while he said he appreciated the range of opinions, Walsh asked community members to "work with" Cassellius and other school leaders.
"We might not be in school Sept. 21, and that decision will come soon, but at some point — at some point — we have to reopen schools here in America and in Massachusetts," he said. "And for all intents and purposes, when we do reopen schools, coronavirus is still going to be here. We're not gonna have the vaccine that's gonna be able to be distributed to 360 million Americans or 6 million people from Massachusetts. So we're asking people to have the conversation with us right now. And when I talked about politics, whether it was with the teachers union or with other elected officials, let's have the conversation at the table, and let's have the conversations about what we're doing that. That's the goal."
Despite the uncertainty, Cassellius said she would be comfortable sending her own kids into a classroom by late September. Personally, Walsh said he wasn't "comfortable with anything,' saying he wished people could stay home for another "four or five months," which he acknowledged was not feasible.
While he said Boston has been "ahead of the curve" compared to other cities in response to the pandemic, Walsh stressed that the decisions were "complicated."
"Shutting down the marathon and closing schools was a lot easier decision than opening them," he said.