COVID
Somerville mayor rebuffs Charlie Baker over pressure to reopen in-person schools
"What happens in Everett and Chelsea happens in Somerville. Coronavirus doesn't recognize city lines."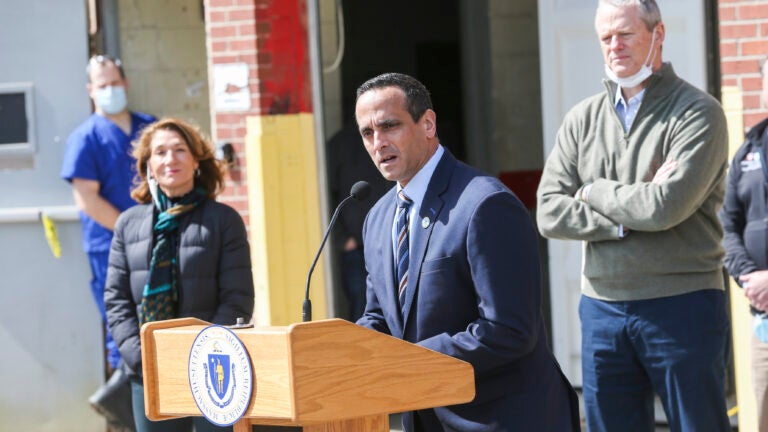 Going by the state's color-coded coronavirus rate map, Somerville students should be headed back to in-person classes in the coming weeks.
However, Mayor Joe Curtatone says "a map is not a plan."
As Somerville plans to begin the new school year remotely despite relatively low levels of COVID-19, the city's Democratic mayor penned a column in CommonWealth magazine Thursday arguing that schools need more resources for testing and contact tracing, as well for re-outfitting ventilation systems, before they can safely reopen, particularly given the inherently connected nature of many communities.
"I appreciate the bind in which Gov. Charlie Baker finds himself," Curtatone said. "Much of what we need to develop a sustainable reopening plan relies upon federal funding and support, and that's a black hole from which no help is likely to emerge."
The column published hours after Baker said during a press conference that three-quarters of the state's school districts plan to begin the year with either full-time or part-time in-person classes — and defended the state's safety guidelines around social distancing, face coverings, and hygiene for students. The Republican governor also suggested that more districts should be moving forward with in-person plans, given the state's recently released community-level data showing that the prevalence of COVID-19 is below widely recognized risk benchmarks in nearly 90 percent of cities and towns in Massachusetts.
But as Curtatone noted, municipal officials were already "well aware of our local numbers." And particularly for residents in the eastern half of Massachusetts, it's not a far trip from areas where Baker himself says there are "significant community spread concerns."
"It means very little that our community ranks as low risk of transmission when we have two extremely high risk communities, Everett and Chelsea, on our border and a school workforce that resides throughout the region," Curtatone wrote. "What happens in Everett and Chelsea happens in Somerville. Coronavirus doesn't recognize city lines. If we've got an outbreak on our doorstep, then we need to respond like we've got an outbreak."
The mayor — who has kept Somerville from entering Phase 3 of Baker's reopening plan with the rest of the state amidst recent concerns of an uptick in COVID-19 cases — went on to criticize the state's school reopening guidelines for leaving it up to local school districts to propose a plan. Curtatone also called on the Baker administration to pursue the recently approved saliva-based COVID-19 test to "institute true surveillance testing in our schools," as well as statewide "digital contact tracing," as opposed to the current manual approach. And he said the administration should ensure that poorer communities aren't left behind in the effort to make physical safety adjustments to school buildings.
"It's going to take something along those lines to get our schools back in a sustainable fashion," Curtatone wrote, adding that teachers unions — which have called for a fully remote start to the year — should agree to the plan.
While he acknowledged that there are "no easy decisions when it comes to reopening schools during an active pandemic," Curtatone said that one thing leaders know for sure is that COVID-19 cases in Massachusetts — while much lower than they were in the spring — "continue to fluctuate."
"A highly contagious disease still lurks among us," he wrote.
"In Somerville we feel any plan that involves in-person schooling at this time is too reliant on us hoping for good outcomes rather than ensuring them," Curtatone added. "We are not comfortable telling families they will be part of an experiment, which it assuredly would be. We have too many variables to consider it safe."