COVID
Survey: Boston students' preference for hybrid or remote learning differs by race, economic status
In all, students were split about 50/50 over which model they preferred.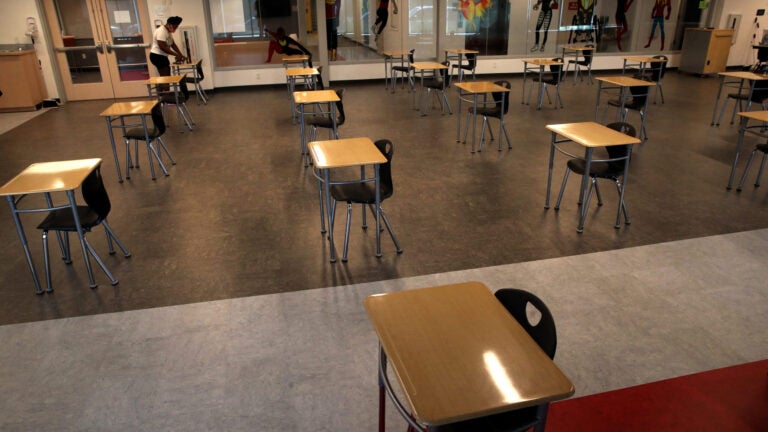 While the results of a survey of Boston students shows that, in general, students are split nearly 50/50 in terms of preferring a hybrid learning model or remote learning model, the data shows that results vary greatly when broken down by race and neighborhood.
The Boston Public Schools' "Family Learning Model Selection Form: Initial Results" included over 38,200 responses, representing 71 percent of the total 53,892 students across the city. Responses came from students in all grade levels, including students of different races or ethnicities, students for whom English was not their first language, and students with disabilities, among other criteria.
The survey results were released as Boston students and educators prepare for a remote start to the school year, with the first day of school set for Sept. 21.
Considering all of the responses collectively, students were split between 51 percent favoring a hybrid model – a mix of in-person and remote instruction – and 49 percent saying they wanted to learn remotely.
However, when breaking down responses by race/ethnicity, the majority of white students said they wanted a hybrid model – 73 percent – versus just 27 percent for a remote model. This result was greatly different from students in other groups.
Black students favored a remote model to hybrid with 54 percent to 46 percent. The results were nearly the same for Latinx students – 55 percent favoring remote to 45 percent wanting hybrid. Asian students also favored a remote model to hybrid – 58 to 42 percent.
The only other group besides white students to favor a hybrid model over remote were students who identified as multi-race or other, with 55 voting for hybrid versus 45 percent for remote.
Results also differed greatly by neighborhood. The biggest pushes for hybrid over remote came from the North End's two zip codes – 84 percent for hybrid to 16 percent remote in 02113, and 77 percent to 23 percent hybrid versus remote in 02109, and for students in the Downtown area – 80 percent for hybrid versus 20 percent for remote. Other neighborhoods that voted more heavily in favor for hybrid over remote were West Roxbury with 71 percent for hybrid over 29 percent for remote, Beacon Hill – 63 percent for hybrid over 37 percent remote – and the West End with 61 percent for hybrid over 39 percent for remote.
Multiple neighborhoods were at or close to that 50/50 split, with the Back Bay dead even. All three of Dorchester's zip codes had similar results: 02122 at 52 percent for hybrid to 48 percent remote, 02124 at 55 percent for remote and 45 percent for hybrid, and 02125 at 51 percent for remote over 49 percent for hybrid. Hyde Park, the Seaport, Fenway, and students outside of Boston were all showing 48 percent for hybrid and 52 percent for remote.
Neighborhoods that leaned more toward remote over hybrid were all three of Roxbury's zip codes: 57 percent for remote over 43 percent in 02119, 60 percent over 40 percent in 02120, and 59 percent over 41 percent in 02121. Mattapan also skewed more toward remote with 56 percent favoring it over 44 percent.
In terms of economic status, students who aren't economically disadvantaged favored the hybrid model with 59 percent over 41 percent for remote, while those who are economically disadvantaged favored the remote model 55 percent over 45 percent for hybrid.
Read the full results:
Get Boston.com's browser alerts:
Enable breaking news notifications straight to your internet browser.