COVID
Here's what Charlie Baker had to say about a potential second coronavirus wave in Massachusetts
"No one really does know exactly what's going to happen here."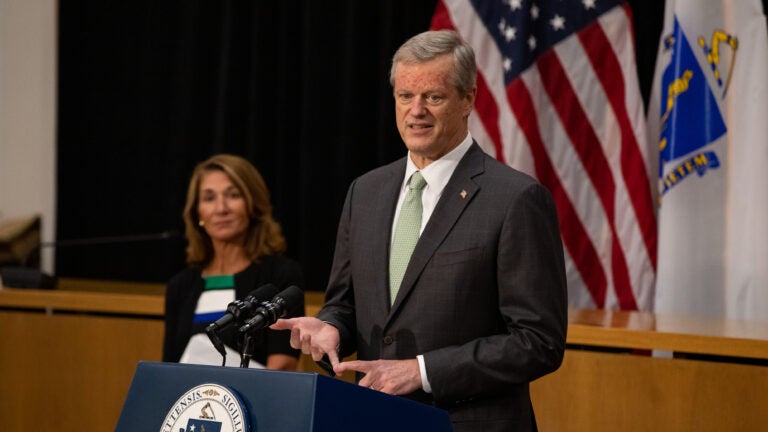 The positive COVID-19 test rate in Massachusetts dropped to a new low on Wednesday, as Gov. Charlie Baker touted that roughly two-thirds of the state's cities and towns had gotten cases down to lower-risk levels.
But with students from kindergarten to college returning to classrooms, the finals weeks of summer waning, and infections in other parts of the country still persistently high, some local health experts are sounding the alarm that a long-feared rebound in coronavirus cases during the colder months could be on the horizon.
As the Washington Post reported last week, infectious disease specialists expect the projected second wave to crest sometime in late fall, though it remains unclear how large that wave will be, which could differ from state to state.
Asked about the concerns Wednesday afternoon, Baker told reporters that it's unclear what the fall will bring, but that state officials are preparing for a range of outcomes.
"There's a lot of scenario planning going on," the governor said, adding that state officials are coordinating with nursing homes and hospitals on staffing capacity, among other lessons from the first surge of COVID-19 cases this past spring.
"No one really does know exactly what's going to happen here," he said.
Baker — who has paused the state's reopening plan in Phase 3 and tightened gathering restrictions after a brief uptick in cases last month — stressed that local officials are more prepared for the virus this time around. He emphasized that the administration has continued to work on increasing the state's testing capacity, as well as their turnaround speed so that residents can get the results of those tests within 24 hours.
Massachusetts reported more than 1,000 new COVID-19 cases over the Labor Day weekend. But as Baker noted, those numbers coincided with an increase in testing levels as college students and faculty return to campus; the overall weighted seven-day positive test rate continued its monthlong downward trend Wednesday to 0.8 percent, a new low. Baker has most recently focused efforts on the handful of communities where COVID-19 rates have remained persistently high.
Additionally, the administration is working to stock up more protective gear so that health care workers don't face the same struggle for supplies that they did throughout the spring.
"We continue to buy PPE," Baker said. "We continue to buy masks. We continue to buy gloves and gowns, and all the stuff that last spring people were struggling to find. And we're going to continue to do that all the way through."
However, he noted that much of how the fall unfolds depends on how well individual residents adhere to face covering and distancing guidelines. Last month, Baker issued an order reducing the limit on outdoor gatherings to 50 people in a single enclosed area and requiring the use of masks at any gathering — public or private — with upwards of 10 people from more than a single household.
"I do believe that this stuff works, and there's been plenty of folks in the infectious disease community who have said if people would just comply with the rules around face coverings and distance on a sustained basis — at an 80 to 90% level — over a month, we could kill COVID in the U.S.," Baker said. "That hasn't happened. And I can't emphasize how much I think that plays a role here."
Get Boston.com's browser alerts:
Enable breaking news notifications straight to your internet browser.